Thanksgiving 2018: All the Wines and Spirits To Bring To Dinner
Let's face it, not everyone can be trusted with kitchen duty during the holidays. With dishes as elaborate and highly-anticipated as glazed turkey, stuffing and mac and cheese on the menu at Thanksgiving dinner, it's always best to just let the culinary experts of the family handle the very serious business of cooking.
That doesn't mean the not-so-skilled cooks have to be reduced to store bought butter roles and table setting. If manning the kitchen isn't necessarily your thing, there are plenty of other ways you can make your relatives thankful for your mere presence on Thanksgiving. You can be the master of spirits, pourer of the drinks, the bartender providing holiday cheer one glass at a time. Granted, you may have to keep an eye on the number of cups everyone's consuming to keep that aunt from the other side of the partisan table from questioning your liberal cousin's politics, or vice versa.
See below for a list of the best wines and spirits to bring to Thanksgiving dinner, all of which can be enjoyed as a holiday-themed cocktail or straight up.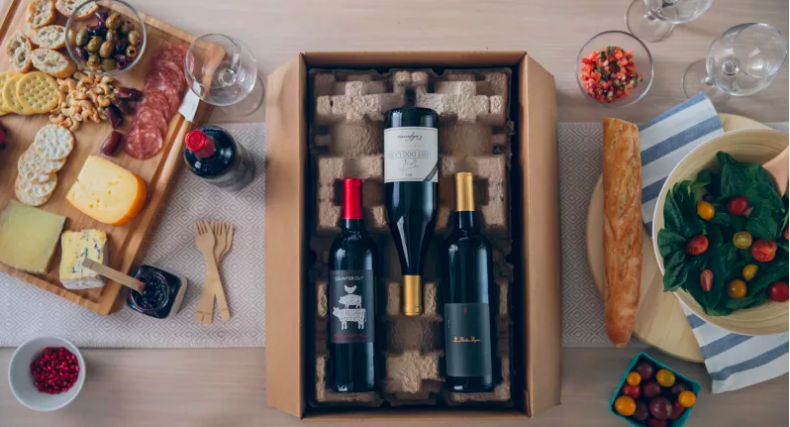 San Simeon Stormwatch: Oozing with ripe flavors of dark cherry and blackberry, the Stormwatch 2014 produced by the good folks at San Antonio Winery in the Paso Robles wine region of California is the rich, bold yet silky smooth red wine your mouth needs on Thanksgiving after a slice of turkey, a naturally dry bird. A sip of this red blend—comprised of Cabernet Sauvignon, Merlot, Malbec, Petit Verdot and Cabernet Franc grapes—with a forkful of stuffing smothered in grandma's famous homemade cranberry sauce and you won't even need dessert.
Domaine de Dionysos Côtes du Rhône 'La Devèze': Structured and well-tailored, just llike the array of perfectly-placed sides across your dining room table. While the first sip of the Côtes du Rhône-grown Grenache, Syrah and Carignan blend is bursting with red fruits delicate enough to wash down a heap of mash potatoes, the earthy tannin-filled finish is robust, long-lasting and dense enough to soak up the hearty portions of fresh, roasted veggies on your plate.
Smoketree Chardonnay: White wine technically isn't in season but what if your relatives have provided a full-on soft cheese board with figs and dates and pumpkin spice crackers spread with orange marmalade to kick off the holiday feasting? Maybe your sister is doing that thing where she goes pescatarian for a month, so there are more seafood options around the table this year. Or perhaps you come from a family that prides itself on inclusion and diversity, so you don't recognize the traditional and limited seasons of wine. Regardless of the reason, the clean and vibrant Smoketree Chardonnay, hailing from California's Sonoma County, is a feasible option. Bonus: The Smoketree Pinot Noir makes a grand pairing with meats—grilled and baked—just in case someone decides to fire up the grill on Thanksgiving.
Hampton Water Rosé: This wine was launched by international treasure Jon Bon Jovi. What more needs to be said?
Deep Eddy Vodka: Born and raised in Texas, Deep Eddy's Vodka is distilled 10 times before it's filtered "gently" over charcoal four times. That's the type of dedication your mom needs in her vodka soda—or her sparkling cranberry punch—after slaving over the stove all day.
Four Roses Bourbon: Whether it's the Small Batch or Single Barrel blends, the complex yet surprisingly smooth taste of Four Roses bourbon—think dried spices and maple syrup—makes for the perfect full-bodied, and long-lasting, after-dinner nightcap.
Siete Leguas: Tequila with such a smooth, clean, rustic flavor that it can stand alone for straight up sipping or be served in mixed holiday drinks.
Krug Grande Cuvée: What's a holiday without a little bubbly? Barely a holiday at all! The tangy subtle notes of hazelnut, toasted bread and jellied fruits make Krug champagnes a suitable companion to the dozens of pies that will likely be on display on the dessert tables. Not to mention, the effervescent champ pairs deliciously with fried foods. Show your brave uncle how thankful everyone is for that deep fried turkey he managed to whip up (without setting the yard on fire) by raising a glass of this good stuff.