Thanos Protests Westboro Baptist Church Demonstration Outside Kansas Middle School
The Westboro Baptist Church is known for its vitriolic demonstrations, but the Topeka-based group was faced with colorful counter-demonstrators when it showed up to protest at a school in Kansas, including Marvel supervillain Thanos and biblical baddie Satan.
The standoff stemmed from the fact that the city council in Olathe is considering an LGBT non-discrimination ordinance. At a recent council meeting, a 12-year-old with two moms asked why his family should be discriminated against.
"I just don't understand why, if I'm with my mothers and we decide to go to a restaurant to eat, that we can be denied access and have to eat somewhere else," he asked during the public comment section.
Westboro Baptist Church, classified as "arguably the most obnoxious and rabid hate group in America" by the Souther Poverty Law Center, tracked down where the boy went to school and staged a protest Wednesday morning around 7:15am.
But the church members were met with hundreds of adults, children, clergy and other residents holding rainbow balloons and signs showing support for all children and families. Organizers insist the event was not a counter protest, but a "line of love," aimed at shielding the young students from WBC's hate.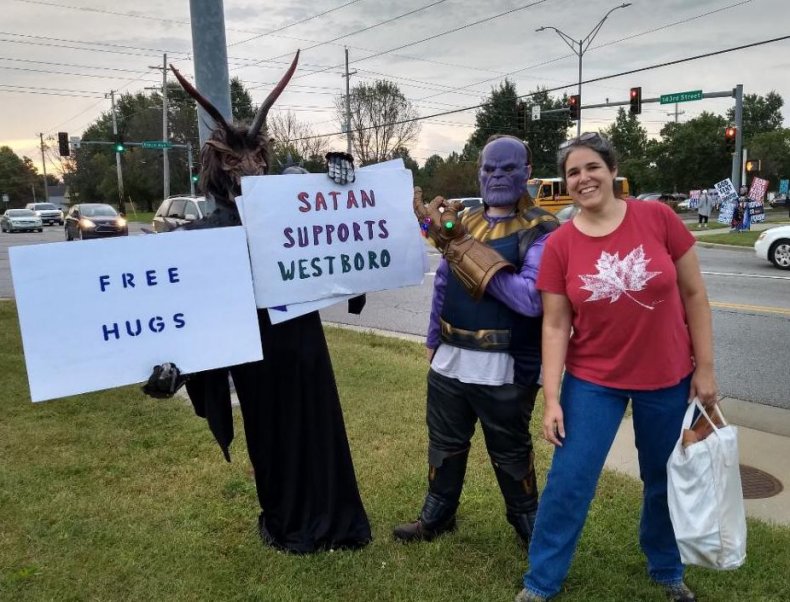 "While we believe that giving attention to this particular group is to be avoided, there is an overwhelming feeling by the community that we need to send a message of love to all the students at the Middle School," read the Facebook invite, which implored participants to ignore "the bigots and their taunts."
"Ignoring it may be easier said than done," it continued. "They say truly horrible things and carry signs that are shocking and cruel. If you attend, come prepared to see and hear grievous words and steel yourself to ignore them. We give them no eye contact and treat them like the irritating gnats they are. Otherwise, they win. Instead, we stand in love."
According to witnesses, there were three church members present, with more than 300 people participating in the line of love. While neither group was allowed to step on school property, local businesses gave Stand Up in Love permission to use their parking lot.
A reader of the Friendly Atheist blog, who attended the "Stand Up in Love" rally and provided photos, said Satan tried to stand closer to the WBC members, but "police told him to keep moving." Members of the church held signs reading "Repent or perish," "God still hates f*gs" and "God sent the shooter," among other slogans.
City councils across Johnson County have been debating—and ratifying statutes barring discrimination based on sexual orientation and gender identity. But Olathe, a town of about 126,000 some 20 miles outside Kansas City, has taken longer. Critics of such laws worry they will impinge upon their religious freedom and ratchet up the number of lawsuits the city faces. The chair of the Northwest Johnson County Republicans even worried the law would open to door to "sexual predators" preying on girls in locker rooms and bathrooms.
Proponents, who have been pushing Olathe to adopt an ordinance at least since 2016, argue it's just a matter of fairness.
"I support your faith. I support your church and your choice. All I'm asking is to have the same protections as you," Kate Guimbellot, the boy's mother, told The Kansas City Star in August. "Please don't react out of fear. Please understand that all we want is equal rights. I want to be able to eat where I want to eat, shop where I want to shop, work and live, the same as everyone around us."