'Is That Helpful?': Fox News Host Confronts John Cornyn Over Tweet Asking If Biden's 'in Charge'
Fox News host Chris Wallace on Sunday confronted Republican Senator John Cornyn of Texas over his recent tweet questioning whether President Joe Biden is "really in charge."
In a tweet on Monday, Cornyn complained about Biden's lackluster tweets and alleged that the president was unavailable for press interviews. The senator's remarks came amid a wave of GOP criticism against Biden, with some suggesting he may not be running the White House.
"The president is not doing cable news interviews. Tweets from his account are limited and, when they come, unimaginably conventional. The public comments are largely scripted. Biden has opted for fewer sit down interviews with mainstream outlets and reporters," the senator tweeted, quoting an extract from a Politico report.
In a follow-up tweet, Cornyn asked: "Invites the question: is he really in charge?"
Wallace pressed Cornyn on the tweet during a segment on Fox News Sunday, asking the senator: "Is that helpful to be sending out a tweet questioning President Biden's mental faculties?"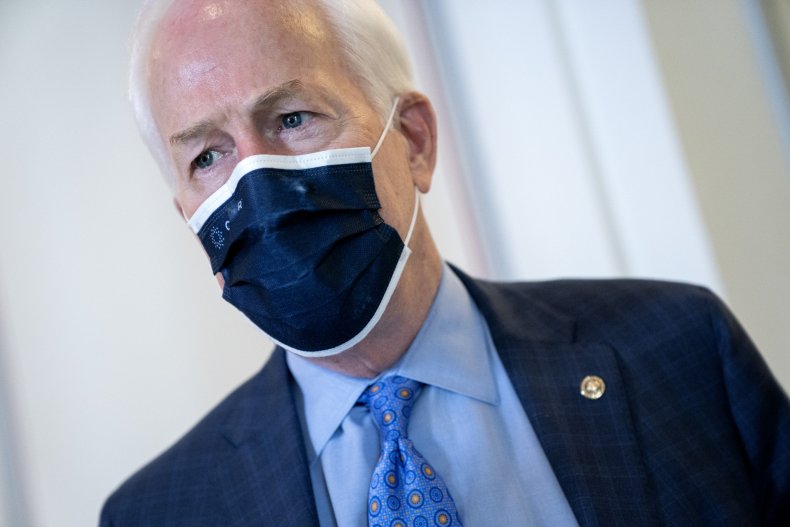 "Well, Chris, thank you for the question because I think there's been a lot of confusion in the Twitterverse about that," Cornyn responded. "That actually was a quote from a Politico story that I pasted into a tweet, and then I simply asked a question."
He continued: "What I'm trying to do is reconcile the Joe Biden we heard from on January 20, the Joe Biden that many of us know from his previous service in the United States Senate, from the Joe Biden we're seeing now, jamming through $1.9 trillion spending bills."
Cornyn explained that being a D.C. politician has taught him "not to only listen to what people say, you need to watch what people do."
Asked by Wallace whether he questions if Biden's "really in charge" or "up to the job," Cornyn explained that he didn't intend to suggest that the president was incompetent.
"That tweet was not meant to suggest anything about the president's competency or physical or mental... I know that some people have suggested that and it certainly wasn't my intention," he said. "It's simply trying to reconcile the rhetoric with the reality and we need the reality to match the rhetoric and it's not matching right now."
Newsweek reached out to the White House for comment.
Former President Donald Trump, Biden's predecessor, spent four years aggressively fighting the press, which he called the "fake news media," while constantly using Twitter as a vehicle to attack his political enemies and announce policy changes.
After campaigning as the candidate that will bring America back to calm, the Biden administration has taken a more reserved approach with his communications strategy, often leaning on Cabinet officials to communicate his agenda to America.
"Our communications strategy is based on innovation in the digital space, flooding the zone in regional and coalitions press, and effectively using traditional national media. He's the president, he's got a lot on his plate. We have people fanning out every single day across different media to amplify his message," deputy communications director Kate Berner told Politico.