Pastor Michael Todd apologized for trying to hammer home a point about trusting in God's vision in a sermon by rubbing his own spit on a parishioner's face, calling it an "extreme" example.
During Sunday's service, Todd, lead pastor of the Transformation Church in Tulsa, Oklahoma, spoke to parishioners about God's vision and trusting God's vision even if it's outside of a person's comfort zone. While noting that receiving God's vision "might get nasty," Todd coughed into his hand and rubbed his phlegm and saliva all over the man's face.
On Monday afternoon, Todd posted on Twitter that he wanted to acknowledge what happened when the "spit hit the fan." He said he rewatched the clip and agreed, "it was disgusting" and "that was gross."
He called it a "distraction" to what he intended to do, which was to "make the word come alive" and illustrate the story for parishioners.
"I just want people to know that we want to help people. We want people to see Jesus. We want people to feel loved. We want people who are desperate to find hope and I am passionate about that. So much so that I try to do extreme things to help people get it. Yesterday it crossed the line," Todd said in the video posted on Twitter.
During Sunday's sermon, Todd encouraged people to trust in God and to not resist his vision because it meant stepping outside their comfort zone. He noted that God won't drag someone into his vision, but will hold their hand and invite them to walk in that vision.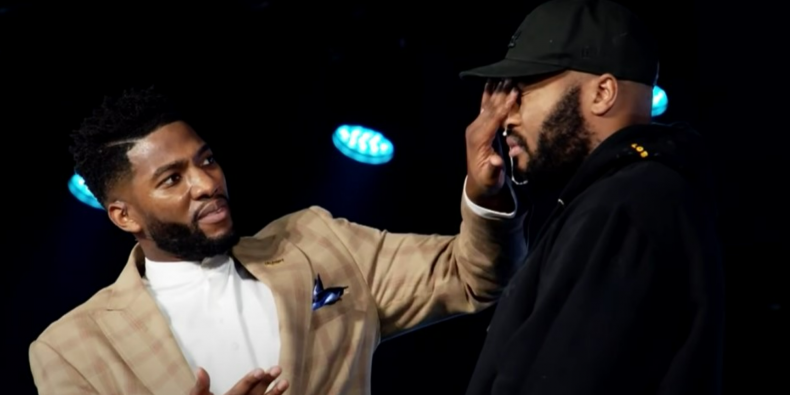 Much of the service was related back to the story of when Jesus helped a blind man see. As recounted in the Gospel of Mark, Jesus took a blind man by the hand and led him away from the group of people. Todd noted that this meant he was being taken away from his security and most people would say they didn't want to go. So, the blind man had to have faith.
"We're a church of crazy faith and this is what you're going to have to use when God starts calling you from what's comfortable to give you a clear vision," Todd said.
After being led outside the village, Jesus spit on the man's eyes and put his hands on him, at which point, the blind man was able to see. Todd noted that spitting on someone seems "degrading" to the natural eye, highlighting that some people could see it as being lower than them.
Todd's decision to illustrate the story by physically spitting in his own hand and wiping it on a man's face captured the attention of Twitter users, who were critical of the example. People called it disgusting, questioned the validity of wiping spit on someone during a pandemic and advised people to find a new pastor.
In his apology, Todd acknowledged that while Jesus spitting on a man helped him to see, his spit did not help the man in his church, who is bald, regrow his hair. He said he spoke to him on Monday and there was "no miracle here" because he is still bald and said next time he is going to "do something differently."
"It's never my intention to distract others from God's Word and the message of Jesus...even with illustrations!" Todd wrote on Twitter. "I apologize for my example being too extreme and disgusting!"