'That's All You Can Do': Cleveland Clinic Doctor Tried to Get Trump Family to Wear Masks at Debate
A Cleveland Clinic doctor tried to get members of President Donald Trump's family and his guests to wear a face covering during the first presidential debate, but they declined, according to multiple people who witnessed the interaction.
Tyler Pager, a Bloomberg News reporter, tweeted Tuesday at the debate that "more than half on Trump's side, including his four children, are not wearing masks." Everyone sitting in Democratic nominee Joe Biden's side of the hall was wearing a mask, Pager wrote.
Cleveland Clinic, an academic medical center in Cleveland, is the official health security adviser for each presidential debate this year, according to its website. Peter Eyre, a senior adviser for the Commission on Presidential Debates, told Cleveland's WJW news station that mask-wearing would be mandatory at the event.
A Cleveland Clinic doctor brought masks for members of Trump's audience to wear, Pager tweeted. "She told me they refused to take one and wear them," he wrote.
NBC News reporter Marianna Sotomayor echoed this claim, tweeting Friday that she also witnessed the doctor reminding Trump's guests to wear a mask. The doctor reportedly offered them surgical ones in case they didn't have their own masks, but none of Trump's guests chose to wear one, Sotomayor wrote.
"The doctor looked frustrated as she stepped away, prompting a staffer to say, 'That's all you can do,'" the reporter added."
The Cleveland Clinic believes there was a "low risk of exposure to our guests" at Tuesday's debate, but is nonetheless contacting attendees to "address any questions and concerns," and offer testing, a spokeswoman for the medical center told Newsweek in an email.
"We had several requirements to maintain a safe environment that align with CDC guidelines—including temperature checks, hand sanitizing, social distancing and masking," the spokeswoman wrote. "Most importantly, everyone permitted inside the debate hall tested negative for COVID-19 prior to entry. Individuals traveling with both candidates, including the candidates themselves, had been tested and tested negative by their respective campaigns."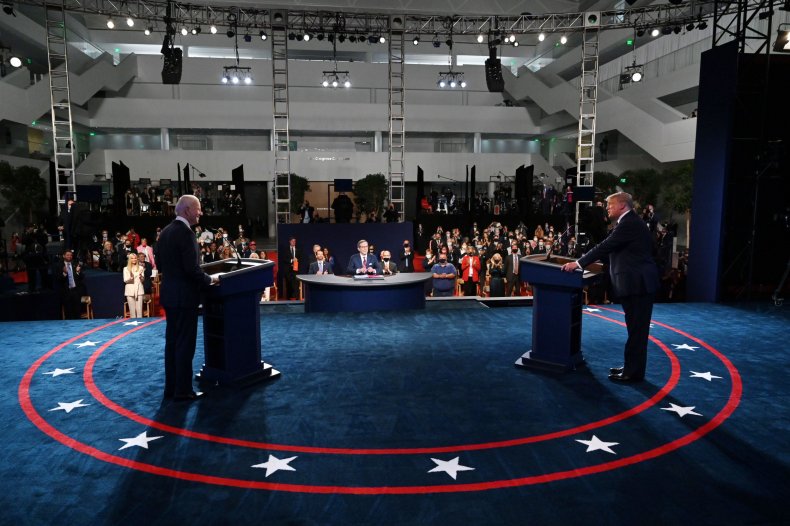 The news comes amid Trump's announcement early Friday morning that he and first lady Melania Trump tested positive for COVID-19, the viral disease that has killed more than 200,000 people in the U.S.
The Trumps received their diagnosis hours after Hope Hicks, one of the president's closest aides, tested positive. Hicks began experiencing symptoms Wednesday while attending a rally in Duluth, Minnesota, The New York Times reported. Trump shortened his appearance there to about 45 minutes—about half the length of one of his typical rally speeches.
Hicks traveled with Trump aboard Air Force One to and from the debate Tuesday, as well as the rally on Wednesday, but quarantined on the way home that night after she began feeling ill, Bloomberg reported.
At the debate, members of Trump's entourage either did not wear masks at all or removed them upon taking their seats. There should not have been any co-mingling between the Trump and Biden campaign staff in Cleveland, given that there were separate entrances and rooms for both teams, according to Bloomberg. Trump and Biden did not shake hands before or after the debate, and they seemed to remain at least six feat apart.
Update 2:16 p.m. ET: This article has been updated to include a statement from the Cleveland Clinic.