"That's Racing"?: NASCAR Champ Tony Stewart Hit and Killed Kevin Ward, Jr.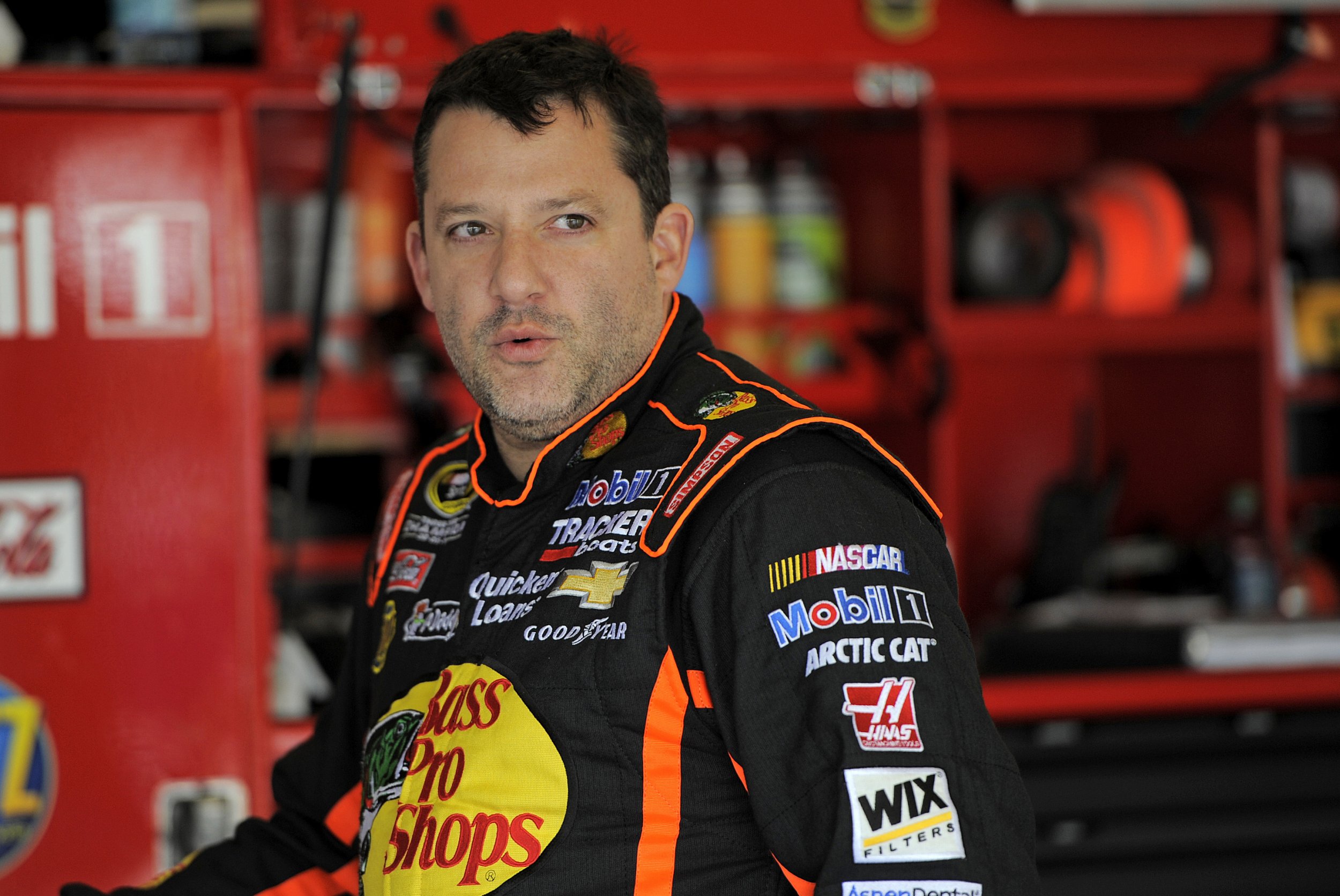 The dirt track at Canandaigua Motorsports Park in Canandaigua, N.Y., is a half-mile oval, but the stunning incident late Saturday night involving Tony Stewart and Kevin Ward, Jr. occurred at a dangerous intersection. It happened at the crossroads of fame and anonymity, of sport and road rage, of urban and rural America, and of "tragic accident" and a potential charge of involuntary manslaughter.
On Saturday night Stewart, a three-time NASCAR Sprint Cup series champion, was competing in a 25-lap race at Canandaigua on a dirt track in a sprint car. Stewart, 43, was scheduled to race in a NASCAR event the following afternoon, Sunday, at Watkins Glen, located approximately one hour south. Ward, 20, of Port Leyden, N.Y, was in his fifth season of dirt track racing when the fates of the two drivers intersected.
Coming out of Turn 2, Stewart's No. 14 car appeared to run Ward's No. 13 vehicle into the outside retaining wall. A legal move by the more experienced and accomplished driver, but in what was a chilling foreboding of what was about to transpire, that accident happened because neither driver yielded.
The yellow flag came out immediately. The race was under caution. Ward, his car spun-out 180 degrees at the top of the track and its right rear tire flat, exited the vehicle and walked back up the track, clearly agitated. One, two, three vehicles passed Ward, who was still wearing his black racing helmet.
As a YouTube video shows, Ward appears to spot Stewart's vehicle approaching, and becomes animated, stepping toward the inside of the track. A blue and white car swerves slightly to avoid Ward, and the camera follows it momentarily. The roar of an engine is heard, and the camera returns to Ward just as the right side of Stewart's car clips him. Ward appears to be dragged under the right rear wheel and is then thrown some 25 to 50 feet down the track, his body limp. A rescue crew that had already been dispatched to the scene arrives immediately.
"Oh, he hit him!" the voice on the YouTube video, shot from the grandstand across the track, is heard to say. "Tony Stewart just hit that guy, Alex. Tony Stewart just hit that guy. Ho-lee shit."
Kevin Ward was pronounced dead at a local hospital one hour later. Stewart returned to Watkins Glen and as late as early Sunday morning his team, Stewart-Haas Racing, was insisting he would race in the NASCAR event less than 12 hours later. The team's competition director, Greg Zipadelli, called it "business as usual." Later Sunday morning, Zipadelli reversed course, announcing that Stewart would not drive and that "we feel strongly that this is the right thing to do."
Stewart-Haas referred to the incident as a "tragic accident."
The question that investigators will mull is, How culpable is Stewart? Clearly, Ward was upset and acting recklessly as he stepped toward Stewart's car. This looked liked something more universal than sport: it was road rage. Then again, as those familiar with the sport might say, "That's racing."
Only two years ago, on an August night in Bristol, Tenn., Stewart approached the vehicle of fellow NASCAR driver Matt Kenseth as it was exiting pit row. Earlier the two had tangled and Stewart's car had been disabled. As Kenseth's car approached, Stewart stepped toward it and then flung his helmet at the front of the oncoming vehicle, striking it.
Afterward Stewart told ABC, "I learned my lesson there; I'm going to run over him every him every chance I've got from now 'til the end of the year. Every chance I've got."
He was speaking not literally but rather in terms of race tactics. Still, anyone who has followed Stewart's career knows that he is both irascible and confrontational. His nickname is "Smoke," and with good reason. Here he is in 1999, nearly mimicking Ward's fatal actions in an altercation with Kenny Irwin (1:00 mark).
That's racing, or so they say.
Death and danger are constant companions in auto racing, of course. One of the two most-decorated drivers in NASCAR history, seven-time Cup champion Dale Earnhardt, died in a wreck at the Daytona 500 in 2001. As Saturday night's race at Canandaigua was taking place, a premium cable channel was airing Rush, the 2013 film that chronicled the 1970s rivalry between Formula One drivers James Hunt and Niki Lauda, the latter of whom nearly burned to death in a wreck.
Racing is perilous, but it is also one of the few sports where the elite will often compete against unknowns. Mike Trout does not compete in beer league softball games. But Robby Gordon, a three-time winner of NASCAR events as well as a veteran of the Indianapolis 500, regularly competes in off-road races in Mexico's Baja Peninsula without fanfare. As for Stewart, just one year and four days earlier he was racing on a half-mile dirt track in Iowa and crashed, breaking his right fibula and tibia and ending his season.
It is still too soon to know whether investigators in Ontario County will charge Stewart with a crime. Sheriff Philip Povero told reporters that this "is an ongoing investigation of an on-track crash," and that Stewart was being "fully cooperative." He also said there was no evidence of "criminal intent" by the NASCAR star.
It seems ridiculous to suspect that Stewart, even given his well-documented short fuse, would have meant to cause any physical harm to Ward. It would seem that the most serious charge that could be leveled would be involuntary manslaughter, the legal definition of which is "the unlawful killing of a human being without malice aforethought."
But this is an unprecedented situation. Boxers die in the ring, drivers die on the track and in baseball both hitters and pitchers have died after being struck by baseballs. What happened Saturday night in Canandaigua was different. This was a confrontation that arose from the event, and transpired in the middle of the contest. Perhaps the nearest similar event occurred in 1965, when San Francisco Giants pitcher Juan Marichal whacked Los Angeles Dodger catcher John Roseboro in the head with this bat. Roseboro required 14 stitches, but suffered no permanent injury.
On Saturday night, on a half-mile clay oval in the Finger Lakes region of New York, the lives of a famous and wealthy NASCAR champion and an unknown driver from a town of fewer than 700, a man not old enough to legally drink, barreled toward a blind intersection. Neither exercised enough caution.