Theater Threatened to Skip 'Lightyear' Kissing Scene Between Two Women
An Oklahoma movie theater has backed down on its threat to skip through a brief same-sex kiss in the latest Disney-Pixar film, Lightyear.
The 89′er Theater in Kingfisher, Oklahoma, initially posted a sign indicating to customers that it would be fast-forwarding through the short scene early in the film, which hit theaters on Friday. As of Tuesday, a local Fox affiliate, Fox 23 News, reported that the sign had been taken down and that the theater intended to play the film all the way through.
Starring Chris Evans in the lead role, Lightyear is a new spin-off of Pixar's Toy Story series, presented as the sci-fi adventure film that the Buzz Lightyear toyline in the previous films is based on. Early in the film, a montage encompassing several decades plays out, during which Lightyear's close friend, voiced by Uzo Aduba, briefly shares a kiss with her wife during a family gathering.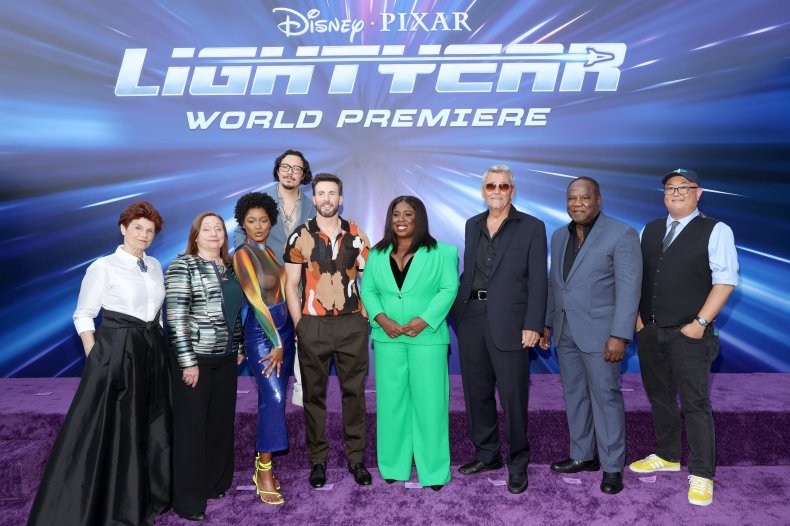 Fox 23 reported that the sign came down before the theater ran any showings of the film with the scene skipped over. The reasoning for why the theater put up the sign and then backtracked so quickly is not currently known.
Several moviegoers who spoke to the local Fox affiliate said that they had no issues with the scene, with some noting its short length and others praising the depiction of different kinds of families.
"Watching it, it was no big deal," Jill Stuever, who took her two sons to see the film, said. "It was like two seconds. Maybe like one second if you were really paying attention."
"I thought it was fine," Lili Giles, who saw the film with her 5-year-old. "I'm fine with all kinds of different families."
Lightyear has been banned in several foreign countries that are known to be hostile toward media depictions of LGBTQ characters and situations, including Saudi Arabia and the United Arab Emirates. It has also received some pushback from conservatives in the U.S. The filmmakers defended the inclusion of the scene as necessary, and told the Los Angeles Times that "every other workaround felt just a little bit less than authentic."
How the scene might be affecting Lightyear's success is unclear. The film notably underperformed in its opening weekend, bringing in around $50 million and coming in second to Jurassic World: Dominion's second weekend, well below all of the previous Toy Story films. While some conservatives have celebrated this, it must also be noted that the film had the biggest opening weekend for an animated movie since the start of the pandemic. Family movies have also tended to perform well long-term at the pandemic-era box office.
Newsweek reached out to the 89'er Theater for comment.