Theft in Kathmandu: Can Nepal's Cultural Legacy Be Saved?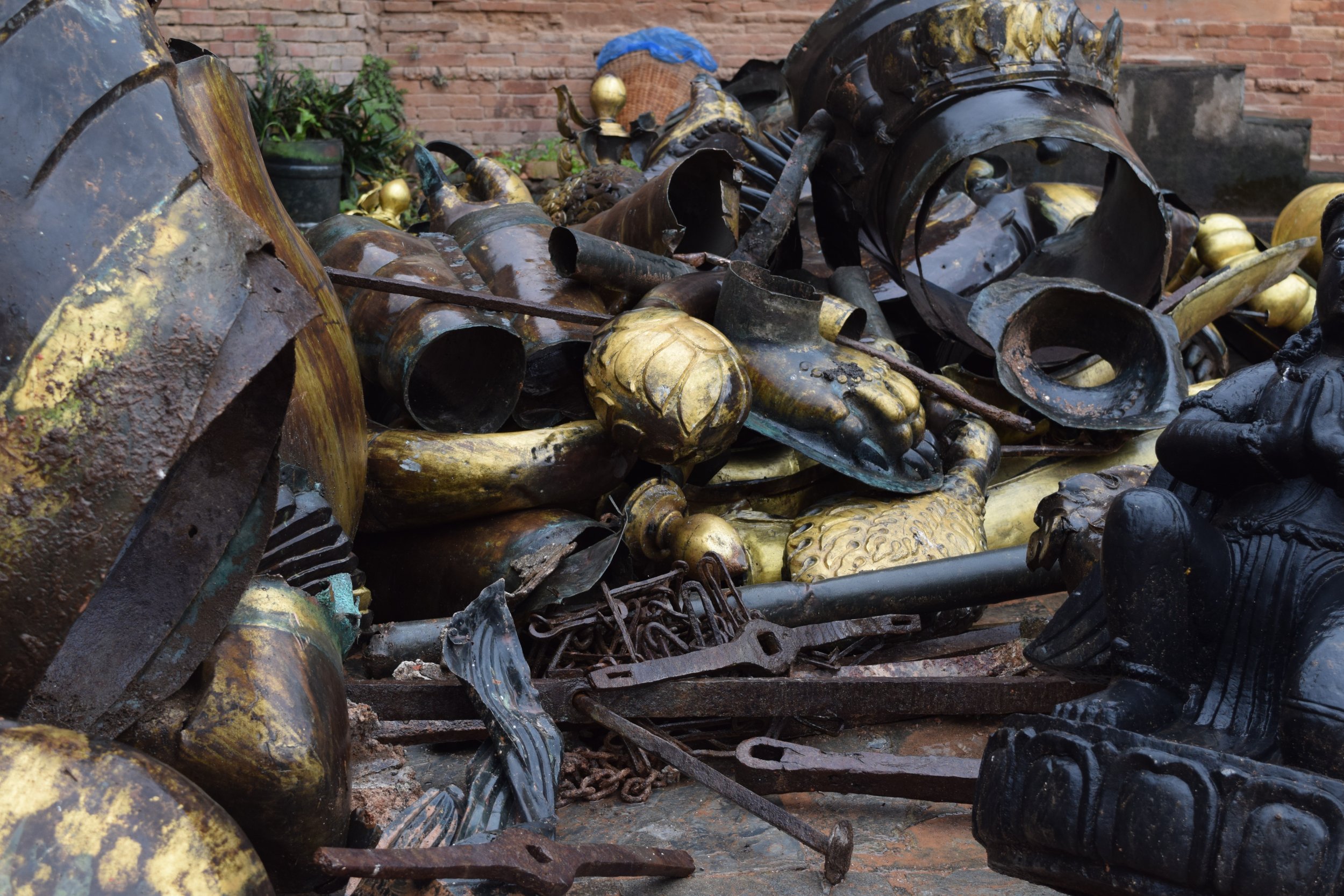 KATHMANDU, Nepal—Bhesh Dahal, the director general of Nepal's Department of Archaeology, insists that the only artifact stolen from any of the devastated historical buildings and heritage sites in Kathmandu was a small bell. It may have dated back hundreds of years, but it may also have just been a few years old. There's no way to tell. What he does know is that the bell was returned by an anonymous citizen activist who says he stopped the thief near Basantapur Durbar Square.
Dahal, a tall man wearing a traditional Dhaka topi hat, holds court in a beat-down, sparse office—plastic covers the office chair behind the desk, and an outdated calendar hangs on the wall—and dismisses outright that there may be other things missing from Nepal's greatest architectural and historical sites following this past week's devastating earthquake.
"These are just rumors," he says. "I have sent officers out for inspection, and we have not found anything lost."
Christian Manhart, head of UNESCO's Nepal office, corroborates Dahal's report. "There are hundreds, thousands of temples that have been damaged," he says. "I have only heard of one case of someone being caught [stealing] at Durbar Square."
But this may be a case of poor reporting. Both Dahal and Manhart admit they do not have the means to reach out to everyone. And one visit to Durbar Square, the city's famous temple and palace complex, which was severely damaged by Sunday's magnitude-7.8 quake, raises questions about anyone's ability to effectively evaluate what has or has not been stolen. In the square, centuries-old buildings with ornately carved wood beams, stone statues and gold and silver leafing now sit in various states of disrepair. Pick through any pile of rubble and you are bound to uncover a section of a frieze depicting a Hindu epic or the arm of some god, broken off from its venerable body.
Stowing an illicit find in a backpack and walking out would be fairly easy. Though the area teems with the uniformed and armed—Kathmandu police, Nepalese soldiers, search-and-rescue teams from a range of countries—no one is paying much attention to the dozens of people wandering aimlessly among the destruction. Durbar Square is ostensibly off-limits, except to officials, the media, volunteers and residents of nearby buildings, but these categories are amorphous and the entry points porous, guarded haphazardly by untrained volunteers trying their hardest to do a job for which they are unprepared. These volunteers say people are walking off with bricks, chunks of wood and more, despite their best efforts.
"On the temple side [of the square] people keep small statues for themselves," says volunteer Rakesh Bajracharya, standing guard at the Ganga Path entrance to the square. "People are trying to steal—why not? They are very valuable things." His day job is as an athletics coach; he says he is one of the coaches of the country's national sprint team. "My house is OK, my family is OK, so I came to help."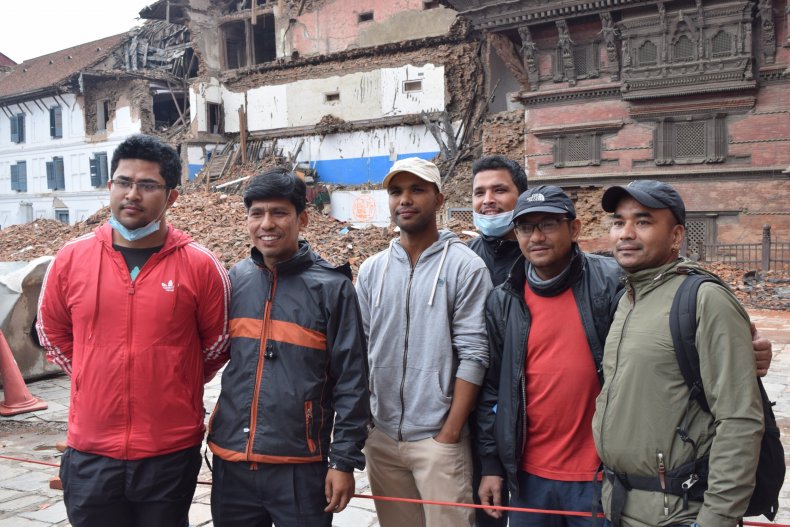 Experts agree that it seems likely that there has been some theft. "I wouldn't be surprised if people were taking advantage of the current situation," says Sara Shneiderman, a University of British Columbia sociocultural anthropologist whose research has focused on the Himalayan region. "It's been an issue for a very long time. There is a long history of stolen temple art, much of which turns up in auctions and so forth. And in a situation where people are desperate to secure their own resources, you can understand why people might do this."
The network currently making up Nepal's cultural guard is very, very loose. The police are there, but protecting debris is, of course, a low priority in a city where the earthquake death toll just passed 5,000 and dead bodies are still being pulled out from fallen buildings. Thousands have been left homeless, and many fear an impending food and water shortage, as well as a sanitation crisis on the horizon that could lead to a public health catastrophe.
"I think it is right that police should be focused on relief efforts and not necessarily on protecting statues," says Shneiderman. "Though it would be sad if there were some loss in that regard."
For Nepalis, that loss is already becoming acute. "The people here have a very strong cultural identity," says UNESCO's Manhart. "The temples are the lives of these people. They live day to day with these temples. If the material place for living this culture has gone, there is a risk that we also lose these traditions and this intangible cultural heritage."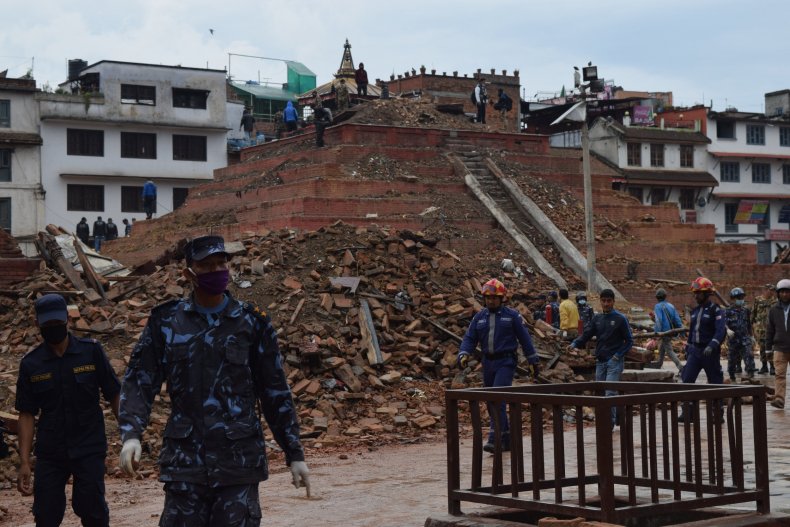 Now moped riders slow down and turn their head as they pass the fallen towers and temple buildings; locals are visiting sites as if they were tourists coming to see the devastation, taking photographs and holding each other close. Others, like Bajracharya, have volunteered their time. He says there are currently 111 volunteers and points out that they are not getting any funding or support. Needs on the ground are being coordinated by one man riding around the square on a bicycle.
In part, this is due to a simple lack of resources in an emergency situation. "The Department of Archaeology is not in a position to coordinate," says Manhart. But it's also the result of a long-standing cultural system of decentralized temple management, organized around guthis, a form of community trust. Historically, these were groups of community members charged with safeguarding the temples and the temple land. In the 20th century, they were consolidated, in a way, into the Guthi Sansthan, or Guthi Corporation, a semi-government organization to which the local Guthi branches now report. Throughout, they have remained the first point of contact for the ongoing monitoring of Nepal's cultural heritage.
Hari Prasad Joshi is the chief of the Guthi's branch in Patan, the part of the city where Durbar Square is located. Joshi tells me they have a list, created 50 years ago and updated annually, of the relics and artifacts kept at all of the city's temple sites. So far, they also cannot confirm that anything has been stolen. But, says Joshi, "nothing can be guaranteed. We are very concerned about theft. We have been guarding the things carefully."
The guthi is small, with just eight full-time staffers. Right now they can cover only two areas: Durbar Square and the Shree Hiranya Jung Narayan Temple site, where the Patan Guthi branch had its offices before that building collapsed in the quake. When I visit with Joshi at the Narayan Temple, we talk in the rain; his fear of further collapse is so strong that he will not even stand under the awning of the building. Nearby, some of his team members are inspecting the broken remains of a golden statue: a garuda, a bird-like creature representing the vahana, or vehicle, of the god Narayana.
Joshi says they are attempting to coordinate with the police, local heritage clubs and volunteers—as well as hiring day laborers—to both take stock of the damage and protect the heritage sites from vandalism and theft.
UNESCO is also initiating efforts to assess the damage. On Thursday, it will bring in all of the local experts, the leaders of regional organizations and the foreign relief groups to "exchange information on the state of the monuments and to put it on a database"—and to figure out how to coordinate their efforts moving forward.
It may be too late to prevent the theft that has occurred, but they should be able to assess what's been stolen and begin to design a plan of action to reconstruct the temples and other architectural structures.
"I am convinced that we can rebuild most of these temples" says Manhart. Many of the architectural features, like lintels and cornerstones and doors, are still there under the rubble, possibly undamaged. These old parts can be reused in reconstruction. "For the [UNESCO] World Heritage monuments, we have excellent documentation: very detailed photographs, drawings, plans, measurements—everything is there."
Though it will be expensive, funding offers are already flowing in from donors all over the world, Manhart says. "But we have to do it quickly. If we wait too long, there will be another disaster in another part of the world and donors will move on."
As to whether the trauma of the earthquake will remain once the bodies are long gone and the temples are freshly rebuilt, Nepalis may be uniquely equipped to handle the changes ahead without ending up in a World Trade Center-style bureaucratic nightmare.
"In Nepal, there is a sense of the periodic disaster," says Shneiderman, "and a tradition around rebuilding. The temples serve as an anchor for aspiration and memory."
Travel to and accommodation in Kathmandu was provided by the International Reporting Project.