Three English Bulldog Puppies Stolen After Woman Sprayed with Substance
Three English bulldog puppies have been stolen in Essex, southeast England, after three men forced their way into a property.
One of the men is said to have sprayed a woman with a substance in the face before the men made off with the puppies reported to be three to four weeks old. The incident occurred at 10.50pm local time on Friday October 23.
In a statement, Essex Police said: "We are investigating following a break-in in Basildon where three English Bulldog puppies were stolen. It was reported three men forced their way into an address in Deneway at around 10.50pm on Friday 23 October.
"One of the men sprayed a woman inside the property in the face with a substance and three puppies were stolen before the men left. One of the suspects has been described to us as being of Asian on Mediterranean descent and wearing tracksuit trousers. One of the other men is described as being around 6ft tall, in his 30s or 40s, large build, wearing a navy top with the hood up, and had dark hair.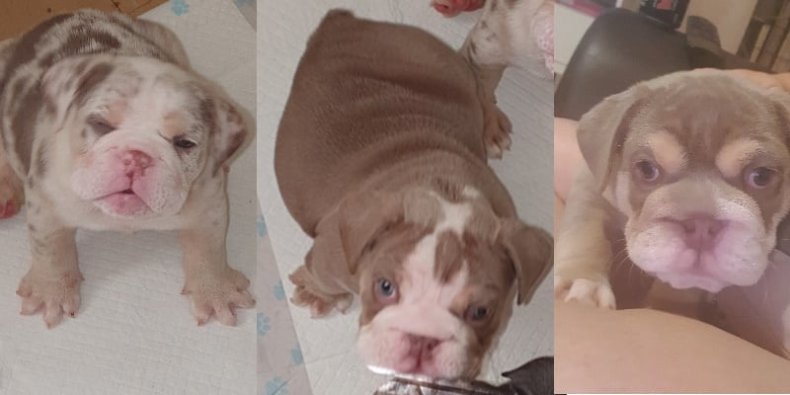 "It is believed at least one of the men was wearing a balaclava or beanie-style hat.
Our inquiries are ongoing. We are particularly looking for anyone who saw a dark-colored estate car, a dark-colored hatchback, or a white transit-type van in the area at the time or the days before."
Detectives released pictures of the fawn and white dog in a bid to trace their whereabouts. English bulldogs are one of the U.K.'s oldest breed of dogs and are popular in the country, meaning they can sell for as much as £9,000 ($11,744).
This year has been described as the worst ever for dog theft, with DogLost, a charity that reunites missing dogs with their owners claiming that there had been a 65 percent rise in pet burglaries on homes and dog kennels.
The charity says it had 48 incidents over the lockdown period of March 23 to June 1. The national lockdown imposed as a result of the COVID-19 pandemic has meant that there has been increased demand for dogs as people spend more time at home.
The Kennel Club, a national charity that operates the national register of pedigree dogs has reported a sharp rise in demand, which as a result has meant that prices for the animals are being quoted as twice as high as they were before the pandemic.