Theme Park Employees Walk Out After Alleging Manager's Racist 'Bunch of Monkeys' Remarks
Several employees at an amusement park in Charlotte, North Carolina, quit their jobs on Saturday after alleging that a manager made multiple racist comments toward Black workers that went ignored.
Employees at Frankie's Fun Park told Channel 9 news that one manager repeatedly made racist remarks without facing consequences. Alyssa Faustia, who worked at the amusement park for two years, said the manager told her she had "nappy hair," and likened her and her Black co-workers to a "bunch of Monkeys."
"The manager said I had nappy hair like Whitney Houston so he called me 'nappy-head,'" Faustia said. "This manager also said we looked like a bunch of monkeys getting ready to get whipped."
Two other employees, Dajah Austin and Jordan Guine, told the news outlet that they had similar experiences with the manager. All three employees said they told other managers about the incidents, but that their complaints were not addressed.
Then, on May 22, the three employees attempted to address the issue by writing down their negative experiences on note cards and spreading them across a table in the break room. The group then called the general manager in to talk about the incidents.
"Jordan called the GM to the break room to talk about it, and he just said, 'If you guys walk out, there's no coming back,'" Faustia told Channel 9 news. Realizing that nothing would be done to address the manager's behavior, the group said they clocked out and left their jobs.
"I was really in tears because it's like, wow, they really do not care about us," Austin told Channel 9 news. The group said more than a dozen employees walked out in solidarity with them.
"It was a pretty good job, so it was tough," Guine added. "I had to walk out fighting my tears, and I'm not a guy that cries. It was a little painful seeing nothing would change."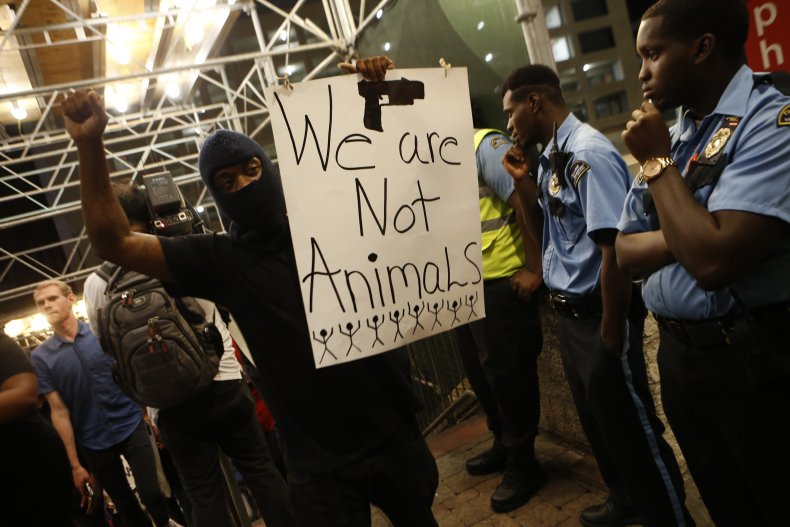 In response to the allegations, Frankie's Fun Park owner Doug Godley told Channel 9 news that the park had "never received a complaint" about the racist remarks.
"They never contacted our human resources department, not one complaint," he said.
Godley added that he spoke with the management staff at the Charlotte location, who denied the allegations. He maintained that his staff members would have been willing to have a conversation, had they known of the allegations sooner.
"We would have been glad to have any kind of discussion, meeting, anything at the appropriate time. But to do that when there's a park full of guests, it isn't the time to have the discussion," Godley said.
Frankie's Fun Park Chief Operations Officer Jason Buckley agreed with Godley's statements and said he felt the situation wasn't handled appropriately.
"I personally think it would have been handled differently had they come to us sooner or not stopped in the middle of their shift to protest about these claims." Buckley said.
Both Buckley and Godley said they would further look into the accusations.
Newsweek contacted Frankie's Fun House for additional comment, but did not hear back in time for publication.