Theophilus London's Fashion & Branding Aspirations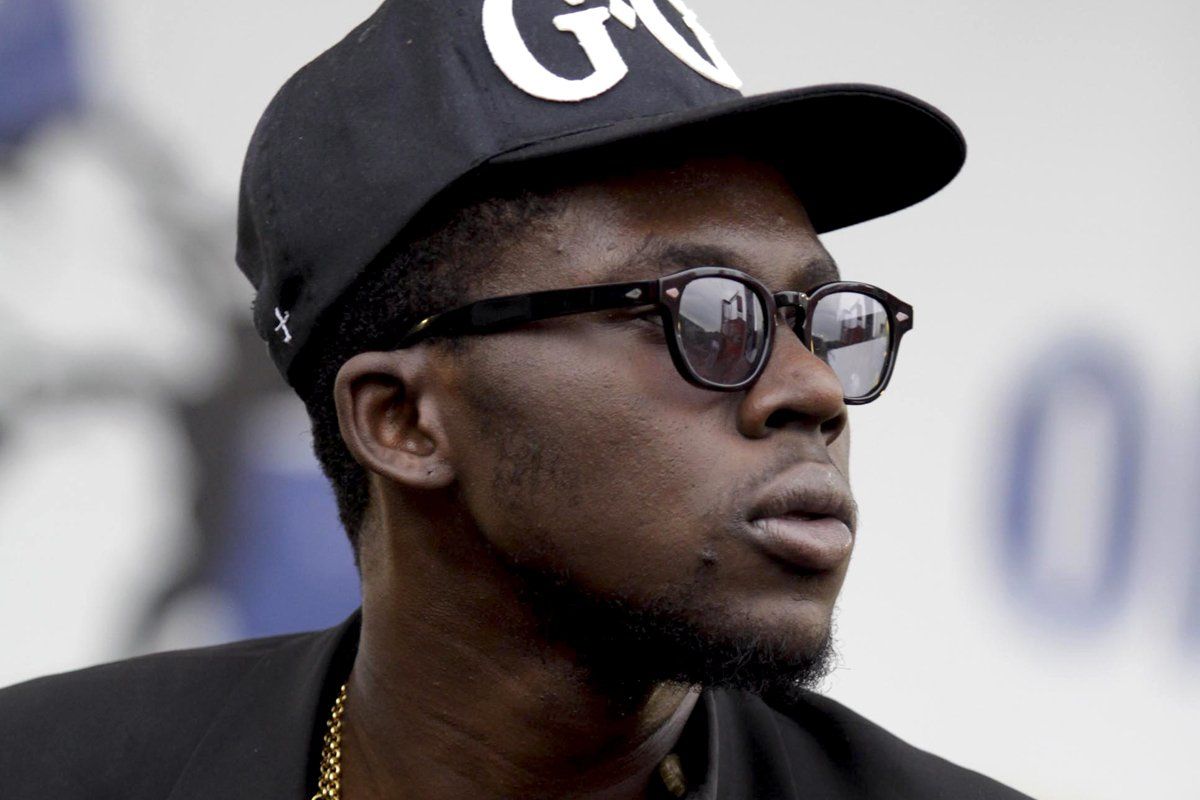 Most musicians become household names, and only then, if they're lucky, do high-end labels line up to work with them. Rapper Theophilus London skipped straight to the end. Before his first album is even out this month, he's collaborating with Gucci, designing shoes for Cole Haan, and is the new fall face of Tommy Hilfiger.
London (whose first name is pronounced "Thee-off-illis") is known for his retro-beats that blend hip-hop and New Wave. His music recalls artists such as Morrissey, Prince, Marvin Gaye, and Michael Jackson. A progeny of mass-marketed stars, he is pioneering a new path for music by cultivating his image first and—after several luxury brands have jumped aboard—is building his musical reputation later.
London may be young, but he runs like a well-oiled machine when it comes to selling himself. The 23-year-old, who was born in Trinidad and raised in Brooklyn, briefly studied marketing in college and told Newsweek that through his work with Mountain Dew and other corporate entities, he has learned "how to push a brand." The first step: striking a careful balance between fame and oversaturation.
But, to purists who complain about the mainstreaming of rap, London's newfound fame still seems premature. In a review of Lover's Holiday, a mixtape he released in February, the music blog Pitchfork derided London for making his mark on the fashion world. "To quote a better lyricist than him," wrote the reviewer, "you just haven't earned it, son."
But fans don't mind these tactics—and they seem to be working. He's finally debuting his first album, Timez Are Weird These Days, on July 19. Already, his first single "Last Name London," has been heaped with praise, and he has released an animated video for another song on the album, "Girls Girls $," which he says was inspired by "the hype and importance of the Internet."
The attention started soon after the release of his wildly popular This Charming Mixtape in January 2009. London began selling out small venues, and juggling invitations to perform internationally. His style—skinny black jeans, fitted blazers, Malcolm X sunglasses and a Borsalino (the wide-brimmed felt hats worn by Hasidic Jews)— quickly attracted attention from bloggers and fashion editors, with GQ labeling him a "style icon."
In 2009, the beverage company Mountain Dew (along with a marketing agency called Cornerstone Promotion) sponsored the release of his first two singles, "Humdrum Town" and "Flying Overseas," (which features Solange Knowles) as part of its Green Label Sound project, which fosters emerging artists. London then signed a yearlong contract with Bushmills Irish Whiskey, appearing in an ad campaign with the slogan "Since Way Back."
After releasing his EP, Lover's Holiday, in February, London performed on The Late Show with David Letterman. The following month, Microsoft paid him over $15,000 to perform at a Bing party during the South by Southwest Music Festival. He played over 15 shows that week—which brought him many new fans. Nylon magazine dubbed him "Hip hop's newest cool kid," and MTV Buzzworthy called his music "simultaneously retro and forward-thinking."
Luxury outlets are paying attention and "getting even better at recognizing young talent early and figuring out what kind of strategic partnering they need," says Chris Chambers, who runs an image-marketing and public relations firm that counts rappers Drake and Jill Scott among its clients. "It may not have been done intentionally, but Theophilus' image reflects what European brands understand."
His manager, Knox Robinson, says that Theophilus "engages like a Proctor & Gamble." Robinson explains that London's early exposure will only help push his musical career. "In terms of designing a brand, the only way you can have confidence in the product is if you have it in the marketplace," he says. Robinson says that London has made money from these brand relationships and show fees—along with "judicious" budgeting and spending. "His retail politics are based on the Obama campaign," Robinson says. "You're not waiting for one big show. It's doing smaller shows for decent fees all the time."
Gucci recently sponsored a collaboration between the rapper and the DJ Mark Ronson, for which Ronson designed a shoe and released a song called "Souls on Fire." In May, London was photographed for L'Uomo Vogue, the Italian men's magazine. He loved a Lanvin blazer he wore during the shoot so much he cold-called the French fashion house to ask if they would outfit him for an upcoming show. During the Cannes Film Festival days later, the musician was dressed by a label for the first time, in eggplant-colored pants and jacket. After the show, London tweeted ecstatically: "Props to Lanvin for swagging me out for today's show in Cannes."
Weeks after borrowing the outfit from Lanvin, London was invited to sit in the front row at the brand's men's show in Paris. And he was inundated with invites from other top labels, including Givenchy and Thom Browne. But he's careful not to over-saturate himself—as Kanye West did when he appeared at several fashion shows uninvited last season—and London is quick to say that he won't go to just anything. "I was advised that I shouldn't go to too many shows, only the top ones," he says. "I don't want to end up in a photo with some dude wearing cheetah pants." (Last week, it was reported that West is at work on a collection of women's wear that he will debut during New York Fashion Week in September.)
Cole Haan also signed up London to design a signature blue-suede shoe, which the company will release in August along with an exclusive recording of London performing Nat King Cole's "Calypso Blues." "I feel I have so much more to deliver than music," London says. "I'm really focused on it, but the fact that people respect me and think I'm tasteful…I definitely want to use that to my advantage and do as much as I can." This fall, London will appear in Tommy Hilfiger's ad campaign.
Although his style choices have attracted admirers and imitators, London will admit he "doesn't know too much about fashion." And while he says he'd consider designing a limited-edition collection himself, he says that "having a line, and getting into fashion, is too complicated. I need to make five records first," he says. "It leaves a good legacy to have five records."
This is an extended version of a story appearing in NEWSWEEK's July 18 issue.