Therapist for Las Vegas Shooting Victims Says Survivors May Take Months to Recognize Their Trauma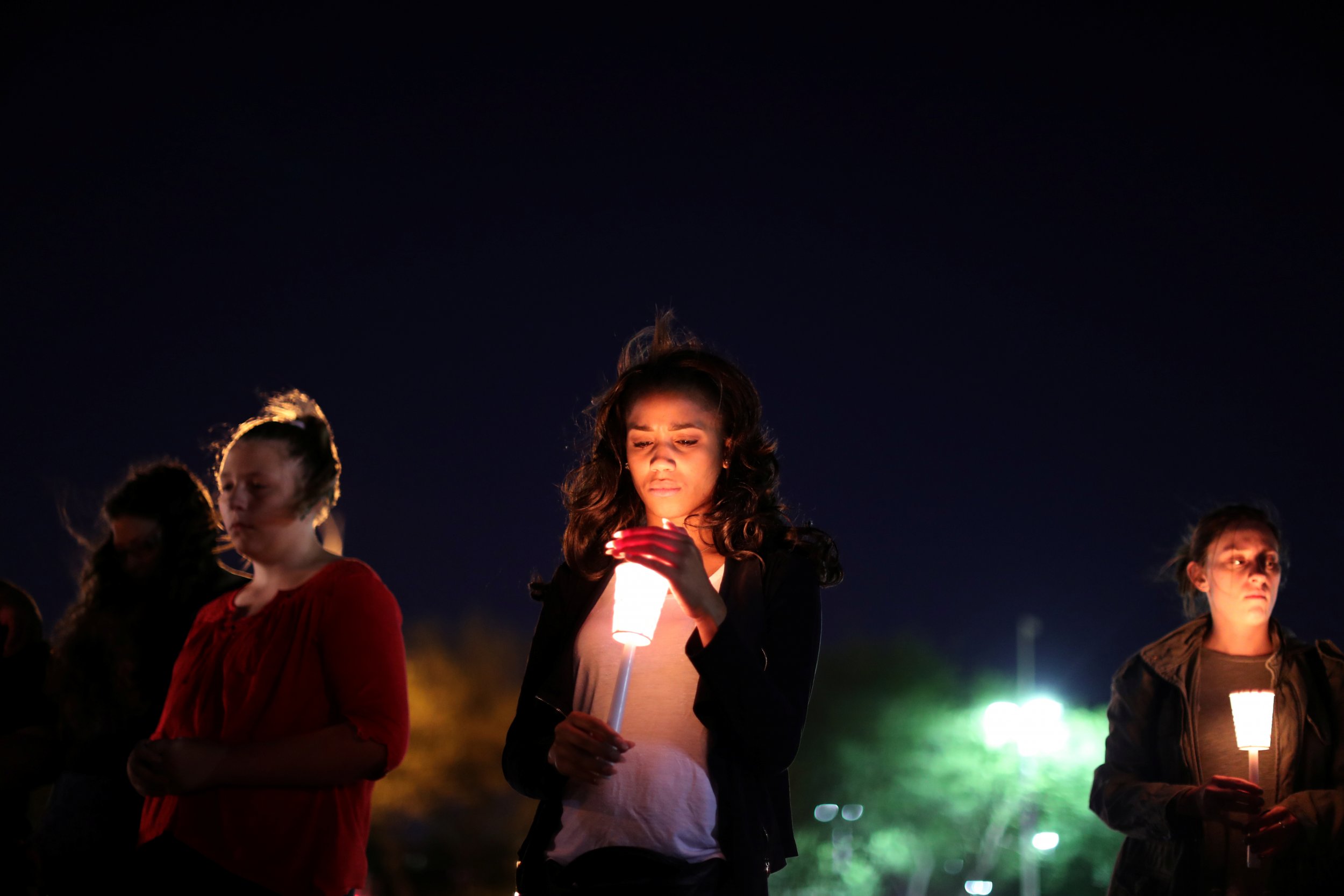 Barely more than a week has passed since the shooting in Las Vegas that claimed nearly 60 lives and caused widespread psychological pain in addition to hundreds of bodily injuries. The road to wellness may be long even for those who survived with no physical injury in a state where the mental health care system is already strained.
In the immediate aftermath of the shooting, MGM Resorts sent out a call via social media for volunteer trauma counselors to come to the aid of its employees and guests. One of those counselors was Marcy Melendrez, a clinical social work intern living and practicing in Las Vegas. Newsweek spoke with her on the Wednesday after the shooting attack on Sunday, October 1, at the Route 91 Harvest music festival. Marcy, who volunteered her services as a trauma counselor at a hotel along the Las Vegas Strip and later at a local church, recounted her day starting the morning after the shooting. A lightly edited and condensed transcript of the conversation follows.
------
How did you find out about the shooting?
My husband and I go to bed early, obviously not really expecting anything. Both of our phones started going off at the same time between 3 and 4 in the morning. We get multiple texts, we're seeing messages from friends and family from other states asking if we're OK, and we are just wondering why people are asking us this.
I get up and turn on the news, and I see what's happening, and immediately, I started crying because I realize this is down the street, this is my home, this is where I live.
I took a shower and headed into work, just ready to go.
Our director was able to speak to other people in the community, and immediately, once she made contact with somebody at MGM, we just started sending people over to the hotel.
We met at our office, so we actually didn't see people we usually see. [Melendrez normally sees children in foster care, foster parents and children waiting to be adopted, among others.]
The shooting affected so many people. Obviously, people who were at the concert, but all of the everyday people who are working in the casinos and the hotels. So we pretty much went down there not knowing what to expect but to just be available and to be prepared to see whoever we could.
So you got to Mandalay Bay. What was it like once you got there?
At any given time, day or night, the Strip is packed full of people. Packed full of tourists, packed full of everybody walking around having a great time. To be on the Strip and just see no one—to see there's no cars in the parking lot, there's no people walking around—it was strange. It looked like a scene from a movie. It seemed surreal. It didn't seem OK.
How did things happen once you and the other counselors gathered together?
They have these conference rooms, and there's people from other agencies as well, only a handful of people there at Mandalay Bay, I'd say maybe less than 10 people at that time. From there, we just kind of waited to be dispatched to different areas, different locations.
At this point from Mandalay Bay, people were being taken to other hotels. My partner and I ended up going from there to Circus Circus [hotel]. Some people went to call centers.
From Circus Circus, we were dispatched to the Aria hotel, and then we were there to counsel the employees of that hotel. We were just waiting for anybody who wanted to come and talk. They put out signs for guests, signs for employees to receive counseling, just to talk with other people, and then there was another area for guests of the hotel, for anybody who was staying there.
How did you counsel the people you saw there?
It takes a while to process trauma. And because everything was so, so quick—I mean less than 24 hours after—I think everyone was still in a state of shock.
The main goal is to be in that moment with that person. Everybody handles traumatic events differently. So I just sit with them in that moment and ask, "How are you? Are you OK? What's happening with you right now in this moment?" I don't necessarily ask them to share their story—you know, "Tell me what happened. Tell me how this was"—because I don't want to be retraumatizing them.
They're in disbelief. They're confused. They're scared. Some are angry, mad, confused, hurt—I mean, every emotion possible to be feeling. And then getting them in contact over what the next few days, weeks, months are gonna look like for them. And to get that support for them.
A lot of people are traveling. Maybe this isn't where they're staying, or maybe this is their home. Either way, we focused on the question: Who can be your support when you're not here? Who's your support when you walk away right now?
Because this is a process. This happened on Sunday evening. This is something that's going to take a while to settle in, especially for the people who were there, most definitely. For the people who live here, I don't think anyone's going to pass the Strip the same again. I pass the Strip every morning driving to work. Now, when I pass it, my heart drops, and it's like, Oh my God, this is real.
What were people telling you?
A lot of people honestly were really just overcome with emotion.
Like I said, everybody handles trauma differently. Some people, they're crying. It's an immediate response. Some people are in disbelief. Other people, it's almost as if there's not a reaction. They don't know how they're feeling because it's so much at the time.
A lot of people are having those feelings of guilt: Why did I make it, and these people didn't make it? But over the course of the day, I just think: Gosh, every emotion possible was being shown from everyone. It's a lot. It's hard to talk about.
I believe we probably stayed there until maybe around 2 to 3 in the afternoon. By the afternoon, counselors had broken up into shifts to relieve us.
What are you and your colleagues doing to take care of yourselves to deal with vicarious traumatization?
I have to be honest and say that even though we know the right things to do, even though we know how important it is, we're not the best at doing that. It's much easier to do for others than it is to do for yourself. But it is important that we find a way. Some people are gym rats. They love to exercise. They do their yoga.
Some people don't handle it. Some people compartmentalize and push it away.
Other people stay distracted, reading, watching movies, you know, binge-watching. A running joke a lot of the social workers have is we binge-watch things that keep our minds busy. We have that certain show that we'll go to have a happy place. I watch Friends. I've seen every episode. I think all of us have something like that.
Some of us have our faith. I know that's a huge thing for myself. That's really where I pour into, and that's what makes me feel better. When I left downtown, I was very shook up, I was very emotional. And I knew that I was not OK.
The first place I headed was to my church. The church had been open all week to anybody who just needs to come and talk. Anybody who just needs a place to decompress, to just sit with someone. There's food. There's drinks. There's people to just sit there. People to talk with. People to pray with.
I was really blown away. I'm watching groups of teenagers enter the building, sobbing, that were at the concert, walking into together. I see a girl in a wheelchair who's been shot. Her foot's bandaged. She's got her parents next to her. She survived. Here she's in celebration with her family that she did make it.
Seeing other people, it's obvious they weren't as lucky. Lots of people who didn't have the support, didn't have a bunch of people around them in those moments. When I went to church for these things, I ended up being impacted even harder and even more. The church was overflowing with people. They extended it out into the outside atrium, which was full. People are standing. People are sitting in the grass. People are watching on screens. Police officers. I mean there were so many police officers. There were so many people.
I think there were more people that attended this than all day of being in those groups at the hotel and in being in those areas where people were free to come and speak. There weren't as many people coming to those areas as there were in church. And I offered my services there too.
I talked to some of the care ministers, said, 'Hey, I'm here if anybody needs anything,' and I sent over a resource book to one of the pastors. I waited in the lobby while people were coming.
You could tell these people hadn't been home since this happened. A lot of the girls are still wearing their heels and their dresses from being out. A lot of the kids are still wearing their wristbands from the concert.
I met one young 17-year-old man there who was front row at the concert. And he was in tears. Just broken. He had not been home. He had not changed. He had not slept. He had not eaten since the night before. And the first thing I asked him was, "Have you eaten since then?"
And he said, "No, I'm not hungry."
I'm like, "Let's get you some pizza." He was able to calm down and eat. He had these moments where he was OK, but he stayed in tears. He stayed broken.
He really could not believe what he witnessed. He kept repeating: "We didn't know where the noises were coming from. We didn't know which way to run. It was coming from everywhere. We didn't know where to go to get safe." And then he says, "I left my friend. It was crazy. I ran away from my friend, I couldn't even find my friend." These feelings of guilt: You know, they left someone else behind trying to get away, trying to be safe. He was there with his sister, whom he couldn't find. He ended up finding her later, after the fact, but this young man witnessed something so terrible. He kept saying, "We're all so young."
It's something I will never forget. His whole body was shaking. This kid was still physically shaking. All of his muscles were tense. It almost looked like he had the chills. His whole body was still shaking. And it didn't stop.
I can't imagine what that was like, because just in that moment sitting with him, it was hard to think this person went through this, and he's still here. I just kept telling him he's so brave. I said, "You're such a brave person, you're so brave. And then you came here tonight to another huge place where there's so many people."
And I just encouraged him to share his story and to talk with people and to express how he's feeling. Because feelings are going to change. Those feelings of fearfulness can turn to anger. They can turn to other things, so I encouraged him to just be aware of what he's feeling in those moments, and I got him in contact with a local counseling agency that's close to him. A lot of people in attendance weren't church members. These were people who were coming looking for something. They weren't OK with how they were feeling.
To watch people just reach out and hug someone they don't know.. To see that expressed in this capacity was overwhelming.
So you stayed at the church until 8 p.m., when you went home. What did you do then?
I couldn't sleep. It had been a very emotional and impactful day. And I really did not know how to put everything together for myself. Luckily, everybody—my husband and my children—was asleep already. And I checked on my kids. Then I just sat up, I think I turned on Friends. I tried to watch the news for just a few minutes.
I'm just thinking to myself that, again, it's surreal, and it just, it was very different. Being there, experiencing these things, and you know watching the reaction of these people was very emotional. I don't know how to put words to it completely. It's a lot.
I haven't been sleeping well since then, to be honest. Hearing stories, hearing from people.... As a therapist and as a social worker, we're trained on taking those things in and helping people work on those things, but to not bring it home with us and to not really keep it for ourselves. And with the impact of this tragedy and how everything has happened, it's been a little difficult to do that on a personal level.
So I'm dreaming. I'm waking up and thinking I'm downtown, and I wasn't even at the event! I'm hearing these things, I'm thinking these things just because these are the people I've been surrounded by.
And the people that I see on a regular basis at work—maybe I'm seeing them for anxiety, maybe I'm seeing them for depression, maybe I'm seeing them for past abuse—now this is something that has just been added to that. This has impacted everybody. Whether they knew somebody or not, this has affected them in such a big way.
And you can't go through these things alone. I consider it an honor, I consider it a privilege to work with people, to be present for a person, to have somebody share their feelings with me. That is an honor. And I have so much respect for people who are able to come and to sit and to process.
I don't anticipate that leaving anytime soon.
I anticipate that the more time that passes, more people are going to seek help. More people are going to start opening up. Because there's such a negative stigma associated with mental health, and everybody's so good at saying, "I'm OK, I'm fine," when they're really not. And it takes a while to realize they're not OK.
I think that this is going to start to unravel as days and weeks and months pass, because people are going to think that they are OK, until they get back into the groove of work, or a holiday comes, or something else happens, and they realize, "I'm not OK. I thought I was OK, and I'm not."
This is going to be the beginning of this community and this city and everybody coming to that realization that, yes, I do need to talk to someone and I do need to have that support.
This is just the beginning for that.