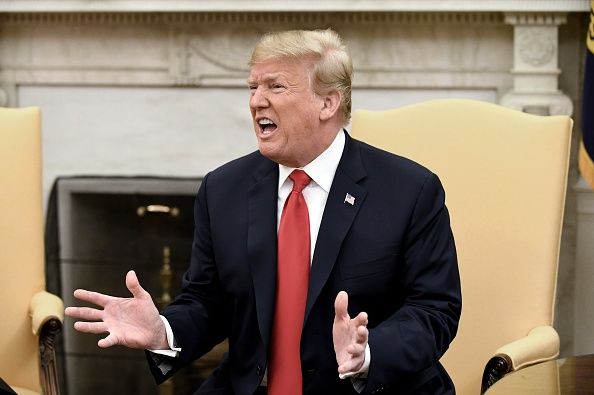 Therapists in the U.S. say there has been a rise in politically-related anxiety in the months before and after Trump's presidency that they have dubbed "Trump Anxiety Disorder."
Elisabeth LaMotte, therapist and founder of the D.C. Counseling and Psychotherapy Center in Washington D.C., told Canada's CBC News that there is a collective politically induced anxiety among patients. She claims that President Trump's name has come up frequently in sessions with her clients. Many feel on edge about the possible dire effects of his decisions, rhetoric, and policies.
"There is a fear of the world ending," she said. "It's very disorienting and constantly unsettling."
President Trump recently tweeted a threat to Iranian President Rouhani in July. "To Iranian President Rouhani: NEVER, EVER THREATEN THE UNITED STATES AGAIN OR YOU WILL SUFFER CONSEQUENCES THE LIKES OF WHICH FEW THROUGHOUT HISTORY HAVE EVER SUFFERED BEFORE. WE ARE NO LONGER A COUNTRY THAT WILL STAND FOR YOUR DEMENTED WORDS OF VIOLENCE & DEATH. BE CAUTIOUS!"
LaMotte said that these patients exhibit behavior similar to patients who have a parent with a personality disorder. "Whether it's conscious or not, I think we look to the president of the United States as a psychological parent," she said.
And the presidency seems to be affecting people across the political spectrum. This includes Trump supporters who feel isolated from friends and family for their affiliations. American Psychological Association has recorded a rise in anxiety since the 2016 election. According to the APA, a person's political affiliation can affect their risk of anxiety.
The APA also found a connection between stress levels and electronic news consumption. Current news stories such as the separation of migrant families, retirement of Supreme Court Justice Anthony Kennedy, and Trump's issues with world leaders, and his relationship with Russian President Vladimir Putin.
Although "Trump Anxiety Disorder" is not an official diagnosis, the symptoms include a lack of sleep, a feeling of losing of control and helplessness in an unpredictable sociopolitical climate, along with endless negative headlines, and excessive time spent on social media. This has also been theorized in a 2017 essay written by clinical psychologist Jennifer Panning for a book co-edited by Harvard and Yale psychologists.