Is There Any Hope of a Brexit Deal Before Christmas?
Another Brexit deadline has come and gone with the United Kingdom and European Union back at the negotiating table and no closer to agreeing on a trade deal in time for the new year.
Both sides agreed to abandon their make-or-break deadline and continue talks despite issuing separate statements that pointed towards an increased likelihood of Britain leaving the EU with no deal in place.
European Commission chief Ursula von der Leyen and British Prime Minister Boris Johnson had said they would decide whether an agreement was possible by the end of Sunday but instead agreed in a crisis call to "go the extra mile" and agree another extension.
"Our negotiating teams have been working day and night over recent days," von der Leyen said in a video message, reading out a joint statement agreed with Johnson. "We have accordingly mandated our negotiators to continue the talks and to see whether an agreement can even at this late stage be reached," the leaders said.
EU negotiator Michel Barnier and Britain's David Frost held talks late on Saturday and early on Sunday. A European official said that, for the moment, negotiators would remain in Brussels, where Barnier was expected to brief European ambassadors about the current state of negotiations. After updating his cabinet from Downing Street, Johnson insisted that an agreement was far from sure. He said: "I'm afraid we're still very far apart on some key things, but where there's life there's hope. The U.K. certainly won't be walking away from the talks. I still think there's a deal to be done if our partners want to do it."
With the U.K.'s Brexit transition period to end on December 31, is it realistic to think a deal could still be done in time? Analysts say the fact that both sides are still at the negotiating table is a "positive sign" but there are still key areas yet to be agreed upon. Issues such as fishing rights and business competition are the main sticking points yet to have reached conclusion.
No new deadline has been set but Conservative Party lawmaker Mark Harper suggested the extended talks could go right to the wire, with less than three weeks to go. "Many of us are fully anticipating it's entirely possible we might be returning to Parliament between Christmas and new year to scrutinize this and vote it through if a deal is done," he told the Press Association.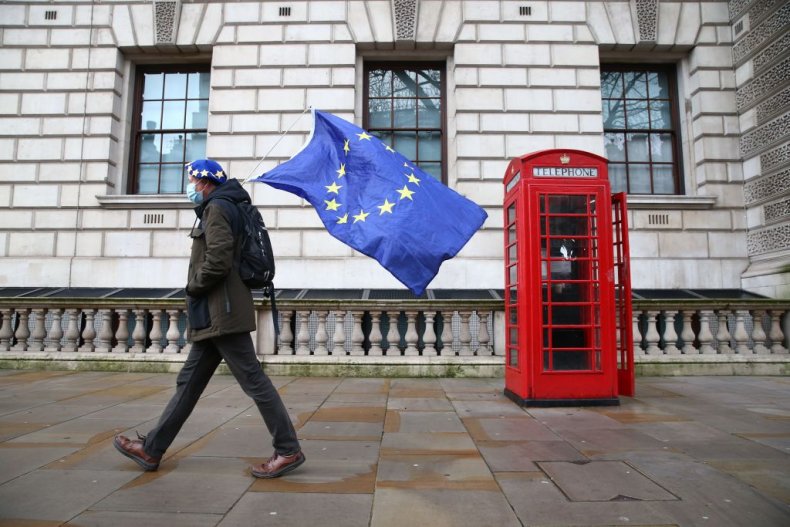 Johnson warned recently that there is a "strong possibility" the U.K. will fail to strike a post-Brexit trade agreement with the EU, making an "Australian-style option" of leaving without a deal and conducting business on World Trade Organization (WTO) rules most likely. EU commission president von der Leyen also told a news briefing that both sides "still remain apart on fundamental issues" and a no-deal Brexit is now the "most likely" option.
Moving to WTO rules on December 31 could result in tariffs being imposed on goods traveling in and out of the U.K. leading to potentially higher prices on items such as food and medicine. Australia largely does business with the EU on WTO rules but has a few arrangements in place, such as co-operation on science and trade on wine.
Johnson used the comparison to suggest a deal is not necessary for the U.K., though Australia has only a fraction of Britain's trade with Europe. Former Australian Prime Minister Malcolm Turnbull warned: "Australians would not regard our trade relationship with Europe as being a satisfactory one."
The EU has consistently maintained that it will not agree to a trade deal that is not "fair". Barnier tweeted that "the next few days are important" and said that "it is our responsibility to give the talks every chance of success" as the deadline looms. "Fair competition, and a sustainable solution for our fishermen and women, are key to reaching a deal," he tweeted.
Arriving to update ambassadors from the 27 EU countries, he told journalists: "We've only been negotiating for nine months. We've needed at least five years for all the previous agreements. We are going to give every chance to this agreement... which is still possible." He said that "free and fair competition" and "guaranteed reciprocal access to markets and waters" have not been agreed upon.
Johnson said the U.K. cannot compromise on the "fundamental nature" of Brexit, namely controlling U.K. laws and fisheries. "Either way, whatever happens, the U.K. will do very, very well," the prime minister insisted.
The Main Issues
Fishing: The British government wants to negotiate fishing quotas annually in the same way that Norway does but coastal EU states, including France and Ireland, have complained this would be unfair on their fishermen. France carries out nearly 30 percent of its fishing in U.K. waters, while around half of all Ireland's fishing catch take place in the U.K.
Level Playing Field: The level playing field is a trade-policy term for a set of common rules and standards that prevent businesses in one country gaining a competitive advantage over those operating in other countries. The U.K. and EU have already agreed on "non-regression" clauses which mean the same standards that now exist over workers' rights, the environment and climate change will continue and form a base below which both sides will not "regress" or fall. But the EU refuses to guarantee the U.K. access to the single market - with no tariffs or taxes on goods crossing borders - if there is a possibility that companies based in the U.K. could be given state support to undercut their rivals elsewhere in Europe.
"Ratchet" clause: In addition to the level playing field agreement, the EU is calling for an evolution or "ratchet" clause, which would mean if one side raised standards the other would have to follow suit or face potential penalties. The U.K. argues this could mean it ends up being dragged into following EU policy, the opposite of the intention of Brexit.
The biggest single obstacle in the Brexit talks is a clause in the Brexit treaty that will ensure that as one side develops their environmental, labor and social standards, the other cannot sit tight and enjoy competitive advantages without consequence.
The U.K. calls it the "ratchet clause", but Europe says it is about "evolution". The two sides have already agreed on "non-regression" clauses which mean the same standards that now exist over workers' rights, the environment and climate change will continue and form a base below which both sides will not "regress" or fall. This is the level playing field. But if these baseline standards need to be upgraded in the future, the EU wants reassurance written into the Brexit deal that European businesses will not be left at an economic disadvantage if Britain fails to upgrade its own standards.
Hard-line Brexiters in the U.K. argue that the point of leaving was to be able to undercut EU rules and regulations. Britain's chief negotiator Frost claims that fear of countermeasures could lead to Britain being dragged into following EU policy. This poses a threat to Britain's sovereign right to make its own standards from 1 January, it is argued. The EU said that if a common system is not acceptable, then both sides should have a sovereign unilateral right to hit back against future divergences so if one side undercut the other on a particular export, the other could hit back on something else.
German Chancellor Angela Merkel said: "We need to find agreements about how each side can react when the other changes their legal situation. Otherwise, there will be unfair competition conditions, which we can't do to our companies." Ireland's foreign minister Simon Coveney said Britain leaving without a deal would be an enormous "lost opportunity". Ireland stands to lose out more than any other EU country if trade with its larger neighbor is disrupted.
Coveney welcomed the extension of the talks and said on Twitter: "Time to hold our nerve and allow the negotiators to inch progress forward, even at this late stage. Joint statement on Brexit negotiations is a good signal. A deal clearly very difficult, but possible."
In its official statements, Downing Street continues to promise a positive future for the U.K. even in the event of no-deal, saying it has mapped out "every single foreseeable scenario" for problems after December 31, and "no one needs to worry about our food, medicine or vital supply chains".
The government says it is ready to offer hefty new support for sectors in the firing line such as farming and auto manufacturing. The National Farmers' Union has warned there will be "significant disruption" to the sector if the U.K. fails to reach a deal, and the British Retail Consortium warned the public would face "over £3 billion ($4bn) in food tariffs [meaning] retailers would have no choice but to pass on some of these additional costs to their customers".