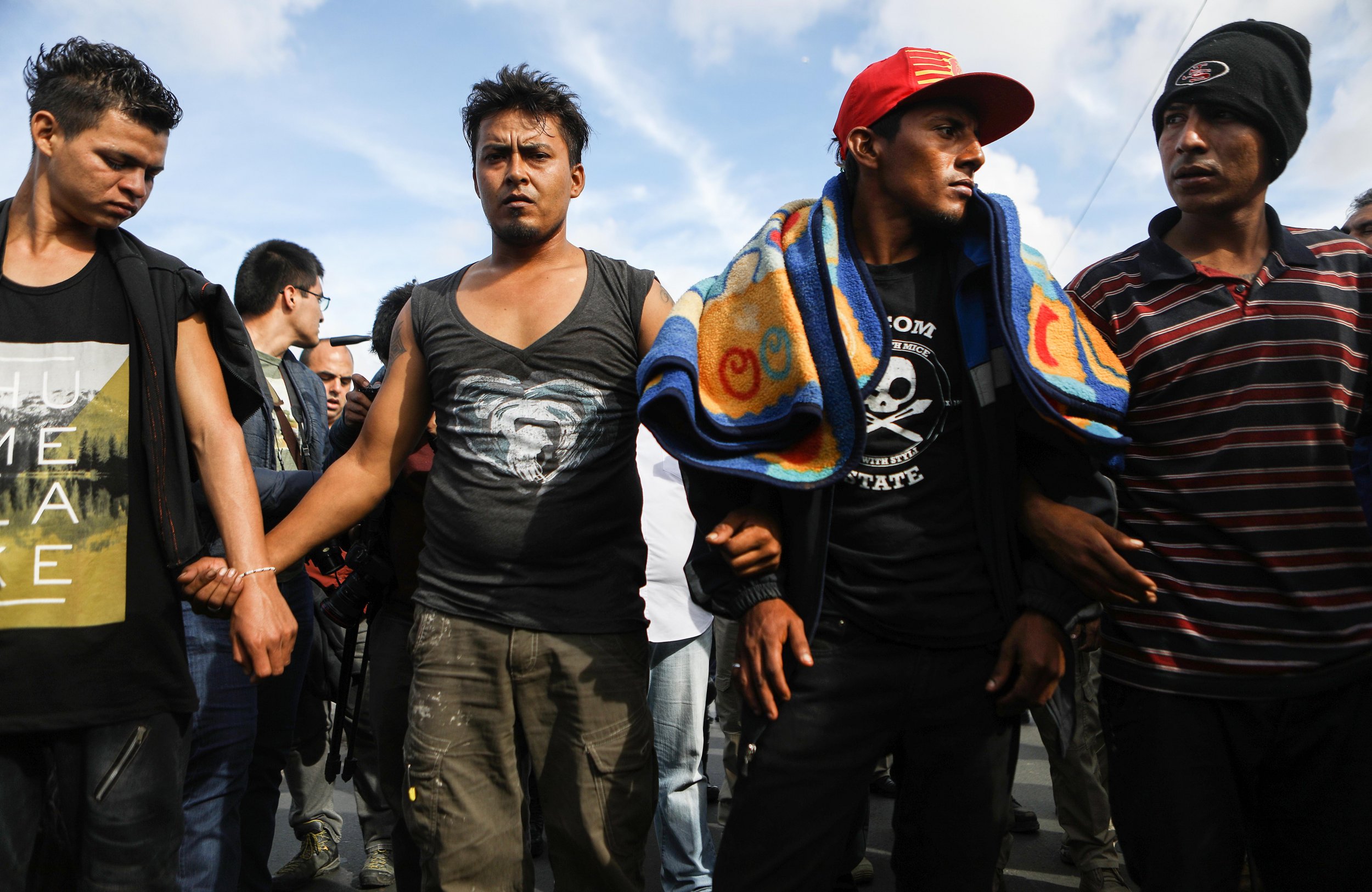 Dozens of migrants in the Mexican border town of Tijuana have reportedly split from the caravan group they traveled there with, and are now marching to the U.S. border to demand asylum.
Carrying white flags with messages of peace, the group of roughly 150 migrants marched from the sports arena—where thousands of migrants are currently taking shelter—to a U.S. pedestrian bridge, in a bid to meet with U.S. immigration officers, according to The San Diego Union-Tribune.
Some of the protesters came within 500 feet of the U.S. border, but Mexican federal police barred them from making their way across the pedestrian crossing.
The migrants, who face weeks if not months of waiting to make their asylum claims at the San Ysidro port of entry in San Diego, California, told the Union-Tribune that they simply wanted to present themselves to U.S. immigration authorities to make their asylum pleas.
They complained of conditions at the open-air sports arena where many, including young children, are spending their nights, asserting that the makeshift shelter is not appropriate for women and children.
"There are sick children here, and we are cold and hungry," Carlos Lopez, a Honduran migrant leading the group, told the newspaper.
Lopez said migrants had hoped that Thanksgiving would be a good day "to present ourselves to the United States."
"It's Thanksgiving Day," he said. "In the United States, today is a vacation day."
For U.S. Customs and Border Protection officers, it did not appear to be a day off, however, with CBP briefly shutting down vehicle traffic at the San Ysidro port of entry to hold an operational readiness exercise.
As migrants pleaded to be allowed into the U.S. to make their asylum claims, Tijuana's own leadership was imploring the international community to help the border town handle the influx of migrants, which his office branded a "humanitarian crisis."
Related: Tijuana mayor calls on world to step in on migrant caravan "crisis"
Tijuana Mayor Juan Manuel Gastélum asked for the international community, including groups like the United Nations, to step in during a press conference on Thursday.
The mayor accused Mexico's federal government of failing to do enough to assist Tijuana in meeting the needs of the thousands of Central American migrants who have arrived in the town in recent days.
He claimed that the situation at the border was costing Tijuana more than 550,000 pesos, or $26,970, a day and said he would not "compromise the city's public services" in order to support the asylum seekers.