Is There a Chlorine Shortage? Pool Owners See Prices Increase, Here's Why
With summer around the corner, pool owners may be spending more to enjoy a refreshing respite from the heat.
According to experts, there is a chlorine shortage due to a swimming pool boom and a fire at a chemical plant in Louisiana. This shortage will make it more expensive to keep pools clean.
After the landfall of Hurricane Laura in August 2020, the Bio-Lab pool-and-spa-treatment-products factory experienced a devastating fire that destroyed the facility's roof and halted production, according to a report by the U.S. Chemical Safety and Hazard Investigation Board. The plant, which is one of the country's largest suppliers of chlorine tablets, expects to resume operations by spring 2022.
The loss of production and the increase in demand "means a steep price increase is likely," according to the website of BB Pool and Spa, a New York–based retailer. They suggest stocking up on chlorine now earlier rather than later before the steep price increase.
"The extent of the chlorine shortage is still unknown, as the amount of product lost is yet to be determined," BB Pool and Spa said on their website. "While it is still early yet for the swimming season, it is advisable to prepare now for your pool opening. That includes stocking up on chemicals needed to get you through the majority, if not the entire swimming season."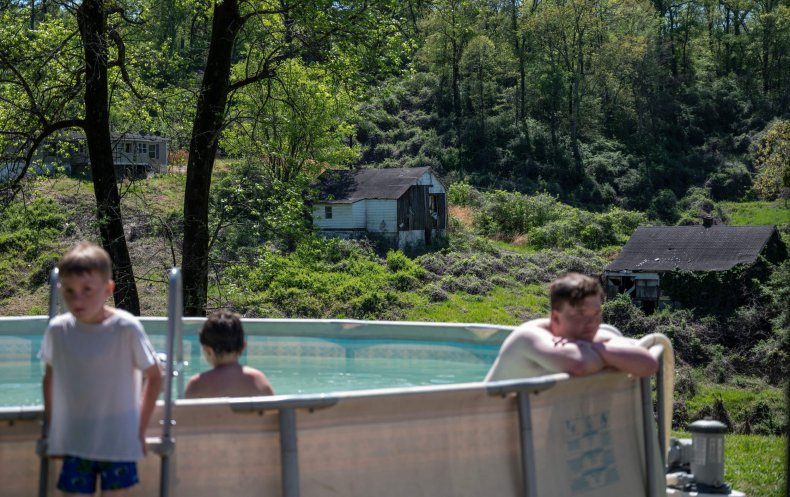 Leslie's, one of the country's largest pool supplies retailers, said that while it is "currently experiencing fluctuations in online inventory and are working to expedite fulfillment of outstanding orders," they are confident in their inventory this year.
"Overall, we have not experienced a shortage in our chlorine selection," spokesperson Tracy Dick told Newsweek. "We know summer is right around the corner and some of the best memories are made around the pool. We remain committed to providing our customers everything they need for their pools and spas this season."
Additionally, the COVID-19 pandemic forced many families to cancel travel plans and spend time on home improvement projects. This led to what Reuters described as a "swimming pool boom" in 2020.
According to a Reuters report from last summer, pool manufacturers and distributors struggled to keep up with the wave of demand during the quarantine, which put a major strain on the supply of pool materials.
Thomas Epple, chief executive of Only Alpha Pool Products in Fort Wayne, Indiana, told Reuters that orders for its steel and composite pool walls surged 200 percent in 60 days after April 2020.
"The shortage of materials in the industry is great—pumps, heaters, above-ground pools have been sold out for some time," Epple said at the time.
Chlorine is used in swimming pools to disinfect water and protect swimmers from waterborne diseases, according to the Safe Drinking Water Foundation. Chlorine can also prevent algae growth and mosquito infestations.
Swimming Pool Steve is a pool builder and blogger who offers advice and help to build and maintain pools to his over 22,000 YouTube subscribers. According to his blog, the chlorine shortage has many people worried and considering alternatives to pool cleaners.
"Without chlorine, you simply can not maintain a safe and swimmable pool, at least without considerable knowledge and effort," the post said. "If chlorine supplies dry up mid-season this will leave pool owners scrambling for a new solution."
Pool owners might now seek out chlorine alternatives like a saltwater system, advanced oxidation process, UV light or an ozone system to keep their pools clean, Swimming Pool Steve said. However, no other chemical option works as well as chlorine.