Is there a Donald Trump-Stormy Daniels sex tape? Oh dear, God.
Stephen Colbert broke down the latest in the saga between the president and the porn star Monday night on The Late Show, pontificating on a New York Times report that Daniels is eager to pay back the money she was paid to keep silent about their alleged affair.
The adult film star—real name Stephanie Clifford—signed a nondisclosure agreement agreeing not to discuss her relationship with Trump in October 2016. Last week, Daniels filed a lawsuit claiming that the hush agreement should be declared void because Trump didn't sign it.
The New York Times published a letter from Daniels' lawyer Michael Avenatti to Trump's personal lawyer Michael Cohen. Avenatti said Daniels was prepared to wire Trump back the $130,000 payment on or before Friday, in exchange for their previous agreement being "deemed null and void."
If the deal is accepted, Daniels would be free to discuss the alleged affair that took place over several months between July 2006 and early 2007.
Colbert pointed out that the letter added that Daniels would be free to "use and publish any text messages, photos and/or videos relating to the President that she may have in her possession."
All this led the comedian to ask: "Wait a minute...videos? Does that mean there's a Donald Trump sex tape?"
Colbert then showed a mockup of a pornographic film cover titled: Rail to the Chief: Donald Hump in the Oral Office.
The tagline reads: "Over 2 minutes of hardcore action!"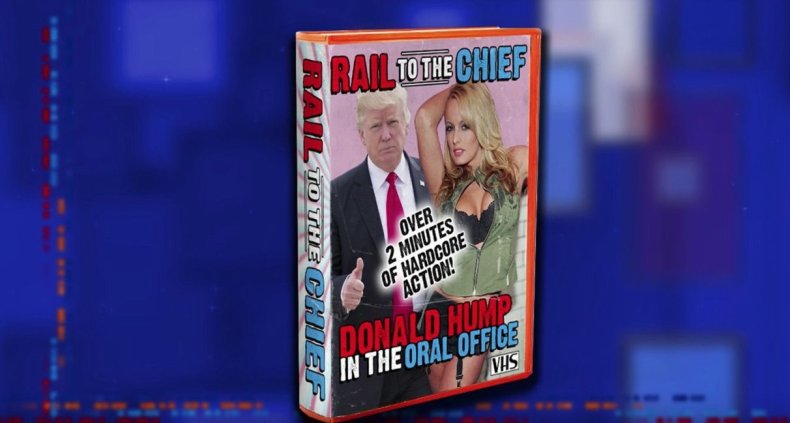 The notion of a Trump-Daniels sex tape is not new. When news of the hush agreement orchestrated by Cohen, Trump's personal lawyer, broke in January, fellow late-night star Jimmy Kimmel mocked up a faux sex tape featuring the pair.
Kimmel's tape was stylized like an '80s porno (think grainy video quality and super-cheesy dialogue) titled Hoe in One. Kimmel constructed his own narrative of how Daniels and Trump first slept together after meeting at a celebrity golf tournament in Lake Tahoe, Nevada, in July 2006.