Is There a Hurricane Coming to Florida? Tropical Depression 27 to Become Tropical Storm Epsilon, Headed for Bermuda
The potentially 26th named storm of the 2020 Atlantic Hurricane Season is expected to become a hurricane by the end of the week with Bermuda likely bearing the brunt of it.
Tropical Depression 27 formed in the Atlantic on Monday morning and its wind speed is only about four miles per hour below the requirement for a tropical storm. Gradual strengthening is forecast to make it Tropical Storm Epsilon by tonight before reaching hurricane strength on Thursday.
Potentially the ninth hurricane of the 2020 season, it's expected to move close to Bermuda by the end of the week, according to the National Hurricane Center (NHC). As of Monday morning, the NHC hadn't issued any watches or warnings but they cautioned those with "interests" in Bermuda to continue monitoring the situation.
While Florida's had its share of storms this season, NHC's current forecasts don't show the current formation impacting the southeastern state.
Dennis Feltgen, a public affairs officer at the NHC, told Newsweek there was "no indication" the system will move to Florida. However, he noted it's possible that high surf and rip currents from the system could reach the United States' southeast coastline later in the week.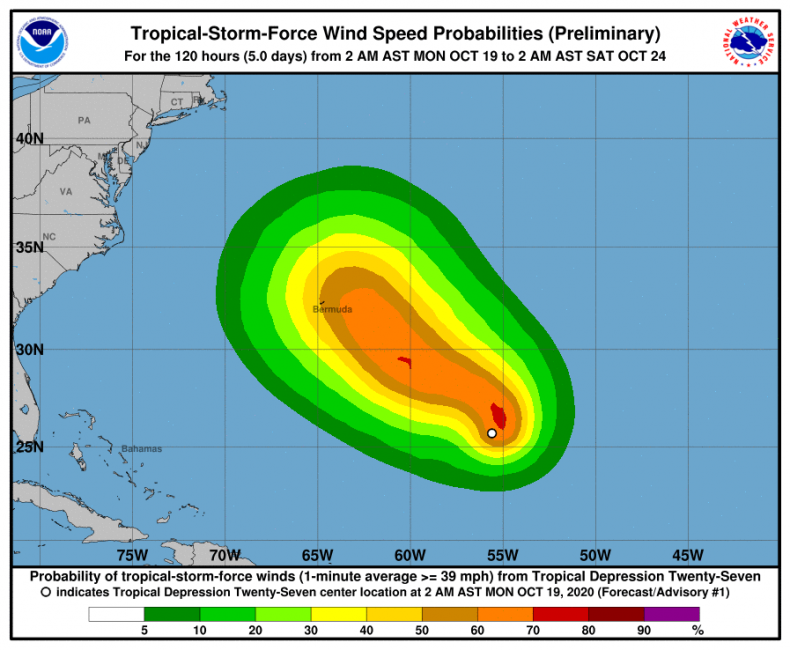 Updated projections from the NHC in August estimated that there would be 19-25 named storms, including seven to 11 hurricanes. Tropical Storm Epsilon will be the 26th named storm of the season and of those storms, eight became hurricanes. The NHC also expected to see three to six major hurricanes—a category 3 or higher—and three have already happened.
"This is one of the most active seasonal forecasts that NOAA has produced in its 22-year history of hurricane outlooks. NOAA will continue to provide the best possible science and service to communities across the Nation for the remainder of hurricane season to ensure public readiness and safety," Secretary of Commerce Wilbur Ross said in August. "We encourage all Americans to do their part by getting prepared, remaining vigilant, and being ready to take action when necessary."
Complicating the "extremely" active hurricane season is the new coronavirus pandemic. As storms started hitting the United States, millions of people were still out of work and focused on keeping themselves and their families healthy. However, experts told Newsweek it was crucial that people not lose sight of the approaching hurricane season because it wouldn't be put on pause because another crisis was unfolding.
Now, experts are warning people to not allow the season's typical start and end dates to lull them into a false sense of security. Hurricane season runs from June through November, with the height of it typically occurring in September. But, Dan Kottlowski, lead hurricane expert at AccuWeather, warned history shows devastating storms can occur at any time.
"When did Hurricane Sandy occur? Late October. It wasn't a Category 5 hurricane but it was a huge storm that caused massive damage so we can still have a really bad storm into even late October," Kottlowski told Newsweek in September. "I want to remind people hurricane season continues through November 30 and you have to leave the door open for a late one."
The last time there were enough storms to warrant using the Greek alphabet to name them was in 2005. Fifteen years ago, Tropical Storm Zeta formed in December and Kottlowski said it's possible the same could happen this year. And, given the way the first nine months of the year have gone, he added "you've got to allow for the unusual to happen."
This article has been updated with comment from Dennis Feltgen.