There May Be Hope for 'Guardians of the Galaxy' Director James Gunn
Conversations are happening behind closed doors between Marvel Studios and Disney about reinstating James Gunn as the Guardians of the Galaxy Vol. 3 director, Deadline reported on Friday.
Marvel is reportedly attempting to convince Disney to rehire Gunn. The former director is still in negotiations with Disney about his exit settlement, according to The Hollywood Reporter. Gunn wrote the script for the third installment of the franchise, as he did for the first and second films.
The talks between Marvel and Disney come after a statement was released by the entire cast in support of their director. The cast even issued a Change.org petition for Disney to rehire him.
Zoe Saldana, who plays Gamora in the films, released the joint statement via her Twitter account in July. "We were all shocked by his abrupt firing last week and have intentionally waited these ten days to respond in order to think, pray, listen, and discuss," the statement read. "We are not here to defend [Gunn's] jokes of many years ago but rather to share our experience having spent many years together on set making Guardians of the Galaxy 1 and 2."
The statement continued: "The character he has shown in the wake of his firing is consistent with the man he was every day on set, and his apology, now and from years ago when first addressing these remarks, we believe is from the heart, a heart we all know, trust, and love."
The letter was signed by the entire main cast: Saldana, Chris Pratt, Dave Bautista, Bradley Cooper, Vin Diesel, Karen Gillan, Sean Gunn, Pom Klementieff and Michael Rooker.
Bautista, who plays Drax the Destroyer, has been the most vocal about his displeasure with Gunn's firing. "Where I'm at right now is that if [Marvel] don't use that script, then I'm going to ask them to release me from my contract, cut me out or recast me," he told ShortList on Tuesday.
"It's also pretty nauseating to work for someone who'd empower a smear campaign by fascist cybernazis," Bautista tweeted on Sunday.
Gunn, who helmed the 2014 blockbuster Guardians of the Galaxy and its sequel Guardians of the Galaxy Vol. 2, was fired by Disney Studios in July after old offensive tweets from 2008 to 2011 were unearthed by right wing commentator Mike Cernovich.
"The offensive attitudes and statements discovered on James' Twitter feed are indefensible and inconsistent with our studio's values," said Alan Horn, Disney Studios Chairman in a statement. "We have severed our business relationship with him." Disney did not announce a replacement for Gunn.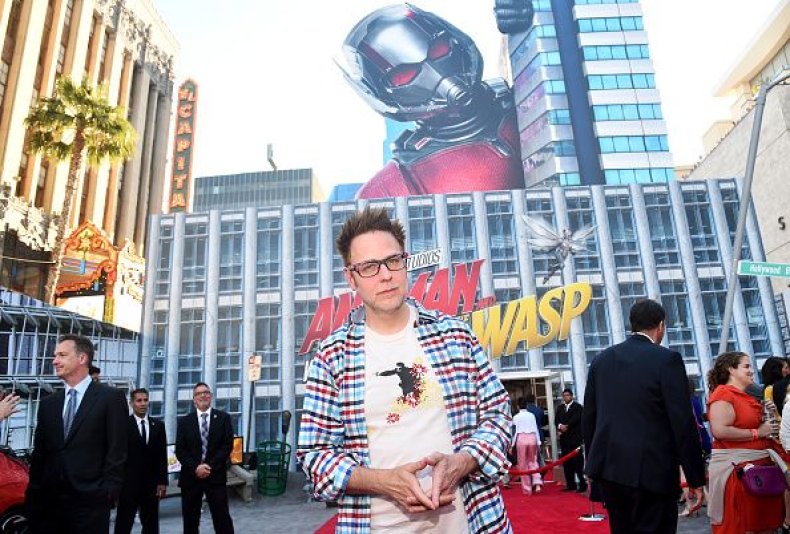 "Many people who have followed my career know when I started, I viewed myself as a provocateur, making movies and telling jokes that were outrageous and taboo," Gunn said in a Twitter statement in July, shortly after he was fired. "As I have discussed publicly many times, as I've developed as a person, so has my work and my humor."