Is There Only One Donald Trump? Brazilian President-Elect Jair Bolsonaro's Foreign Policy Resembles a Trumpian Doctrine
When asked about a comparison between President Donald Trump and Brazilian President-elect Jair Bolsonaro, White House press secretary Sarah Huckabee Sanders told reporters Monday, "There is only one Donald Trump, in my opinion." But Bolsonaro earned the moniker Trump of the Tropics for a reason.
His misogynistic rhetoric, as well as his views on mainstream media, immigration and gun rights, mirror that of the U.S. president. He also tapped into the anger of Brazilians weary of rampant corruption, economic stagnation and violence, which catapulted his political aspirations within a short period of time. He has repeatedly blamed the left—once spearheaded by disgraced leaders Luiz Inácio Lula da Silva and Dilma Rousseff—for the ongoing socioeconomic troubles, and he has earned the support of an evangelical base that helped him win Brasília's seat of power.
And his foreign policy blueprint presents stark similarities to Trump's. The president tweeted Monday that he had "a very good conversation with the newly elected President of Brazil, Jair Bolsonaro, who won his race by a substantial margin." He added, "Brazil and the United States will work closely together on Trade, Military and everything else! Excellent call, wished him congrats!"
After Trump's zealous message to Bolsonaro, some suggest that a new axis to shape politics across the region—and possibly beyond—is brewing. Here are several examples of what the world might expect from a new stage in Brazilian politics.
A Brazilian Embassy in Jerusalem?
Despite widespread controversy, Trump made good on his promise to move the U.S. Embassy from Tel Aviv to Jerusalem in May—and Bolsonaro had vowed to follow suit during his presidential campaign. The president-elect announced Tuesday that he hopes to enter into agreements "to benefit the peoples of two countries" during a forthcoming visit to Israel, according to Brazilian magazine Exame.
As was the case with Trump's decision, a potential embassy move could also spark tension between Brazil and the Palestinian community. Should Bolsonaro decide to cut ties with the Palestinian territories, Brazilian meatpacking companies fear a retaliation from Islamic countries, which are the country's main consumers of beef and poultry exports, Brazilian newspaper Folha de Sao Paulo reported last week. According to Brazil's Federation of Muslim Associations, 45 percent of poultry and 40 percent of beef are exported as halal, meaning that it adheres to Islamic dietary law.
The Paris Agreement
In June 2017, Trump announced he would withdraw the United States from the Paris climate accord, a global effort to keep Earth's temperature rise this century to under 2 degrees Celsius above pre-industrial levels. Trump left the U.S. as the only country in the world not to sign the deal. But Trump could be joined by Bolsonaro.
During his campaign rally, Bolsonaro said he will remove Brazil from the accord, claiming that global warming is nothing but a "greenhouse fable," according to an August interview with Brazilian broadcaster Globo. It won't be an easy task to take Brazil off the list of countries that support the climate framework because the Brazilian congress enacted the deal, Vice reported.
However, Bolsonaro still poses a threat to environmental initiatives. According to Vice, he wants to limit the power of the country's environmental agency that monitors deforestation and pollution, and has threatened to strip environmental reserves and indigenous communities of legislative protections.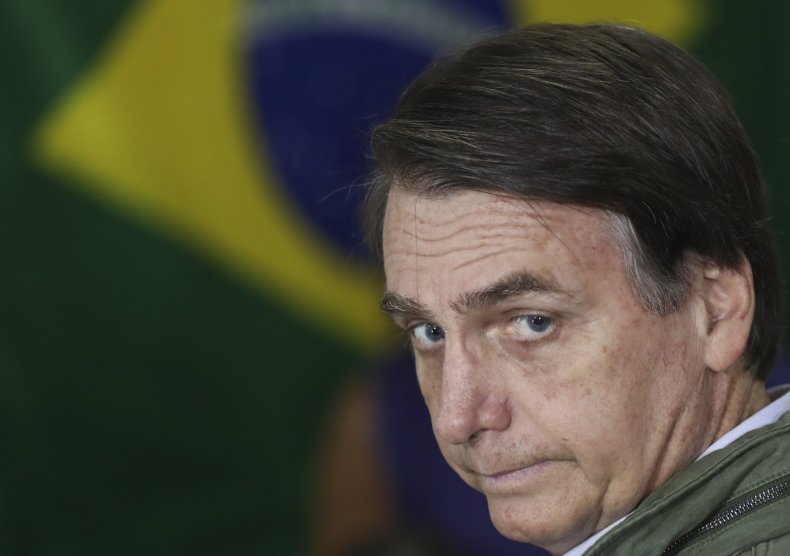 Economic Protectionism and China Relations
The Trump administration has slapped tariffs on Chinese products and lambasted other trade agreements, arguing that they have taken advantage of the U.S. Likewise, Bolsonaro has threatened to put a strain in Brazil-China trade relations and vowed to cut ties with some of the so-called BRICS, a bloc of emerging economies that also includes Russia, India, China and South Africa.
He once said, "The Chinese are not buying in Brazil. They are buying Brazil. This is a big problem that we should be worried about," he said months prior to his victory. "Are you willing to leave Brazil in the hands of the Chinese?" South China Morning Post reported.
Bolsonaro's draconian policies could also have an effect in South America. "Bolsonaro has alluded to pulling Brazil out of Mercosur [an economic bloc also comprised of Argentina, Paraguay, Uruguay and Venezuela], something that would undoubtedly create negative externalities and consequences for the country and for its relationships with Latin America and Europe," Roberta Braga, associate director of the Atlantic Council's Adrienne Arsht Latin America Center in Washington, D.C., told Newsweek Saturday.
Venezuela
Trump and Bolsonaro share acrimonious views on the Venezuelan regime. Washington has imposed sanctions on Venezuelan officials, including strongman Nicolás Maduro, which prevents them from selling debt and other assets. Furthermore, Trump has said he would not rule out a military intervention in the country.
During a campaign rally in the northern state of Roraima, Brazil, Bolsonaro also pledged to "do whatever necessary to defeat that government" in Caracas, Financial Times reported. Roraima has witnessed a large exodus of Venezuelan migrants into its territory, also leading to clashes between locals and asylum seekers.
Brazilian experts consulted by Russian state-owned Tass said Monday that the South American juggernaut might take part in a military operation against the Maduro regime. "It seems to me that it's difficult to carry out [Brazil's military incursion of Venezuela]. This would be an absolutely irrational and wrong strategy. But this is possible given the future government's composition," Fabiano Mielnichuk of Brazil's Federal University of Rio Grande do Sul told the Russian news outlet.