Is There Really Another Secret Iranian Uranium-Enrichment Facility?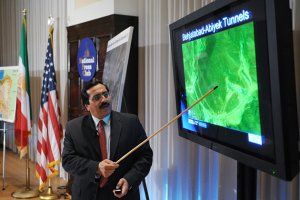 Nuclear-proliferation experts are expressing deep skepticism regarding a controversial Iranian exile group's claims that Iran is building a new secret underground uranium-enrichment site not far from Tehran. Two Iranian-opposition spokespeople announced at a press conference in Washington last week that the People's Mujahedin Organization of Iran, a.k.a. the Mujahedin-e Khalq (PMOI/MEK), had obtained "exclusive details on a major top-secret and strategic nuclear-enrichment site" near the city of Qazvin, about 70 miles west of the Iranian capital. "The site is built deep inside mountains to withstand aerial bombings and confirms that the regime is in hot pursuit of nuclear weapons and will in no way abandon it," said the two Iranian exiles, identifying themselves as Soona Samsami and Alireza Jafarzadeh. The pair argued that their revelations make "imperative" not only tougher, "comprehensive" Western sanctions against Iran but also the removal of U.S. government restrictions on the PMOI/MEK, an Iranian exile movement listed by the U.S. State Department as a "foreign terrorist organization."
The group's announcement drew attention from a wide range of media outlets, with reports noting that the group had released satellite photos showing what appeared to be an extensive tunneling operation in a hilly area. But nuclear-nonproliferation officials inside the U.S. government and independent experts on the subject say substantiation is lacking for claims that the tunnel project is nuclear-related. A leading private nuclear-weapons study group has also raised questions about the track record of the MEK, which in the past has claimed to be first with major public revelations about the Iranian nuclear program but has been accused of exaggerating the exclusivity and value of its information.
For a start, U.S. officials are denying claims by supporters of the Iranian exile movement that American intelligence was unaware of suspicious activities near Qazvin until the press conference. "This facility has been under construction for years, and we've known about it for years," said a U.S. official familiar with the matter, who asked for anonymity when discussing sensitive information. The nature of the project is another question, however. "While there's still some ambiguity about its ultimate purpose–not unusual for something that's still taking shape–there's no reason at this point to think it's nuclear," the official says. "The Iranians put military stuff in tunnels, too. People should be cautious about reaching conclusions here."
The Washington-based Institute for Science and International Security has been, if anything, even more skeptical. On its Web site, the ISIS, a counterproliferation think tank headed by former U.N. nuclear inspector David Albright, noted that the Iranian exiles "showed satellite imagery of tunnels and claimed that sources inside Iran told them these were tunnels to access underground facilities intended to hold gas centrifuges. Other than the anonymous sources they cite, however, [the exiles] did not present any evidence that verifies that this site in particular is intended to be an underground enrichment facility. Iran, at any given time, has many tunnel facilities under construction throughout the country, which can be seen on imaging applications such as Google Earth. Whether or not this tunnel facility is indeed a uranium-enrichment plant under construction cannot be determined." What's more, the ISIS posting says, claims by the exiles' umbrella group are open to doubt "since so many of their assertions about secret sites have turned out to be unsubstantiated, exaggerated, or wrong."
But the exiles are standing firm. Sources inside Iran "are absolutely confident of the purpose and function of the nuclear site," said Jafarzadeh in an e-mail to Declassified. "The extent and detail provide by the sources about the … site near Qazvin is far more than what they had provided [about] previous sites. The contractor and some experts involved in this project have reported that this site is similar to [another controversial underground project linked to uranium enrichment near the holy city of] Qom, and there are plans to install centrifuge machines there … Internal sources have specified that this is not a missile-related site; rather it is a secret uranium enrichment facility in the process of completion."
Tehran has denied the allegations. On the other hand, as the Israeli newspaper Haaretz has pointed out, the regime's protestation of innocence "was couched in particularly tortuous turns of phrase."