Is There Trash Pickup on Memorial Day? Holiday Could Bring Service Delays
Memorial Day is an official government holiday, which means that in some places, trash won't be picked up if the regular pick-up day is Monday.
Unlike some government entities that close or reduce services nationwide on federal holidays, trash pick-up varies based on where a person lives. Many private pickup services are likely to continue uninterrupted on Monday, but in some places where trash pickup is run by the government, including New York City, it won't be collected on Monday.
The best way to know if trash will be collected on Memorial Day is to check with your local provider.
Since trash won't be collected on Monday in New York City, anyone whose garbage is usually picked up on Monday should put their trash out for collection on Tuesday. Along with New York City, trash is not collected in the following cities on Memorial Day: Chicago, Atlanta, Houston, Philadelphia, San Diego, Washington D.C., Denver, Columbus, Ohio, Indianapolis and Detroit.
Austin, Texas, Los Angeles, Phoenix and San Antonio do not consider Memorial Day a holiday for waste management services and pickup will continue as scheduled, according to government websites.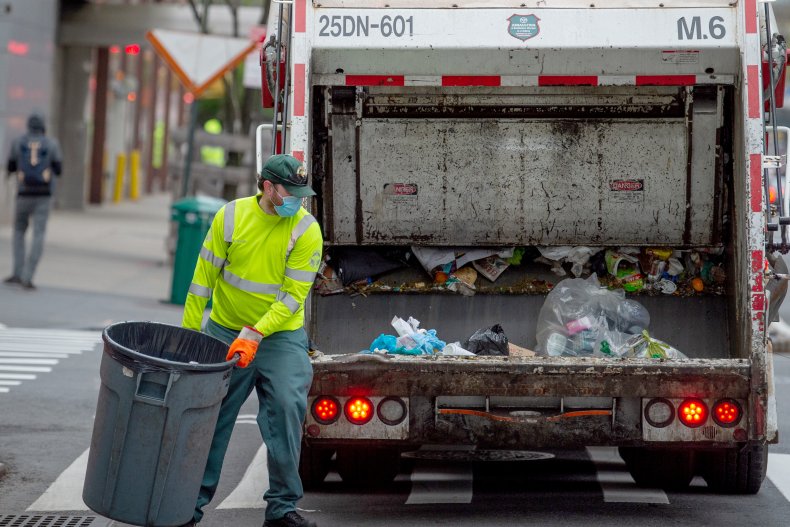 Even if trash doesn't usually get picked up on Mondays, it's worth checking whether services continue as scheduled because a holiday can affect pickups for the whole week. In some places, if trash pickup is moved to the next day because of a holiday, pickup for the entire week is pushed back by one day.
Memorial Day is intended to be a time when people can reflect on the sacrifice military members have made and honor those who lost their lives serving their country. Originally called Decoration Day, it was first observed in 1868, to commemorate Civil War soldiers who died. After World War I, it went from being a day to honor Civil War soldiers to honoring all Americans who died in the country's wars.
Included in the Uniform Monday Holiday Act, Memorial Day is always celebrated on the last Monday in May.
Along with trash pickup, several other services will be closed on Monday because Memorial Day is a federal holiday. Many banks close in observance of the holiday and the postal service is closed on all major holidays, including Memorial Day.
Also closed on Memorial Day are city, state and federal offices, courts and most public schools give employees and students the day off.