'There's Always Pressure in the NFL': Blake Bortles Unfazed by Jags Poor Form, Relishes London Trip
The Jaguars face Philadelphia Eagles at Wembley Stadium in London on Sunday, hoping to snap a dismal run of form that has seen them lose the last three games.
However, the Jaguars quarterback has won each of his three starts in London, throwing for a combined eight touchdowns and just one interception. Last season, Bortles threw for 244 yards and four touchdowns as the Jaguars thrashed the Baltimore Ravens 44-7 and he is relishing the prospect of being back in the British capital.
"It's a good break to be in London and after losing three straight games and be in a bit of a slump, it's a good chance to for us to get back on track," he told reporters after the Jaguars training session on Friday.
Sunday's will be the Jaguars' sixth visit to Wembley—no other NFL team has played in London more times than them—while the Eagles have never played in an International Series Game before.
Bortles has played in London more than any quarterback and he hinted being familiar with the surroundings was a major boost for the Jaguars, who have won their last three games in the British capital.
"It's my fifth year here and it's good to have a routine. It's always good to be in London and Wembley is a special place to play. There's a number of guys who have been coming here for multiple years and we know what to do."
The Jaguars have lost four of the last five games and Bortles admitted flying to London provided a timely relief from the pressure the team had to deal with over the last few weeks.
"This week doesn't allow you to think about a whole lot, with having to fly over here and then start training," he explained. "It was good to be coming over here and not have time to think about last week and focus on Philadelphia instead."
Last week the Jags lost 20-7 against the Texans and Bortles threw for just 61 yards.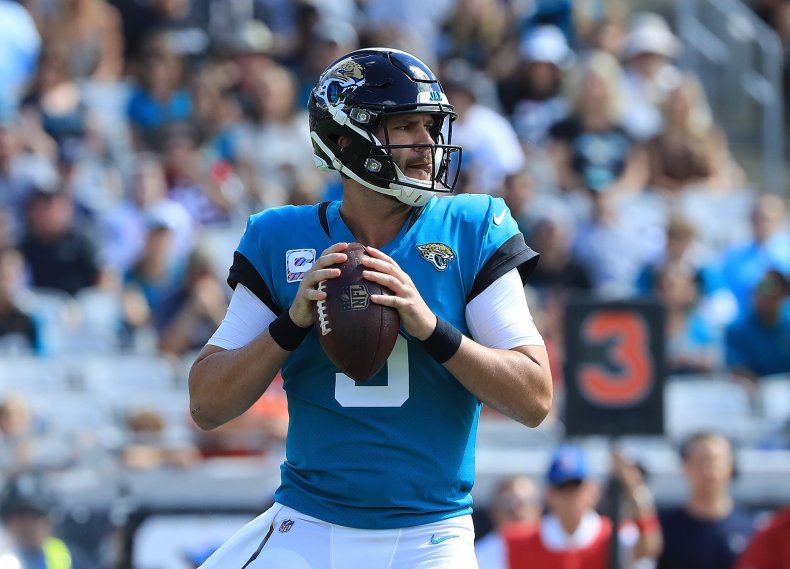 The quarterback has embodied the franchise's struggles more than anybody, completing just 54.5 percent of his 99 passes this month, for two touchdowns, five interceptions and three fumbles.
His passer rating, meanwhile, dropped from 93.2 in September to 60.2 this month and he has vowed to address his drop in form.
Earlier this week, Jaguars coach Doug Marrone confirmed the former University of Central Florida student would be starting on Sunday but hinted he would be on a "short leash."
Bortles acknowledged his form had been disappointing but vowed to address it. "I have to be smart and take care of the football and do the things we always preach," he explained.
However, he insisted he didn't feel under pressure to perform, despite Marrone's warning. "There's been pressure since I've got to Jacksonville. There's pressure in my position all the time in the NFL. I always tried to ignore the outside noise and the pressure. If you win football games the noise will eventually go away."