There's More to Black History Than Slavery. Black History Is American History | Opinion
We need Black History Month in America today. It's a time to let Black Americans' accomplishments, contributions and joy outshine the pain and suffering that so many of us have been focused on. But this celebratory month has a downside. As I saw as a student and later as a school teacher, it segregates Black history from American history, and this keeps Black Americans' contributions to this country separate and unequal.
When I was teaching history at a middle school in Los Angeles, the curriculum required us to traverse the globe, mostly exploring the early cultures of the Middle East, Europe, Asia and the Americas. We popped into Egypt but never made it south of the Sahara to the countries from which enslaved Africans were taken. It wasn't until adulthood that I learned about the pre-colonial greatness of the Ghana, Mali and Songhai Empires. Can we add these to the curriculum? And not only in February?
It's not just distant Black history that gets underrepresented in most American history curricula and in our shared historical narrative. Journalism like the New York Times' "1619 Project" have shined a bright light on how American lore largely ignores the role Blacks have played in the founding of the country, unless we're talking about slavery, that is. But as sociologist Nikki Blak pointed out, "chattel slavery is not Black history."
When I was a student, my American history classes covered slavery in depth, and teachers and text books seared into my mind images of gaunt Black Americans hunched over in cotton fields with downward gazes. With a couple of exceptions, like Frederick Douglass and Harriet Tubman, strong Black men and women from the 18th and 19th centuries got no mention beyond a sentence or two.
Until I started talking to historians on African-American history for my journalistic work, I didn't know of Nat Turner's immense intellectual power. I only knew him as the man who led a bloody revolt. I also hadn't heard of the First Rhode Island Regiment, whose ranks included Black New Englanders fighting in the Revolutionary War for American independence. And I never read Phillis Wheatley's poems or her correspondence with George Washington. I had no idea that in her early 20s, Wheatley was among the first few women in the U.S. to publish a book of poems, and the first Black woman. Had I known, maybe I would have dreamed bigger literary dreams for myself or been more open in English class when we read pre-20th-century "classics" — books which never had Black female authors. Knowing that, despite this absence, African-American women did have a place in the canon of great 18th century American works may have altered my views on literature and on English class overall.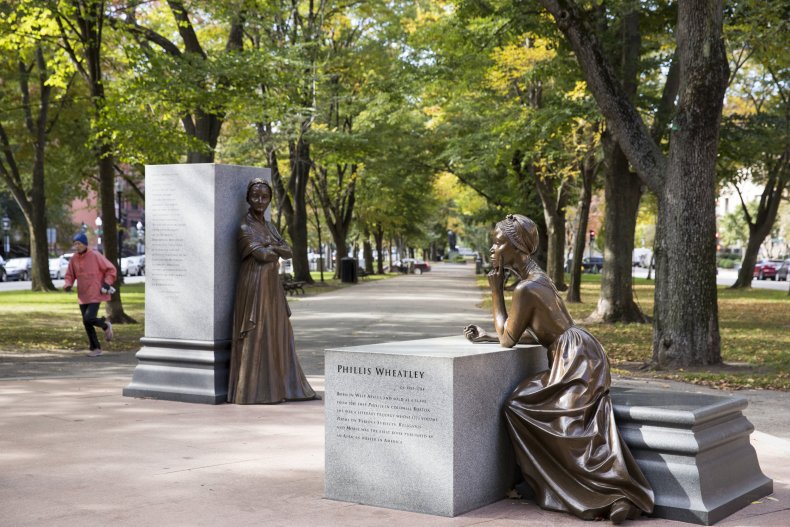 This isn't just my hunch. Researchers have shown that the presentation or omission of stereotypes can influence academic performance. In one study, before a math test, a group of girls was told that boys are better at math than girls. This led the group to perform worse on the test, and in other academic areas too.
Black students persistently perform below their peers of all other races in reading and math, and they're barely represented in STEM. Could this be tied to the large exclusion of Black historical contributions to the arts and sciences? Based on influence researcher Robert Cialdini's theory on "pre-suasion," which explores how context frames our actions and performance, I would say yes.
In theory, Black History Month could help to change this; in practice, it's too short. There's not enough time to introduce Selma Burke, the artist who created the original image of F.D.R. that's on the dime, or to explain how George Washington Carver's contribution wasn't peanut butter, but discovering how to restore nitrogen to soil after years of over-farming cotton and tobacco. There are countless other notable figures that could "pre-suade" Black students to believe in their academic and life potential.
What we need to do is integrate Black history into American history and have its coverage span 12 months.
This wouldn't only benefit African-American kids. By accepting Black history beyond slavery as simply an integral part of U.S. history, all students would get the same crucial information on our shared past, and this would help to heal racial wounds, which 2020 showed are still gaping. Families, like the one in Utah that demanded to "opt-out" of Black History Month at school wouldn't have that option, just like you can't skip U.S. history and graduate.
Since I was a student and a teacher, American history's scope has widened. Nikole Hannah-Jones' "1619 Project" opened the eyes of many people who didn't know they had been shut. Schools have recognized the importance of being more accurate and inclusive. Many have even incorporated the project into their curricula. But while we're on the right track, we haven't gone far enough. Integration of work like the "1619 Project" still sparks debate, backlash, and congressional reactions like Senator Tom Cotton's Saving American History Act of 2020.
Martin Luther King, one of Black history's greatest heroes, dreamt of a day when Black and White children would "walk together as sisters and brothers." While we've made a lot of progress towards this goal, we're still not walking together as countrymen. We won't, and can't, until we acknowledge, teach, and learn our shared history, which means celebrating Black contributions to the building of this nation year-round.
Until then, I'll take February.
Colette Coleman is a former classroom teacher now working as a writer. Her work focuses on issues of race and equity in health and education. Connect with Colette on Twitter @ColetteXColeman.
The views expressed in this article are the writer's own.