'There's No Building!' Surfside Condo Survivor Recalls Climbing Over Rubble With Dog
A woman who survived the deadly collapse of a Surfside, Florida, condominium building on Thursday recalled climbing over rubble with her dog in order to escape.
Sharon Schechter, 60, a resident of Champlain Towers South, said she was woken up shortly before 2 a.m. on Thursday morning when she heard an "unusual noise." Schechter said she then felt the whole building shake, and looked out the window to find that large sections of the condo unit had collapsed, Local 10 News reported.
"I realized, 'Oh my God!' Where is the building? There's no building!,'" she told the news outlet. Schechter then quickly grabbed her dog and ran through the nearest staircase, climbing through piles of rubble in order to flee the building.
"We were screaming, 'Help! Come get us! We are here! Come get us!," she said, adding that "It was pitch black ... We are finding our way out until we get to some light."
Though Schechter managed to escape the 12-story building safely, she told the news outlet that she believes she was just one of two people to survive from her floor.
"I feel like I'm mourning every minute for someone in that building," Schechter said. "I am hoping that there is a reason why I survived — a bigger picture.
Other survivors described the building violently shaking in the middle of the night before fleeing to safety and recounted seeing walls collapse.
"The whole bedroom was just shaking so violently that honestly I was prepared for the building to come down," Jannette Aguero said in an interview on Good Morning America, NJ.com reported.
"It kind of felt like a jet took off above the building," her husband, Albert Aguero, added.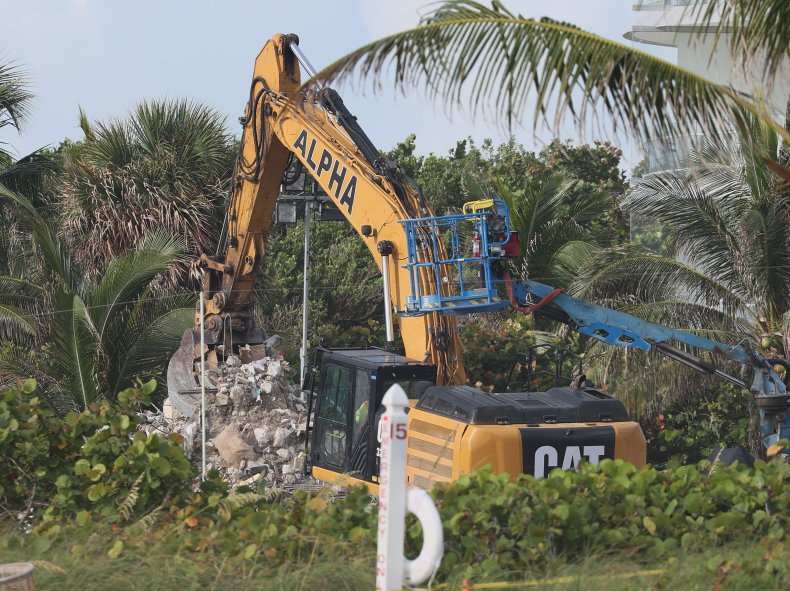 As of Saturday morning, at least four people have been reported dead and 159 remain missing after the building partially collapsed before dawn on Thursday. So far, authorities have successfully accounted for 127 of the building's residents, according to the Miami Herald.
Search and rescue teams were delayed on Saturday after a fire spread across the rubble. Miami-Dade Mayor Daniella Levine Cava said the fire and its source were difficult to contain, and therefore "hampering our search efforts."
Between 80 and 120 first responders worked overnight Friday and into Saturday morning, sifting through rubble and debris in search for those who remain unaccounted for.
Though it is not immediately clear what caused the collapse, a 2018 report that previously flagged "major errors" and structural damage within the building came to light on Friday. The report noted that the building had an inadequate water drainage system, and several residents have previously spoken out about water damage and leaks.
In response to the collapse, Levine Cava has ordered an immediate audit of all buildings in Miami-Dade County that are older than 40 years and taller than five-stories-high, as well as those built by the same developer that constructed Champlain Towers, the Herald reported.
"We want to make sure that every building has completed their recertification process," she said. "We want to move swiftly to remediate any issues that may have been identified that process."