There's No Way to Get to People Stranded by Hurricane Laura, Louisiana Parish Official Says
Calcasieu Parish residents who didn't evacuate before Hurricane Laura hit are calling for help, but the only option they have for now is to attempt to ride the storm out at home.
Laura made landfall in Cameron, Louisiana, at 1 a.m. Thursday as an "extremely dangerous" Category 4 hurricane, about 60 miles from Calcasieu. The parish ordered a mandatory evacuation of all residents on Tuesday, but Tony Guillory, a member of the Parish Police Jury, told KTRK that people were calling a Lake Charles government building, where he was hunkered down early Thursday morning, for rescue.
"People are calling the building, but there ain't no way to get to them," he said.
The hope is that people who are stranded will be able to be rescued later in the day, but Guillory said blocked roads, downed power lines and flooding could make saving people difficult.
Louisiana Governor John Bel Edwards mobilized at least 3,000 Louisiana National Guardsmen ahead of the storm's landfall, in part to help with air and boat search-and-rescue missions. Outside help is also coming. Search-and-rescue teams from at least eight states—Tennessee, Oklahoma, Wisconsin, Arizona, Florida, Oklahoma, Maryland and Virginia—are being deployed to Louisiana to assist in these operations.
Newsweek reached out to the Louisiana National Guard for comment but did not receive a response in time for publication.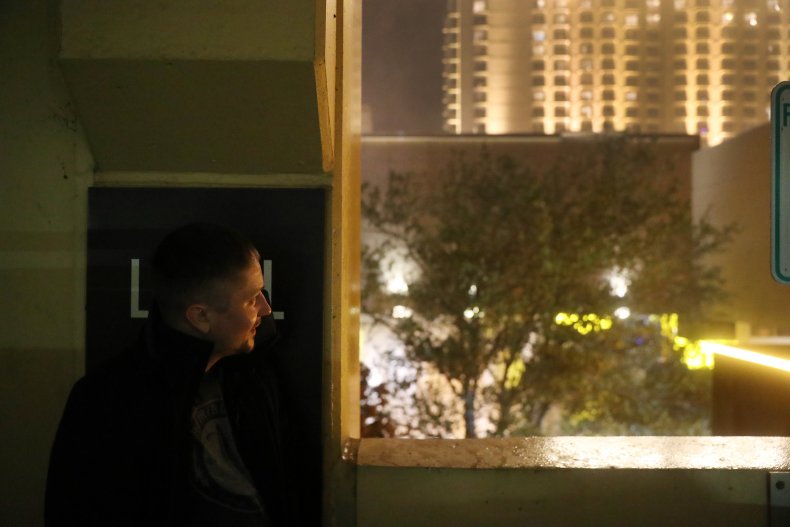 Ahead of the storm, officials ordered hundreds of thousands of residents to evacuate. Edwards likened its strength to that of 2005's Hurricane Rita and urged people not to allow the minimal impact of Tropical Storm Marco to lull them into thinking they would be safe at home during Laura.
Joel Cline, a tropical program coordinator for the National Weather Service, told Newsweek on Wednesday that expected storm surges were "unimaginable" and "certainly not survivable." At the time, the National Hurricane Center (NHC) forecast that parts of Louisiana, from Johnson Bayou to the Rockefeller Wildlife Refuge, could see water rise up to 20 feet. Included in that area is Calcasieu Lake.
As Laura hammered Louisiana, the NHC warned that "catastrophic storm surge," extreme winds and flash flooding will continue in parts of the state." Photos from early Thursday morning posted on social media showed some of the toll the storm had already taken on the area, as buildings were destroyed, trees were uprooted, and debris was strewn about the streets and sidewalks.
A Category 4 hurricane can leave an area "uninhabitable for weeks or months," according to the NHC, but the true measure of the damage can't be assessed until after storm conditions ease.