According to the lunar calendar, 2022 is the Year of the Tiger. I was born during one of those years, and yes, as a cultural tradition, I will be making dumplings come Feb. 1.
Dumpling soup is trending right now, alongside #VeryAsian. That's because on New Year's Day in St. Louis, TV anchor Michelle Li commented that she, like many Korean Americans, eat dumpling soup. She made a personal addition to the on-air script about popular New Year's foods. Afterwards, she shared a viewer complaint on Instagram. The viewer disparagingly commented: "This evening your Asian anchor mentioned something about being Asian and Asian people eat dumplings on New Year's Day and I kind of take offense to that. ... She can keep her Korean to herself. Alright, sorry, it was annoying."
I'm not annoyed; I'm miffed—yet I'm not surprised.
TV correspondents, especially women, get criticized for everything—from their hair color to what earrings they wear. I used to be a news reporter, too, where viewers on Facebook would call me "the Asian reporter" on the company's page. They weren't being ignorant; they were plainly racist as they only called me that whenever they had a complaint. I didn't see the same classification when I did a great job. And I didn't speak up back then.
Thankfully, Li found support on social media, from advocates to celebrities to Boston's new mayor, who happens to be Asian American, too. And so have I.
When my grandmother's traditional kimchi making went viral on TikTok earlier last year, I was so tickled and pleased to see the positive reactions to my healthy grandmother, as well as my deep-rooted heritage. People from all over the world responded with curiosity and encouragement. For someone who grew up feeling ashamed about Korean food, I felt redeemed.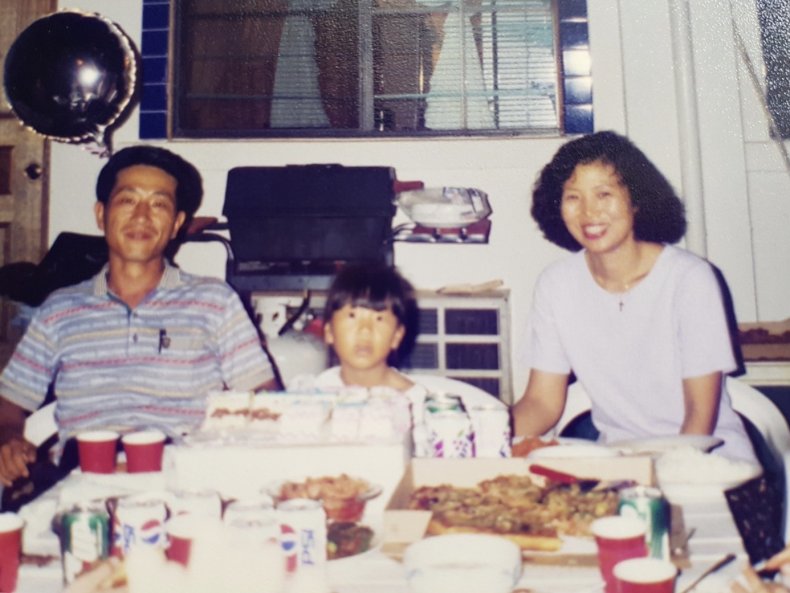 On New Year's Day, I made rice cake soup and offered bowls of it with kimchi to my boyfriend's family. He lovingly commented it was the most Asian he had seen me. As I'm writing this, I'm making Korean beef stew. But if we're simplifying and stereotyping, I'm not only #VeryAsian. My comfort foods also include tuna melts and quesadillas.
Ironically, my grandmother calls me "the American." I'm louder, more independent and more of a free spirit than my aunts and uncles. I watch more American shows, even if Squid Game and Korean dramas have become popular everywhere. But here's the thing:
Just because my grandfather only got to Guam in the 1980s in search of the American dream, and someone else's family has been on the mainland for generations (coming over on the Mayflower, for instance) doesn't make me any less American.
Just because my parents have McDonald's once a week and rice once a day doesn't make them weird, or annoying.
Similarly, just because my boyfriend doesn't watch soccer or drink beer doesn't make him any less German.
While it's been almost a year since the spa shootings in Atlanta, I wonder how much has really changed. Hate crimes continue to rise, even in big cities.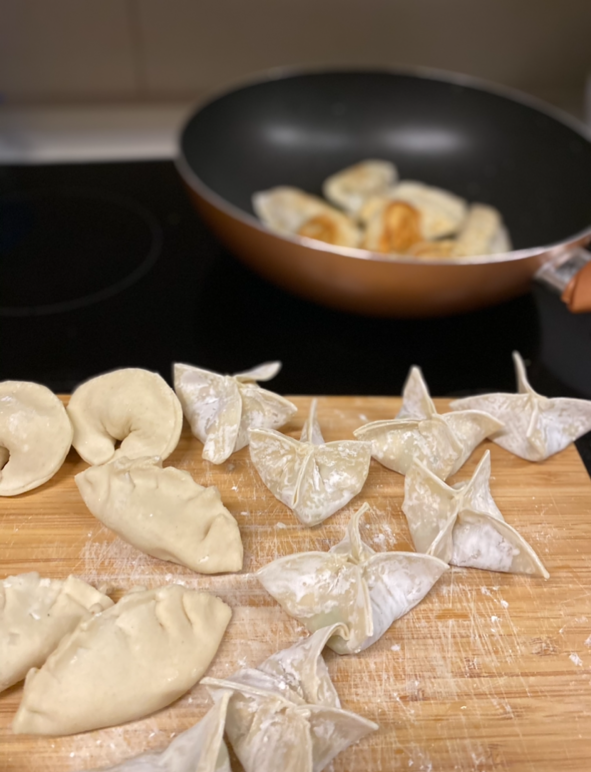 Ko Im made her own dumplings in Seattle for Lunar New Year last year.
Photo Courtesy of Ko Im
My whole life I felt like I wasn't enough in America. I want #StopAsianHate and #VeryAsian to one day go away, and instead we can all simply be #VeryAmerican and #VeryNice. Today, I happily believe I am more than enough—and proudly as an Asian Pacific American. I wish others would do the same and accept us as full Americans and not otherize, fetishize or minimize us.
NBC affiliate KSDK, where Li is employed, released a statement of support: "We embrace diversity in the people we hire, the stories we tell, and our local community. We will continue supporting Michelle and celebrating diversity and inclusion."
None of us chose where we were born or where we grew up. But some of us get to choose where we live, and I live in America. For now, I wouldn't want to live—or eat—anywhere else.
Ko Im is an award-winning storyteller and proud immigrant.
The views expressed in this article are the writer's own.