Are Theresa Caputo and Larry Divorcing? 'Long Island Medium' Files For Separation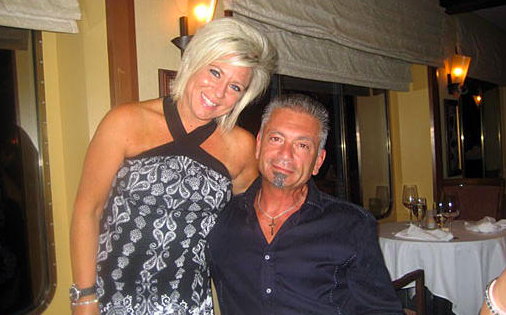 TLC's Long Island Medium star Theresa Caputo is legally separating from husband Larry after 28 years of marriage, People magazine reported on Sunday. Caputo hinted about her marital woes in the trailer for Season 11 of their hit reality series.
The couple issued a joint statement to the media, which said, "After 28 years of marriage, we have decided to legally separate. We will always love each other and our two wonderful children. We are united in supporting each other and our family. Please respect our privacy during this time."
The have two children together: a son, Larry Jr., and a daughter, Victoria.
Theresa talked about her fractured marriage in a sneak-peek clip of Monday's Long Island Medium episode.
"Since the last season of Long Island Medium and through a period of time, Larry and I's relationship has changed. We've been there for each other, you know, through thick and thin, you know, good times, and right now are not such great times," she said when talking to her friends. "I don't understand it. I lay in bed, and I say to myself, 'How did this happen? How did I get here?'"
She mused her profession as a medium tainted all her relationship with people—especially her husband.
"I love what I do. I wouldn't change a thing. I am so grateful and very blessed but because of what I do and where I am in my life with my career, every relationship in my life has suffered," she said. "Just getting together with family, you know, just going to lunch. Things are just hard, you know? And just trying to the best that I can."
Theresa didn't talk about divorce in the clip. But she did mention the "strain" her career caused—and now they feel unsatisfied with each other.
"I sometimes interpret it as growing apart. I've changed and he has changed. We're both not happy and, you know, it's hard to try to work through that," she told the camera in a confessional. "It's not easy for me to sit here and to talk about this, to talk about my feelings, to talk about how my marriage is, but you know, things do change."
The duo's marriage has apparently been on the rocks for months, with Larry being absent from her Instagram account since August.
But there might be hope for the couple as far as TMZ was concerned. While Theresa and Larry are officially on a break, there's a chance they could reconcile in the future, a source told the publication on Monday. They still love each other.
Long Island Medium has been airing on TLC since 2011. The psychic meets people and typically connects with their loved ones who died—or so she claims. She provides insight to the lives and supposedly predicts the future, too.
Season 11 of Long Island Medium airs on TLC Mondays at 9 p.m. ET.