Theresa Caputo Dreamed About Husband Larry Cheating on 'Long Island Medium' Star before Split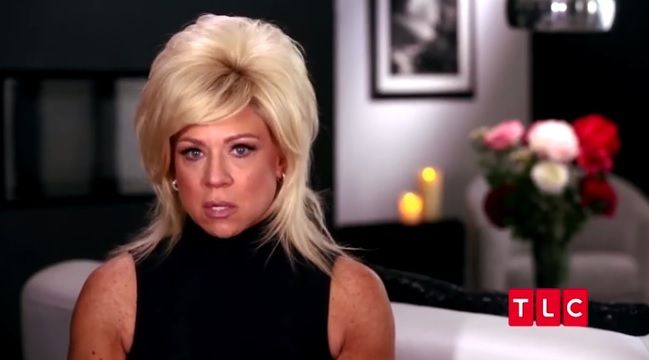 Long Island Medium star Theresa Caputo dreamed her husband Larry cheated on her during a 2013 episode of the hit TLC reality series. While it came off as light-hearted on the show, Caputo told her husband they needed to go to counseling—or dancing—to fix their apparent problems. Larry chose dancing, which in hindsight might not have been the best choice.
On Sunday, Caputo announced she and her husband were calling it quits. "After 28 years of marriage, we have decided to legally separate. We will always love each other and our two wonderful children," she said in a statement. "We are united in supporting each other and our family. Please respect our privacy during this time."
Caputo took to Twitter on Tuesday to thank her fans. "I'm overwhelmed by the love and support for me and my family while we're going through this difficult time," she tweeted. "One thing will never change and that is that we will always love and support each other, and be the best parents we can be to our children. Love you guys."
The medium didn't say why she and her husband were ending their marriage. But in that 2013 episode, she had a premonition of infidelity. "I [dreamed] that Larry was having an affair. And I'm like, 'Are you freaking kidding me? Seriously?'" the psychic said during the show.
Larry didn't take her accusations to heart. "It's funny you mention that because I had a dream some girl was trying to hit on me," he responded.
Another sign of trouble came on Monday night's episode, when Caputo hinted she and Larry had grown apart.
"Since the last season of Long Island Medium and through a period of time, Larry and I's relationship has changed. We've been there for each other, you know, through thick and thin, you know, good times, and right now are not such great times," she said to a friend. "I don't understand it. I lay in bed, and I say to myself, 'How did this happen? How did I get here?'"
Larry struggled with the strain, too. "We're having a difficult time," he said on Monday's episode "I think a lot of the frustration has to do with, we don't spend the time together anymore, and along with that comes the lack of communication, so it's like losing your best friend. It's hard."
"As much as I try to busy myself so I'm not thinking about it, it's still there," he continued. "I know it's very trying for the both of us. I don't want to make it just about me. I know it's the same for Theresa also."
Even though they're legally separated, there might be chance of reconciliation, a source told TMZ on Monday.
Season 11 of Long Island Medium airs on TLC Mondays at 9 p.m. ET.