Trump Claims He Would Have Been 'Tougher' Than May On Brexit Negotiations
President Donald Trump has suggested he would have taken a different, "tougher" approach to that of U.K. Prime Minister Theresa May in Brexit negotiations.
The Republican took a slight dig at his British counterpart, who he last week insisted he had a good relationship with, and said in an interview with ITV that he would not have negotiated over the Brexit vote in the same way that May had done.
"Would it be the way I negotiate? No, I wouldn't negotiate it the way it's [being] negotiated... I would have had a different attitude," Reuters reported Trump saying on Sunday.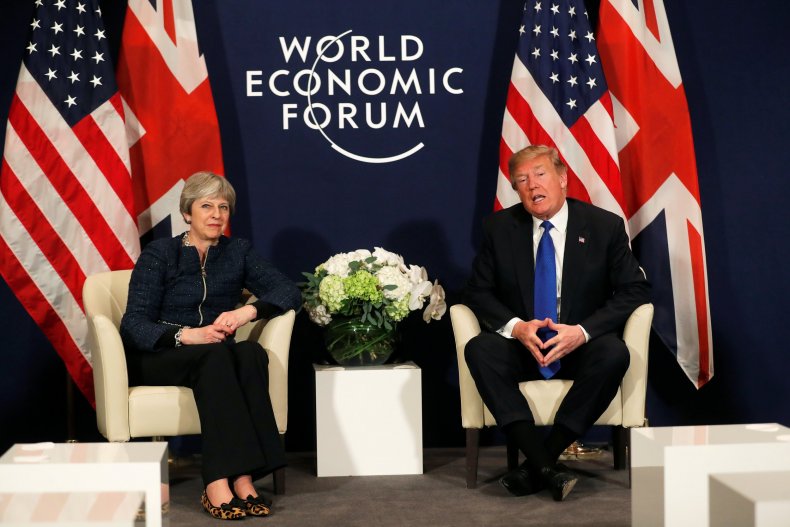 "I would have said the European Union is not cracked up to what it's supposed to be. I would have taken a tougher stand in getting out," he added in the interview.
The president's comments come several days after he denied rumors that he does not get on well with the British leader, describing such rumors as fake and openly pledging that the U.S. will "be there to fight for" the U.K., whatever happened.
As the pair met in Davos, Trump reiterated that the U.S. and U.K. were on good terms, also praising May as "really great" for tackling the rumors.
"We love your country," Trump said in comments carried by The Hill. "We have the same ideals and there's nothing that would happen to you that we wouldn't be there to fight for you."
"We're on the same wave-length, I think, in every respect," Trump told May. "Some people don't necessarily believe that."
The president is set to speak further about his relationship with the U.K. and other topics in an interview with British TV presenter and former CNN host Piers Morgan that is set to air on Sunday evening ay 10pm U.K. time (5pm Eastern Time).