Theresa May's Conference Speech: Our Panel Responds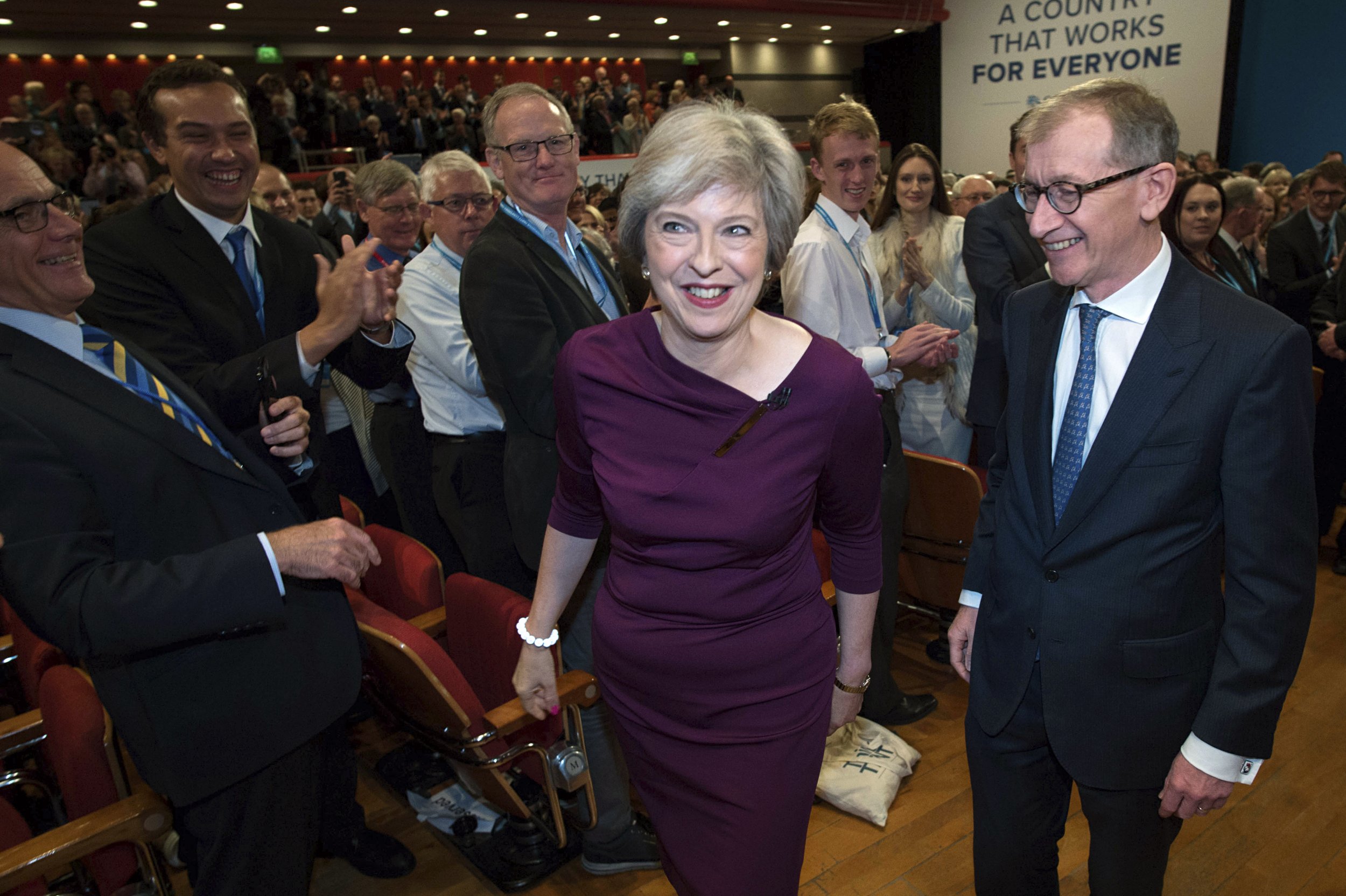 Theresa May has given her first speech to the British Conservative Party's conference as the party's leader and the country's prime minister.
Having spent much of her first weeks in power establishing control behind the scenes and seeking to reassure a divided and uncertain country after the Brexit vote, in her speech May allowed herself to strike a more strident tone, and some of her priorities for the country are clearer now than before. She set out a vision for the "new centre ground;" which is less liberal, more nationalist, and more interventionist than the one David Cameron and Tony Blair sought after.
May hit out at a snobbish "elite" of commentators and politicians who, she said, did not understand the fears or desires of ordinary, patriotic Britons. The Brexit vote, she said, was a signal that such people are no longer prepared to be ignored. She promised a renewed focus on citizenship and community. "If you believe you are a citizen of the world, you are a citizen of nowhere," she said, in a marked break with the liberal internationalism that has dominated mainstream British politics for decades.
She took a noticeably skeptical tone on immigration, saying that low-skilled immigration was responsible for keeping some out of work, and that for such people "It seems your life has been sacrificed in the interests of others."
And she elaborated on her desire to build "a country that works for everyone" with a more interventionist approach to government. She pledged a focus on issues including tackling tax avoidance and out-of-control executive pay, building more homes, protecting strategically important areas of the economy and improving education and training.
We asked a panel of politicians, commentators and experts what they thought of it all.
Government Has a Role
Iain Duncan Smith—MP for Chingford and Woodford Green and former work and pensions secretary
Theresa May thinks that government has a role to play; we don't just stand back and let everyone get on with it. When things go wrong our job is to get in and sort them out. She pretty much came close to naming Philip Green, for example, basically saying that business people don't have the right to just take whatever money out they like, they have an obligation to society. I think that's something most people would welcome.
That fits with my views about social justice; that we actually want to do certain things to help people that struggle. Conservatives should never have been just economic liberals; there's always been an element of responsibility that flows through Conservatism. My resignation from the Conservative cabinet was over my concerns that George Osborne had rather lost the plot on this, and was so obsessed with the deficit that he was forgetting at the end of this was a bunch of humans. I thought Theresa was much more in tune with that.
On Europe, the most significant thing she said was that we aren't going to subject ourselves to European law. She also repeated that we won't be giving up control of our borders. This means we cannot be a member of the single market. So she's given a very clear steer. Theresa went on to say that we want a decent relationship; in other words she's talking about free trade.
The EU has always expected us to go back begging to be part of the single market, and I've always argued, including in a paper I released on Saturday, that we shouldn't; it has no benefit for us. The basic plan that we called for in the paper is now being accepted by the government.
And she said she wasn't going to have any more of this nonsense of "lefty lawyers" jumping up and using human rights to hound soldiers who have done their duty. That's quite a commitment, and they will have to follow through on this.
Ed Miliband Economics, Daily Mail Social Policy
Torsten Bell —Director of the Resolution Foundation Think Tank
The speech was a match of Ed Miliband economics with Daily Mail social and home affairs policy. That might sound strange, but there is an anti-liberal backlash that unites the two.
The tone on the economics is definitely anti- laissez faire, a change for the Tories. That's probably broadly where the country is. On the social side, the speech is definitely anti-liberal elite.
May has done a good job of setting out what she's about with her "just-managing families" focus. That's a pretty good target, because that is the group that's had a very bad time; their incomes are still at 2004 levels, housing costs have been a disaster for them, and they don't manage to save very much.
The questions now are: how much is the cabinet behind this philosophy, and is she prepared to produce the policy to make a difference?
On housing policy, the jury's out. The stuff announced this week [including more money for a £3 billion home building fund] was pretty small fry, but it still feels like a shift for the party. On insecurity at work she has not said very much at all yet. All of this is subject to her ability to deliver it at the same time as Brexit.
So May has now given us a clear "this is what I'm about" statement. Her vision is strong, but so far it's policy-lite. Now, the real tests will come.
Wait for the Autumn Statement
Vicky Pryce—board member of the Centre for Economics and Business Research (CEBR) and a former joint head of the government economics service
Following the announcement of a timetable for invoking Article 50 and a "great repeal Act" on Sunday, today there was no clearer indication of what "Brexit means Brexit" means and how negotiations will work.
Businesses will worry at what seemed to be a rather benign view of the economy despite current warnings from the IMF and others of a substantial slowdown next year, and at May's uncompromising tone on free movement of people and the emphasis on hiring british workers.
On the economic front the move to capture a new central ground lacked any detail on how to achieve it except in the area of grammar schools, and on legislating for consumers and workers on boards.
And May's promise to "re-balance the economy" has been heard many times before. We have seen many industrial policies in the past. It will be interesting to see whether the one being worked on by the Treasury and the Business Departments is any more achievable. For the moment it all sounds the same as before: supposedly not picking winners but again with the usual suspects — the financial sector, life sciences, aerospace, motor industry and creative sectors.
For a real chance of any policies that might help growth and employment while limiting the 'Brexit' fallout we will have to wait for the autumn statement to see what room for manoeuvre there can really be.
Strong Vision in a Time of Uncertainty
Rebecca Lowe Coulson—Former parliamentary candidate and ConservativeHome columnist
May promised to explain her vision for Britain. Did she? Yes. Was it a new answer? No. It's been plastered all over Birmingham; it drove every minister's comment. She wants a country—and an economy, government, party and conference speech—that "works for everyone."
That means a focus on mainstream, centrist, British society. Remember how Cameron's 2015 speech prioritized social mobility? As expected, May went broader. She talks of "social reform," and that incorporates a bigger group: the "just managing." Remember how Cameron's speech included Syria, extremism, and FGM? Not so today.
But May gratefully emphasised Cameron's (and her) successes: new businesses, the living wage, and better schools. Implicitly, she promised more of the same, yet "more fair:" a real attack on tax avoidance, and help to the regions, particularly with housing. That nuance fits the acceptable understanding of Brexit as an uprising against elites, pointed up in her criticism that "it wasn't the wealthy who made the biggest sacrifices after the financial crash, but ordinary, working class families." The stories of the past 84 days—grammars; Hinkley, HS2, and an airport decision; even unjustified suits against the armed forces—also fit into the idea of "merit over privilege," and state or community over individualism.
Cameron's lack of broad messaging left him vulnerable to those who don't get non-ideological politics. May has learnt from that. As she said, "no vision feeds a starving child." But if the way to feed it has mostly already been there, then explaining that that's what you're doing is sensible. It's what's needed at a time of uncertainty.
Grammars Mean Grammars
Laura McInerney —editor of Schools Week
Theresa May wants to lift the ban on new grammar schools. Not expand a few grammars; not create a fudged system of part-selective schools, part something else. She wants to overturn laws created in 1998 prohibiting new schools from cherry-picking pupils based on their test scores.
Like "Brexit means Brexit" the pronouncement matters because many political commentators have suggested she isn't seriously trying to recreate grammars. Get-out clauses such as the ability to move pupils around different school sites after their enrolment could bring back "smart streaming" without needing to overturn the 1998 laws.
Her battle cry for changing the law is clear but strange given the party's slim majority. Around 30 Conservative MPs are said to be working with Labour in a planned revolt should attempts to lift the ban hit the House of Commons, which could be enough to topple it.
Grammars are a totem issue for Conservatives, though. Like Euroscepticism it resonates with members further along the right-wing axis and it is the sort of policy which, if they can pass it, shows the party are firmly in charge. Labour failing to stop it would be an emasculation.
Hence, grammars mean grammars to Theresa May. But a consultation is out on the plan until the end of November. One wonders if she will listen to the people this time too?