Theresa May Must Go Further on Making Companies Reveal Executive Pay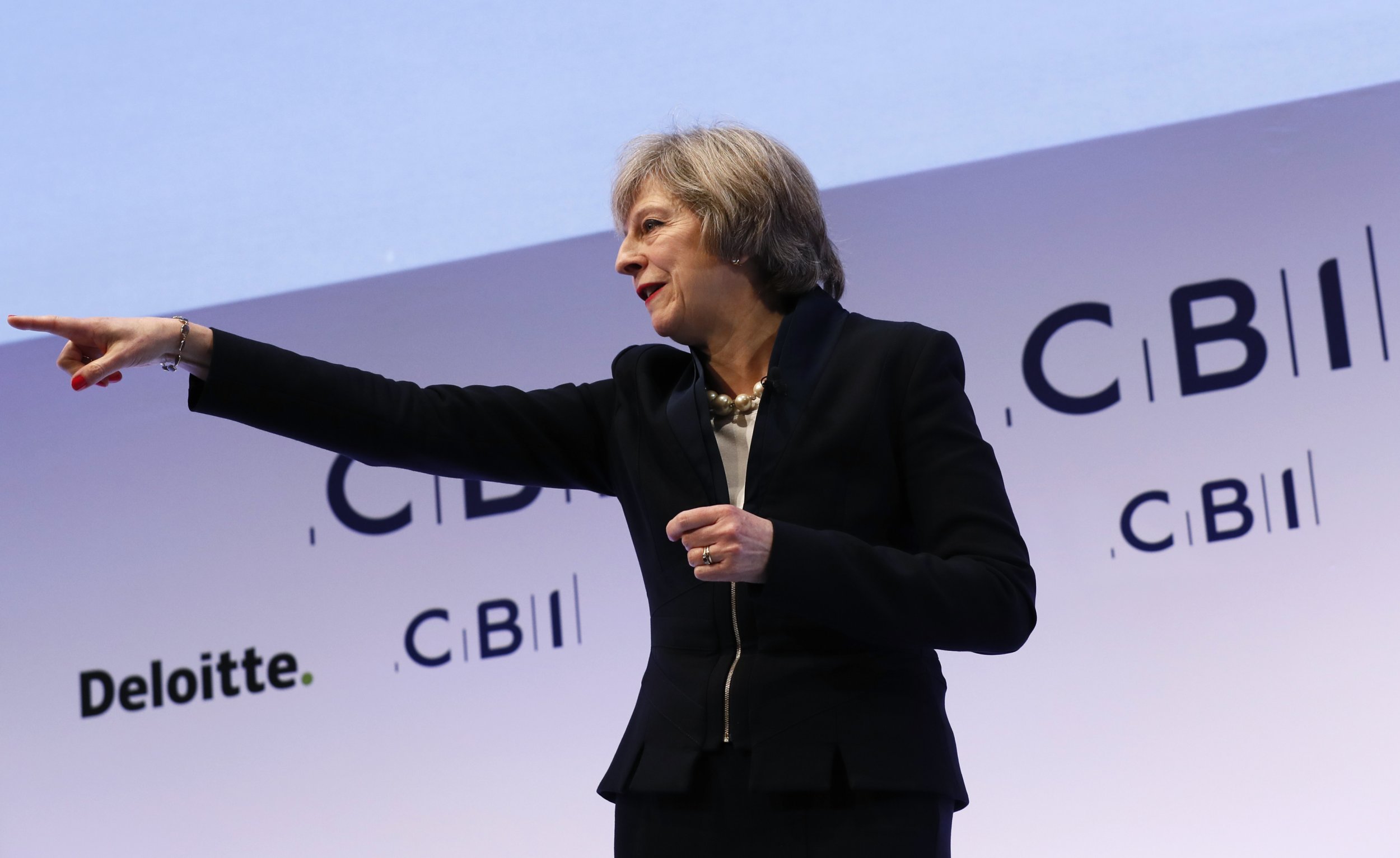 Only a few weeks into her term as prime minister, Theresa May boldly pledged to "reform capitalism, so that it works for everyone—not just the privileged few."
It was a brave rallying cry—one that was met by equal concern from parts of the business community as intrigue from the left.
In fact, May ran for leadership on a pledge to make business more responsible. Her much-discussed recommendation to put employee representatives on company boards was a promising idea, and a brave re-ignition of a debate that hasn't been seen in mainstream politics for decades.
However, with an audience at the CBI, the Prime Minister somewhat retreated from that claim, saying that she had no plans to mandate the changes.
Last week, Theresa May's government unveiled proposals to oblige businesses to publish their pay ratios, demonstrating the gap in earnings between the chief executive and the average employee.
It was an interesting idea when it was raised by the coalition four years ago, and it remains one now. Transparency in business pays off—it neatly holds business leaders to account, while giving employees and consumers faith and trust in your governance structures.
It's not perfect, however. As highlighted in 2012, there's the risk of the "Goldman-Waitrose" quandary. Against this measure, the relative pay ratios make Goldman Sachs look more equitable than U.K. supermarket Waitrose, simply because the average pay of a banker is somewhere in the region of £400,000 a year.
Either way, publishing pay ratios is undeniably a step in the right direction. As Theresa May and her team have noted—there's a tide of change in the air.
Public scandals at Volkswagen and British high street retailers Sports Direct and BHS have punctuated the last year. They have taken debates about business governance from the realm of obscure boardroom jargon and corporate social responsibility policy, to the front page of every national newspaper, and to the front of the public consciousness.
In fact, the PM's team have caught the zeitgeist better than many business groups. Organizations such as the Institute of Directors and the British Chamber of Commerce have labelled May's reforms anti-business and have called her policy recommendations "heavy-handed."
The truth is that the prime minister's efforts are only the beginning of a much longer journey.
Government can do much more to tackle a corporate culture driven by short-term thinking that permits vast income inequality, obscures the truth from the public, and disregards environmental impact.
However, the Chamber of Commerce isn't the only business voice in this debate.
The last decade has seen the emergence of a new vision of business. In the wake of the recession, the idea of the socially conscious business took hold, and we witnessed the boom of the social enterprise.
The success of mission-led brands—businesses that are driven by a social or environmental purpose, beyond profit—has strengthened the movement, one I'm proud to have been part of with Ella's Kitchen. Financial successes have proved that a significant commitment to the environment and society doesn't translate into a sacrifice on profit.
Perhaps most importantly, however, there has also been a tectonic shift in our perception and beliefs about the role business should play in society.
Though over-cited, the shift in mindset of the "millennial generation" can't be ignored. They will be 75 percent of the global workforce in under a decade and a significant portion of the world's consumers.
Almost nine in 10 millennials across the world believe that the success of a business should be measured in terms of more than just financial performance. Survey after survey shows that this generation want to work for, and buy from, businesses that can demonstrate their positive impact on society.
The businesses responding fastest to these shifts in mindset are already reaping the rewards. To take a significant example, this year, Unilever announced that the brands who have adopted their market-leading "Sustainable Living Plan" have delivered 50 percent of their growth, and grew 30 percent faster than the rest of the businesses.
By working closely with the firms leading this new field, the government can and must, do more to ensure that British business adapts to the changing demands and expectations of the public.
The publication of the " Mission-Led Business Review " on Monday, an enquiry commissioned by the Cabinet Office into the rise of socially minded business, to which I submitted evidence, is proof that government is paying attention to these vital trends.
However, as demonstrated by the review, government can do more, not just to hold business to account, but to put an end to an endemic culture of short-term, profit-focused thinking.
For example, through similar legislation as passed in France last summer, by instigating a new reporting system for institutional investors, requiring them to report against environmental impact as well as financial returns.
The B-Corp movement, which is much bigger in the U.S. than in the U.K., but gaining steady ground here, is already demonstrating how that might work.
The organization behind it, B Lab, has successfully created benefit corporation legislation in 27 states in the U.S., proving that enormously successful businesses like Kickstarter or Patagonia can re-write their DNA, and give their impact on people and planet an equal standing to their profit margins.
Government can do much more to support and incentivize these new models, and encourage more responsible business practice, that privileges long-term thinking.
In a time when tech giants wield the comparative power of individual countries, the need for socially responsible business practice has never been more vital.
I hope the prime minister's team don't waver on this vital ground. I hope they persevere—they were right the first time: it's time for dramatic change in the corporate world.
Paul Lindley is founder and chairman of Ella's Kitchen, and founder of Paddy's Bathroom.