A Speedy Brexit is Francois Hollande's Last Political Hope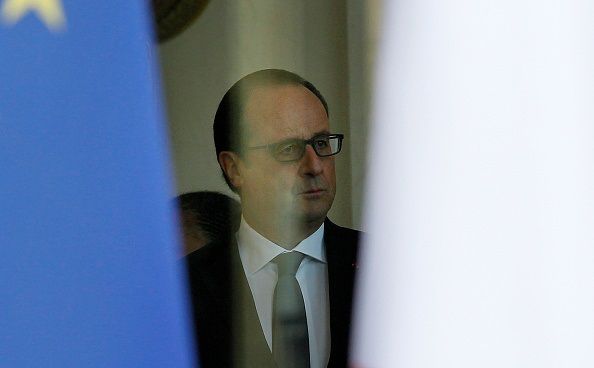 This article was originally published on The Conversation. Read the original article.​
Theresa May and François Hollande have lots to talk about. During their first meeting after May became prime minister of the U.K., the role of each nation in Europe's future is very much at stake. Following the U.K.'s decision to leave the EU last month, Hollande wants a swift and clinical Brexit to avoid calls for a French referendum on EU membership, and a potential "Frexit."
The timing of the meeting, a week after the Nice terrorist attack, could prove critical for Hollande's political career. He faces a presidential election in 2017 and has seen his popularity sink to its lowest levels yet.
The meeting is a welcome foray into foreign policy for Hollande. Things are going very badly indeed at home. Fearing demands for a referendum on his country's membership of the EU—championed by the extreme-right Front National—he is keen to avoid specifics on the post-Brexit nature of Europe.
Political figures in France from across the political spectrum, including Natacha Bouchart, the centre-right mayor of Calais, and the socialist foreign minister, Jean-Marc Ayrault, have painted a bleak picture of Britain's role in the future of Europe outside of the EU.
Despite British Foreign Secretary Boris Johnson's assertion that Ayrault had written to him in warm terms, the public message from French politicians is clear: expect no quarter from us.
In his own deliberately obtuse fashion, Hollande is likely to continue to follow suit. Having witnessed David Cameron's rapid fall from power, the president will seize any opportunity to ward off calls for a French referendum. That means demanding the immediate departure of the U.K. from the EU.
May and her government are hoping for long, reflective and calm negotiations between the U.K. and the EU. Hollande will want to avoid that for fear of encouraging Euroskeptic French politicians who claim that France can thrive outside the EU.
The long relationship between France and its European neighbors may well prove one of many key battle lines ahead of the 2017 presidential elections and Hollande hopes to appear to be a driving force in the leadership of Europe.
Indeed, for Hollande, avoiding Frexit is very much a matter of political life and death. Socialist voters argue that he has failed to implement the sorts of meaningful reforms that would improve standards of living for French people. Where, for example are the 60,000 new teaching posts he promised in 2012 to help to improve social aspirations?
There are other figures in his own political party who might appear, in the minds of the electorate, to be the more likely presidential figure in the 2017 presidential elections.
Manuel Valls, France's hardline prime minister, has been uncompromising in the face of protests over the unpopular labor reforms that seek to make hiring and firing much easier for French firms. Valls recently declared that the French should "get used" to living with terror in the aftermath of the Nice atrocity—an apparently thoughtless comment that may well undermine any eventual bid for the Elysée.
Hollande also faces the very real threat of his predecessor, Nicolas Sarkozy. And of course, there are fears that Marine Le Pen, who oversaw the best ever electoral showing of the Front National in the 2015 regional elections, could well beat Hollande. That's if he is even chosen as the centre-left candidate next year.
In many ways, May's visit could not have come at a better time for Hollande. He has been president at a particularly turbulent time for his country and this is a welcome excuse to appear the international statesman. He can be seen to be working closely with Britain to prevent future terrorist attacks on French soil. Of course May wants to spend some time talking about Brexit, but Hollande will want to avoid encouraging stirring anti-European sentiment in his own country.
But it may be too little too late. Having overseen four terrorist attacks along with public sector strikes and mass demonstrations in opposition to labour reforms since taking power in 2012, Hollande's political career is potentially past saving.
David Lees, Teaching Fellow in French Studies, University of Warwick