Theresa May Responds to Controversial Legs-it Daily Mail Front Page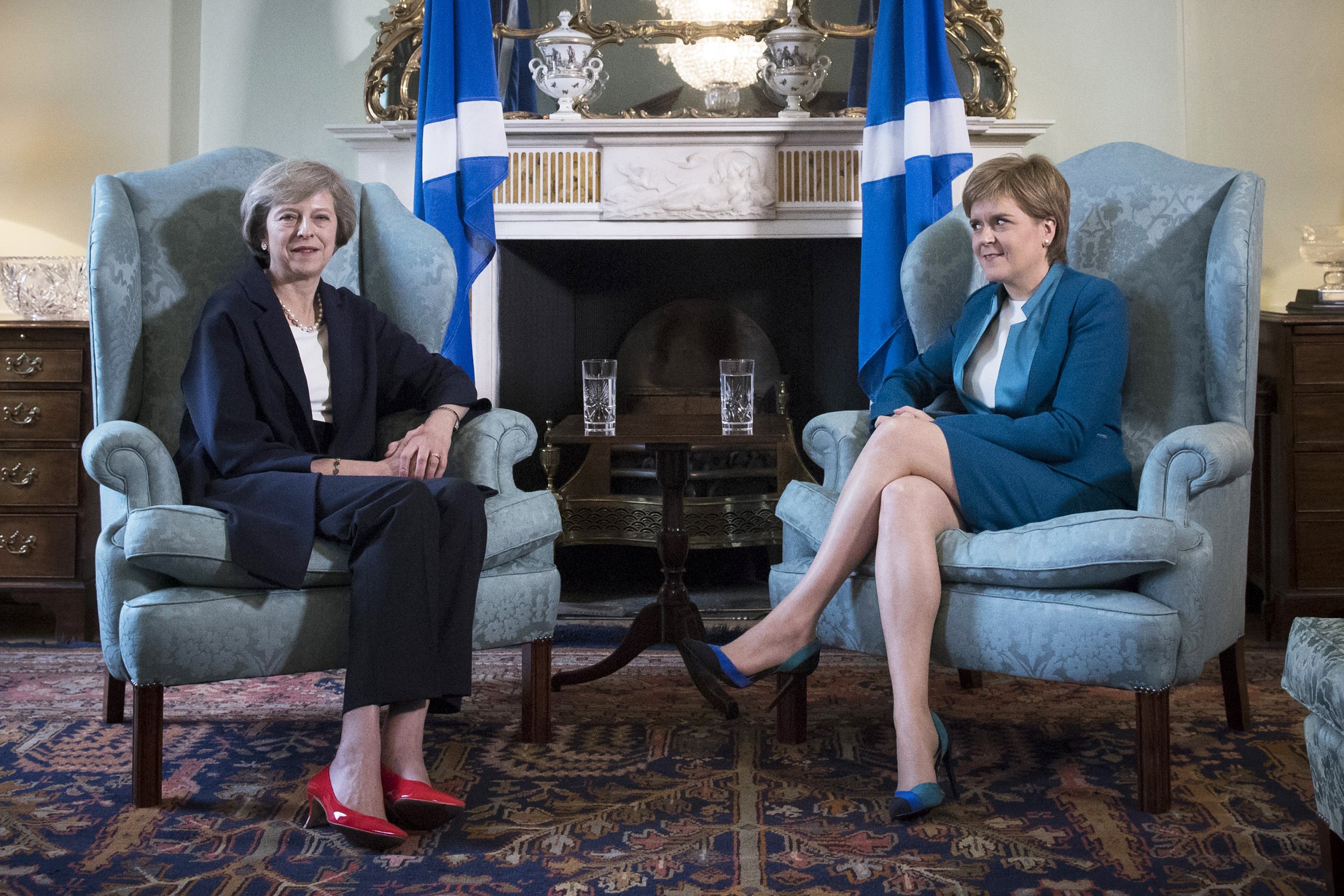 Britain's Prime Minister Theresa May has dismissed a newspaper front page evaluating the relative quality of her and the first minister of Scotland's legs as "a bit of fun."
The front page of British daily the Daily Mail on Tuesday included a teaser for a column by Sarah Vine about a meeting between May and Scotland's Nicola Sturgeon, who had been discussing the future of the union after Britain leaves the EU.
Next to an image of the women—two of the most high-profile politicians in the Western world—was the strapline "Never mind Brexit, who won Legs-it!"
The joke was presumably that "legs-it" almost rhymes with Brexit and also that women apparently care deeply about the appearance of their legs, even when they are running major advanced economies and conducting tense negotiations on matters of huge geopolitical importance.
But after a wave of condemnation on social media accusing the paper of sexism, May was asked about the front page and refused to criticize it.
She told a local British newspaper, Wolverhampton's Express and Star: "You will notice that I am wearing trousers today!
"As a woman in politics throughout my whole career I have found that very often, what I wear—particularly my shoes—has been an issue that has been looked at rather closely by people.
"Obviously what we do as politicians is what makes a difference to people's lives. I think that most people concentrate on what we do as politicians.
"But if people want to have a bit of fun about how we dress, then so be it."
The Daily Mail has also responded. A spokesperson said in a statement that Vine's piece was flagged as "light-hearted" and was a sidebar alongside a "serious political story," the BBC reported.
He added: "It appeared in an 84-page paper packed with important news and analysis, a front page exclusive on cost-cutting in the NHS and a health supplement devoted to women's health issues.
"For the record, the Mail was the paper which, more than any other, backed Theresa May for the top job.
"Again for the record, we often comment on the appearance of male politicians including Cameron's waistline, Osborne's hair, Corbyn's clothes—and even Boris's legs.
"Is there a rule that says political coverage must be dull or has a po-faced BBC and left-wing commentariat, so obsessed by the Daily Mail, lost all sense of humour… and proportion?"