Watch Britain's Embattled Leader Theresa May Bomb During Make-or-Break Speech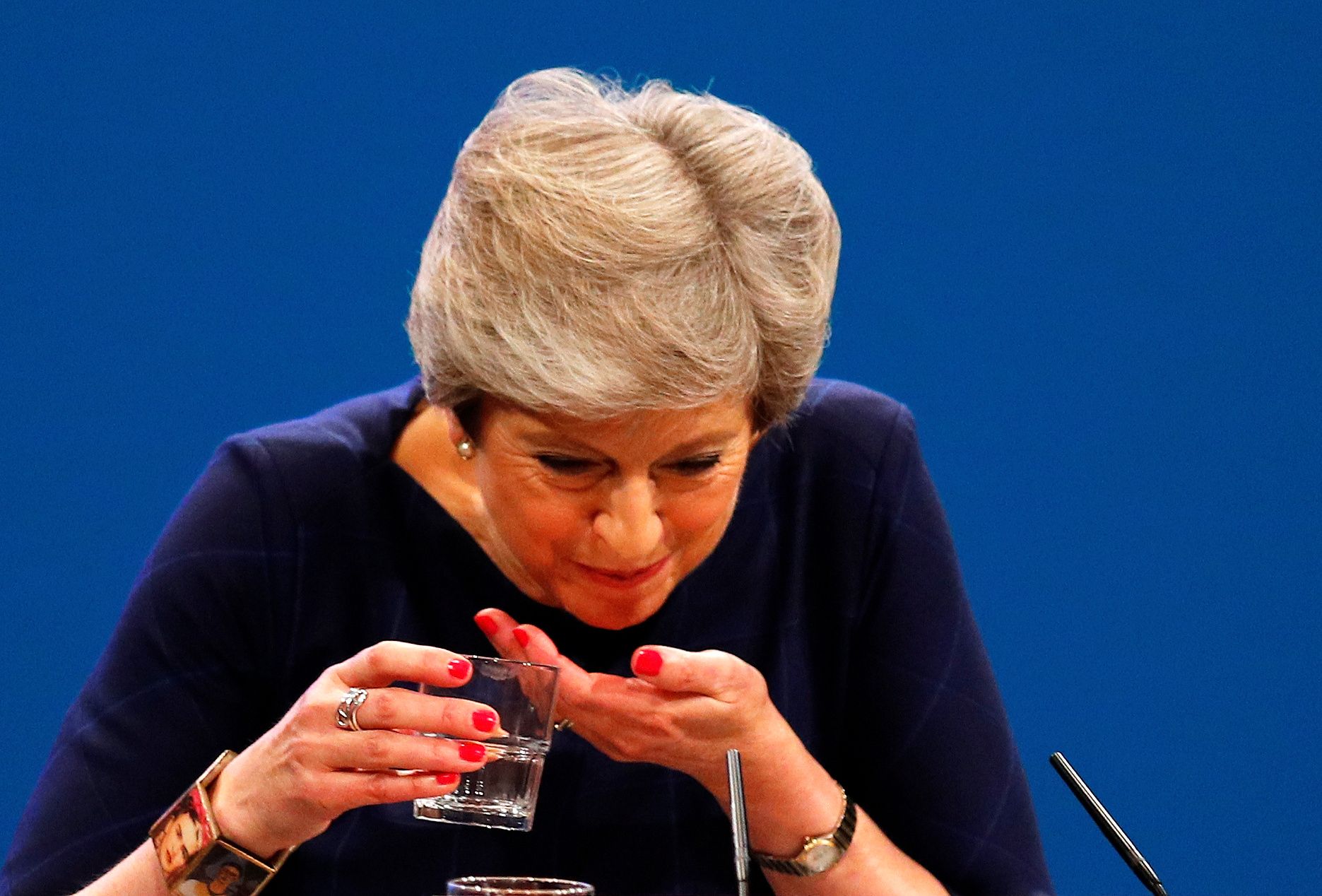 It was a make-or-break moment for British Prime Minister Theresa May. With her country struggling toward an uncertain post-Brexit future and her political strength at home compromised by a less-than-inspiring general election result, she had to deliver a barnstorming speech to close her Conservative Party's annual conference in Manchester, England.
But throat problems have a habit of showing up at the most inopportune times—even for world leaders.
A short way into the speech, in which May sought to hit out at insurgent opposition leader Jeremy Corbyn while elucidating her own moderate conservative vision, she was interrupted.
First, British TV comedian Lee Nelson dashed to the front of the hall and held up a paper form called a P45—the document British workers get when they leave a job.
May brushed it off with relative success, joking that she'd like to hand Corbyn just such a form. But soon afterward, the real problems began.
While May was addressing EU migrants coming to Britain, her voice rapidly became extremely hoarse. "You are welcome here," she rasped, "and I urge..." the first cough came.
It ushered in a lengthy segment of the speech punctuated by strangled speech and occasional full-on pauses for coughing, each one covered up by sympathetic standing ovations from the party faithful in the audience, and May's Cabinet in the front row.
"It is our responsibility as a government to prepare for every eventuality," May said at one point. "Let me reassure everyone in this hall that that is exactly what we are doing." You can't fault her on that; finance minister Philip Hammond (known as the chancellor) even had a cough sweet ready at one point to steady his boss's voice. "The chancellor giving something away for free!" May joked.
May battled on to the end of the speech with admirable resolve, though the cough never entirely left her, and brought out several significant policy announcements, including plans to cap energy prices and to make it easier for local government to build social housing.
But there was one last gaffe to come: As May spoke, letters began falling off a slogan written on the wall behind her.
It was the prank, the faulty slogan, and the voice troubles that dominated immediate discussion.
Marc Stears, an ex-adviser to the former Labour Party opposition leader Ed Miliband who was brutally defeated at the 2015 general election, summed it up: "Politics is very cruel," he tweeted. As May's team surveys the clips to emerge from her big moment, that's one thing they're likely to agree with him on.