Moderate members of Theresa May's Conservative Party are warning against an influx of supporters from the far-right U.K. Independence Party (UKIP), suggesting they seek to hijack the organization and force an extreme Brexit.
Pro-European Union (E.U.) members of the ruling center-right party believe they are facing a hardliner takeover while the British government attempts to reach a Brexit agreement to avoid a so-called "no deal" exit from the bloc.
Conservative MP Anna Soubry wrote to The Times Thursday suggesting the party must begin to vet new members or be overwhelmed by a swarm of new joiners wishing to "topple the leader and wreck its policies."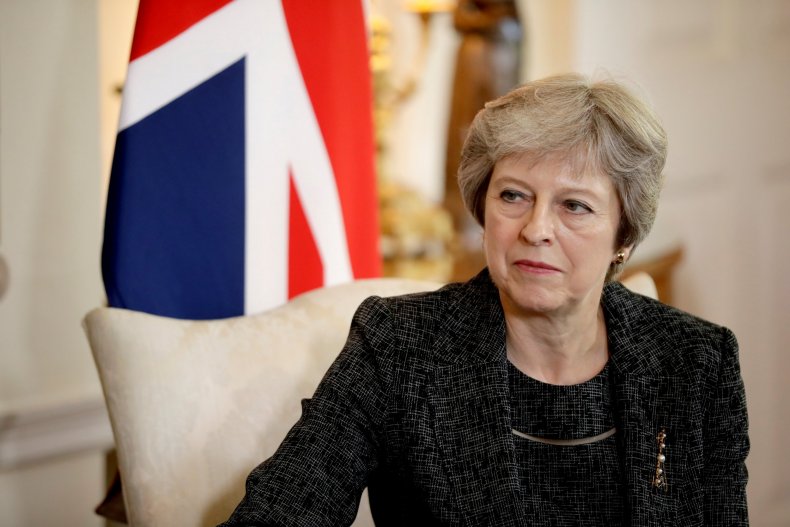 The recent warning was sparked by the actions of Arron Banks, a former UKIP funder and founder of the pro-Brexit Leave.EU group. Banks applied for membership of the Conservative Party but was rejected last week. The 52-year-old millionaire is a controversial figure, and his Leave.EU organization has been found to have broken election rules during the Brexit referendum.
He was also suggested to have links to Kremlin-backed Russian businesses, and it has been alleged that Russian money flowed into Leave.EU to help influence the vote against the E.U.
Before his party application was rejected, Banks called on pro-Brexit voters to join the Conservatives and "unseat May" in favor of more extreme eurosceptics like Jacob Rees-Mogg or Boris Johnson. "We believe that the battle for Brexit is now within the Conservative party," Banks said, The Guardian reported.
Party rules mean that anyone who has been a member for more than three months can vote in a leadership contest, choosing between two candidates selected by Conservative members of parliament. As she struggles to secure a Brexit deal, the threat of a leadership challenge has been a near-constant worry for May. Many pro-Brexit lawmakers believe May has been too soft on the E.U., and want negotiators to take a more uncompromising approach, even if it means no deal can be reached.
In her letter to The Times, Soubry warned that centrist voters are the key to an election victory. "We need to ensure that the choice before them is not two parties who have been hijacked by the extremes of British politics," she wrote. The left-wing Labor Party has been led by Jeremy Corbyn since 2015, when he unexpectedly defeated challengers amid allegations of leftist entryism.
But pro-Brexit members of the party have already dismissed fears of an extremist takeover, The Guardian says. On Wednesday, Robert Halfon, who chairs the House of Commons education committee, said, "We must be the only party in history complaining because we have more members."
He added, "Even if they are Brexit people, the idea that Arron Banks has put a little chip in them is ridiculous."