These 13 NFL Teams Still Won't Allow Fans at Games, Now That The Saints Will Allow Them
The New Orleans Saints and the city's government agreed Tuesday to begin letting fans into the Mercedes-Benz Superdome for NFL games. It starts this Sunday against the Carolina Panthers, in which 3,000 fans will be allowed inside the famed venue.
The Saints became the 19th NFL team to allow fans to attend games in-person. That leaves just 13 teams who still will not allow fans at games—yet.
Who are the NFL teams not approved to allow fans at games in 2020 now?
Buffalo Bills
Chicago Bears
Detroit Lions
Green Bay Packers
Las Vegas Raiders
Los Angeles Chargers
Los Angeles Rams
Minnesota Vikings
New England Patriots
New York Giants
New York Jets
San Francisco 49ers
Seattle Seahawks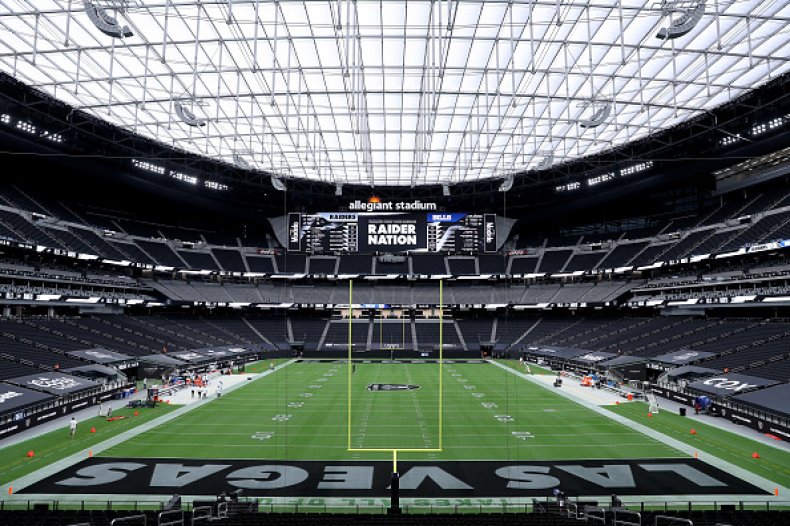 Which NFL teams allow fans at games?
Arizona Cardinals
Atlanta Falcons
Baltimore Ravens
Carolina Panthers
Cincinnati Bengals
Cleveland Browns
Dallas Cowboys
Denver Broncos
Houston Texans
Indianapolis Colts
Jacksonville Jaguars
Kansas City Chiefs
Miami Dolphins
New Orleans Saints
Philadelphia Eagles
Pittsburgh Steelers
Tampa Bay Buccaneers
Tennessee Titans
Washington Football Team
The New Orleans Saints did not allow fans at their first three home games, which were against the Tampa Bay Buccaneers, Green Bay Packers and Los Angeles Chargers.
On Tuesday, New Orleans Mayor LaToya Cantrell issued a statement that said Saints season ticket holders will have access to 3,000 tickets available for this Sunday's game against the Carolina Panthers.
If things go accordingly, and health and safety measures are met, then the team could be allotted more tickets—up to 6,000 each for the home games against the San Francisco 49ers (Nov. 15) and Atlanta Falcons (Nov. 22). Should things keep improving, then the allotment could reach 15,000 for home games against the Kansas City Chiefs (Dec. 20) and the Minnesota Vikings on Christmas.
Though Saints fans will begin getting access to the games this weekend, the city's mayor still encourages everyone to wear protective masks in public, maintain social distancing and practice good hygiene.
The Saints are part of the NFC South, which allows all four divisional teams to have fans (along with the AFC South, AFC North). In contrast, the NFC North does not allow fans at any of those team's venues for now. There are some divisions (AFC East, NFC West) where three teams don't allow fans, but one team does.
In the NFC East—the worst division in football—three of its teams (Dallas, Philadelphia, Washington) allow fans, whereas the New York Giants won't at this time.
Tampa Bay, which is allowing limited fans, is the home to this season's Super Bowl.