An increasing number of states are reinstituting mask mandates in schools as children and parents prepare to start the school year.
The Centers for Disease Control and Prevention (CDC) issued guidelines in July for K-12 schools, recommending school-age children wear masks indoors. More than a dozen states have made masks a requirement in schools as of Thursday, with the latest announcement from Virginia Governor Ralph Northam.
Virginia
The Public Health Emergency Order issued enforces Virginia state law which requires schools to follow the CDC guidelines.
"This Public Health Order makes it very clear that masks are required in all indoor K-12 settings, and Virginia expects all schools to comply," Northam said. "I'm grateful to the work of the General Assembly and the Health Department, and I look forward to a safe start to the school year."
California
The California Department of Public Health (CDPH) announced on the day the CDC's recommendations came out that California public schools will require masks.
"There's no substitute for in-person instruction, and today's CDC guidance clearly reinforces that as a top priority, issuing recommendations for how schools throughout the country can get there. Here in California, we'll get there through continued masking and robust testing capacity," said Dr. Tomás Aragón, Director of the California Department of Public Health and State Public Health Officer.
Connecticut
Students in Connecticut have to wear masks in schools until at least September 30, according to an order from Connecticut Governor Ned Lamont.
Delaware
Effective August 16, both public and private schools in Deleware will require masks. Governor John Carney said in a statement Tuesday that his priority is to get kids back to in-person instruction this fall. He also encouraged eligible residents to get the vaccine to help protect students who are not yet eligible.
"This consistent, statewide approach will help students, educators and staff return to school safely and without disruption. Vaccination remains the best way to finally put an end to this pandemic. These COVID-19 vaccines are free, safe, and highly effective against COVID-19 infection and serious illness. If you haven't gotten your vaccine, consider it," Carney said. "That's how we'll keep students in classrooms and keep moving forward."
Hawai'i
The Hawai'i State Department of Health included a mask mandate in their back-to-school guidelines.
"Correct and consistent mask use is a core essential strategy to help prevent and slow the spread of COVID-19 in schools and the community," the HSDE wrote. "When people wear a mask correctly and consistently, they protect others as well as themselves."
Illinois
Illinois Governor JB Pritzker included the K-12 mask mandate in his three-step plan to protect vulnerable populations. He also announced indoor sports and extracurricular activities are included in the mask mandate.
"The CDC strengthened its guidance last week for universal indoor masking in schools, and Illinois will continue to follow the science, data, and public health experts to keep students in school and keep communities safe," said State Superintendent of Education Dr. Carmen I. Ayala. "We know that consistent and correct mask use is the simplest, most effective way to keep students safely in school, where they can learn and grow to their fullest potential."
Louisiana
Governor John Bel Edwards reinstated a statewide mandate for everyone over the age of 5, regardless of vaccination status. The August 2 announcement applies to K-12 education. Louisiana is one of the hardest-hit states amid the fourth wave of COVID-19, according to CDC data.
Nevada
Students are required to wear masks statewide on buses to and from schools, with exceptions for medical reasons.
New Jersey
By way of an executive order, New Jersey Governor Phil Murphy mandated masks with limited exceptions. Public, private and parochial schools have to comply.
"We understand that students learn best in a classroom setting and remain committed to having our schools open for full-time, in-person instruction this fall," Murphy wrote. "While this announcement gives us no pleasure, I know that by taking this precaution we can keep our schools open while also keeping our children safe."
New Mexico
Students in elementary schools are required to wear masks, but vaccinated students in middle and high school are not, according to the New Mexico Public Education Department.
New York
New York updated its guidelines from August 2020 to reflect the latest guidance from the CDC. The update to require masks to be worn in schools began June 7.
Oregon
Oregon Governor Kate Brown asked the Oregon Health Authority and the Oregon Department of Education to create the masking requirement for K-12 schools on July 29. Brown said she wants students to return to in-person instruction with "minimal disruptions."
Brown said in a statement: "With many children still ineligible to be vaccinated, masks are an effective way to help keep our kids safe in the classroom, the learning environment we know serves them best."
Rhode Island
"Masks are required in the K-12 setting, even when students are in stable groups and socially distanced [greater than 6 feet apart]," according to the state's back-to-school website sponsored by the Rhode Island Department of Education.
Washington
The Washington Department of Health issued updated guidelines on Tuesday for the school year. All students, teachers and staff are required to wear a face-covering while indoors.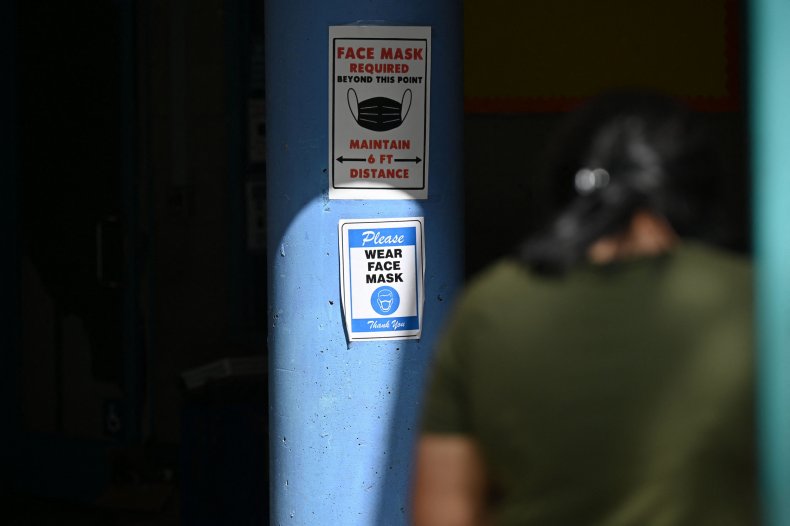 Uncommon Knowledge
Newsweek is committed to challenging conventional wisdom and finding connections in the search for common ground.
Newsweek is committed to challenging conventional wisdom and finding connections in the search for common ground.