These 24 Republicans Would Block Joe Biden's Debt Ceiling Increase
A group of 24 Republican senators signed a joint letter vowing to oppose any increase in the U.S. debt ceiling, unless it is accompanied by "real structural spending reform that reduces deficit spending."
Earlier this month, the U.S. hit its current borrowing cap of $31.4 trillion, with the Treasury announcing it was deploying "extraordinary measures" to maintain public spending.
Republicans in the GOP controlled House of Representatives, led by Speaker Kevin McCarthy, are demanding major spending cuts in exchange for any increase of the debt ceiling, which the Biden administration is opposing.
McCarthy's position received rhetorical support on Friday from a letter signed by 24 out of the 49 Republican Senators, though not including Senate Minority Leader Mitch McConnell.
The GOP Senators said: "We do not intend to vote for a debt-ceiling increase without structural reforms to address current and future fiscal realities, actually enforce the budget and spending rules on the books, and manage out of-control government policies."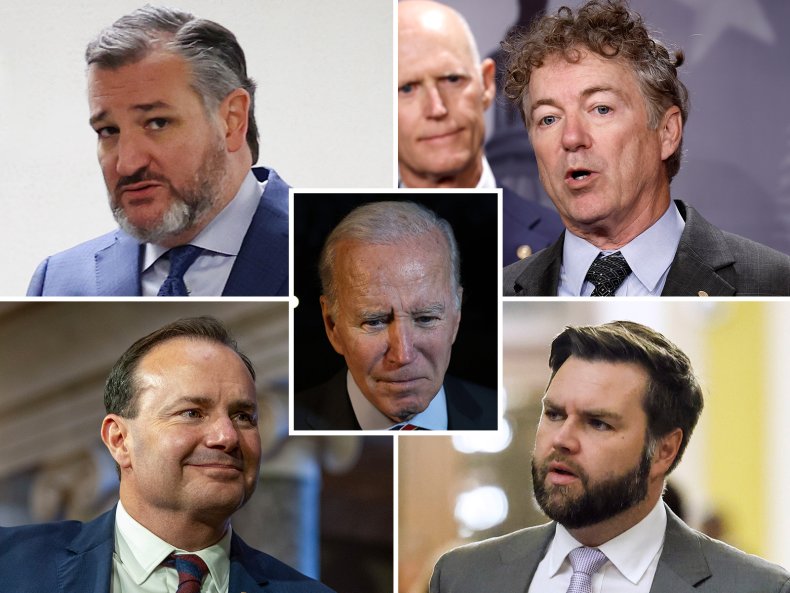 Signatories to the letter included Sens. Mike Lee, Ted Cruz, Rand Paul and John Barrasso, who chairs the Senate Republican Conference.
In the letter they argued: "Our nation's fiscal policy is a disaster. Our country owes $31 trillion, a level of debt that now well exceeds the size of our economy. Inflation is making life more expensive for American families every single day.
"Meanwhile, your administration is directing federal agencies to continue to spend billions in taxpayers resources, expanding the size and score of the IRS to go after families and small businesses, policing the speech of Americans on social media, funding equity programs in the military, and pouring money into programs for a pandemic that your administration has declared over."
The debt ceiling row is raising fears of the 2011 government shutdown being repeated, when around 800,000 federal employees were forced to take unpaid leave during a confrontation between the Obama administration and a Republican controlled House. In response, ratings agency Standard & Poor stripped the U.S. of its converted AAA credit rating.
Speaking on Thursday, President Biden vowed to avoid a repeat, commenting: "In the United States of America, we pay our debts."
Addressing Republican proposals, which are expected to include sharp spending cuts, he added: "What in God's name would the Americans give up the progress we've made for the chaos they're suggesting?
"I will veto everything they send me. Not after all the progress we've made and how far we've come."
Earlier this month Charles Abraham, U.S. Financial Services Practice Leader at tax advisory firm Mazars, told Newsweek that Congress "could spark a global recession" if it refuses to increase the debt level.
According to Treasury figures, the U.S. national debt has increased by $3.6 trillion since President Biden took office, following a rise of $7.8 trillion under Donald Trump.
On Thursday, Republican Representative Thomas Massie was pictured wearing a national debt counter on his jacket.
Full List of Republican Senators Who Signed Debt Letter
Senator Ron Johnson (Wisconsin)
Senator Tommy Tuberville (Alabama)
Senator Marsha Blackburn (Tennessee)
Senator J.D. Vance (Ohio)
Senator Eric Schmitt (Missouri)
Senator Mike Braun (Indiana)
Senator Ted Budd (North Carolina)
Senator Kevin Cramer (North Dakota)
Senator Ted Cruz (Texas)
Senator Cynthia Lummis (Wyoming)
Senator Rick Scott (Florida)
Senator Rand Paul (Kentucky)
Senator Markwayne Mullin (Oklahoma)
Senator Mike Crapo (Idaho)
Senator Roger Marshall (Kansas)
Senator Joni Ernst (Iowa)
Senator James Risch (Idaho)
Senator John Barrrasso (Wyoming)
Senator James Lankford (Oklahoma)
Senator Deb Fischer (Nebraska)
Senator Pete Ricketts (Nebraska)
Senator Katie Britt (North Carolina)
Tim Scott (South Carolina)