These 50+ Brands Are Celebrating Pride by Giving Back to the LGBT Community
Nike, American Eagle and Disney are among the companies celebrating inclusion, equality and love for LGBT Pride month.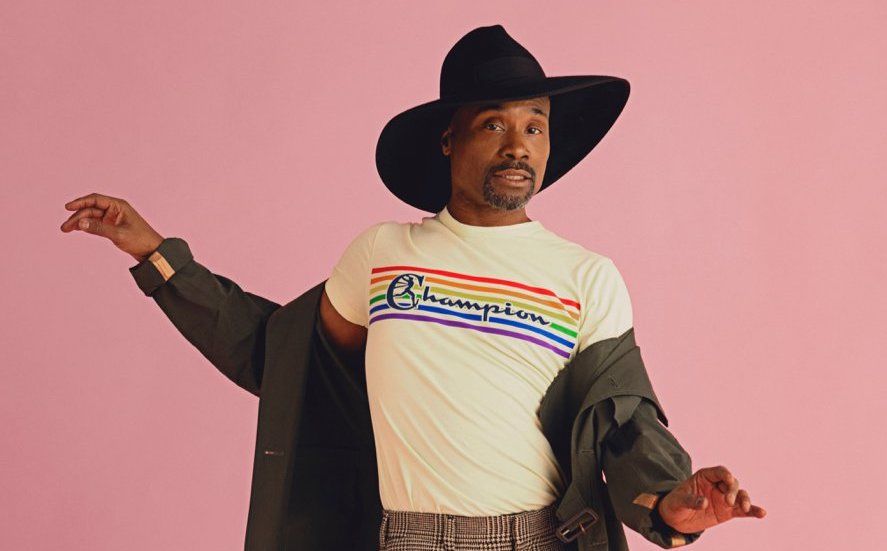 It's Pride month, and with 2019 the 50th anniversary of the Stonewall Riots, more companies than ever are looking to celebrate the LGBT community with capsule collections that embrace love, equality and diversity.
But just because you see a rainbow shirt in the window, doesn't mean the store is giving back. Below, we've compiled a (not complete) list of retailers, restaurants and other companies with Pride offerings benefiting LGBT nonprofits like GLAAD, GLSEN, The Trevor Project and the It Gets Better Foundation.
Now get shopping!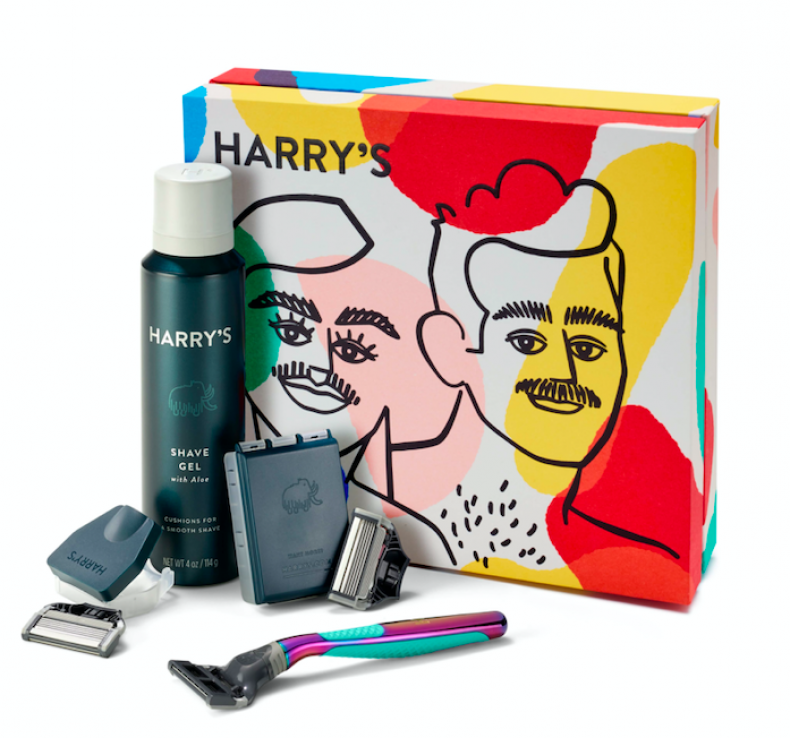 The popular razor subscription service has released a new limited-edition Shave with Pride set, with a playful box designed by illustrator José Roda. The kit includes three German-engineered blade cartridges, foaming shave gel, a blade cover and and a one-of-a-kind rainbow Winston razor handle.
In addition to giving 100% of profits from the set to The Trevor Project, Harry's has donated $200,000 to support The Trevor Project's new on-demand training system. ($25, Harrys.com and Target.com)
For 2019, the Converse Pride Collection features classic Chuck Taylor hi-tops and lowtops with a variety of Pride symbols, including the first Chuck 70 sneakers inspired by the transgender flag (light blue, pink and white).
Proceeds from the collection benefit LGBT groups like the It Gets Better Project and OUT MetroWest. ($65-$100, Converse.com)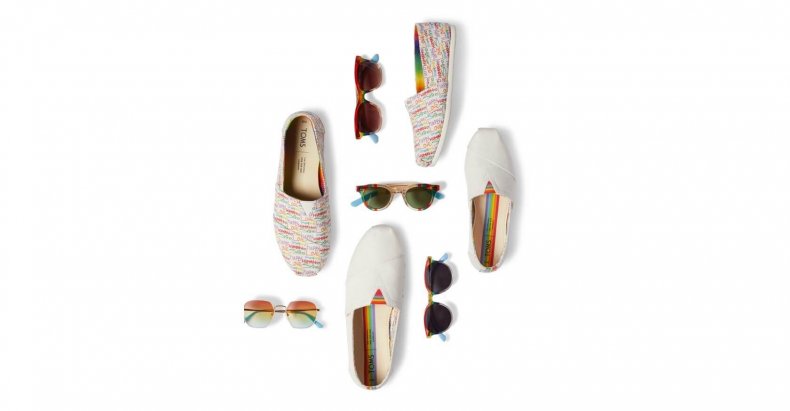 New for 2019, TOMS Unity Collection includes yellow-gold sunglasses with rainbow gradient lenses and the company's classic Alpargatas vegan loafers, covered in rainbow-colored slogans like "Human," "Shine" "Love" and "Happy."
As part of its ongoing mission TOMs provide free footwear and eye care for homeless youth—40% of whom identify as members of the LGBTQ community ($59.95-$149.95, TOMS.com)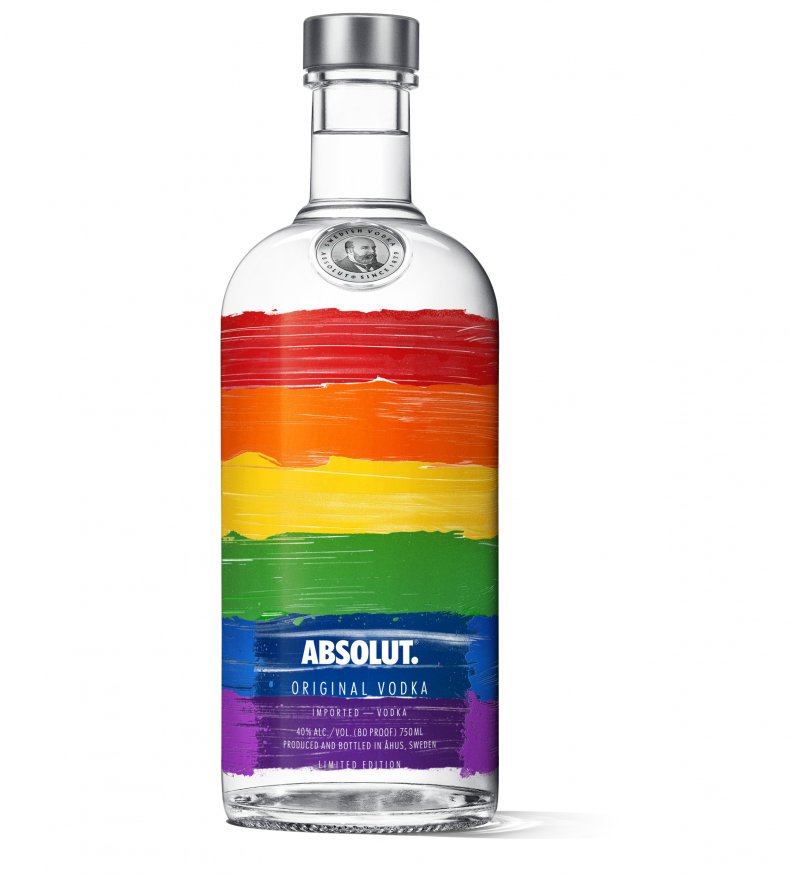 In addition to bringing back its iconic rainbow bottle, Absolut has launched a multi-year partnership supporting GLAAD's work accelerating acceptance for the LGBT community.
Additionally photographer David LaChapelle was commissioned to honor the spirit of Stonewall through an impactful image including EJ Johnson, Alexandra Grey, Sasha Velour, Amanda Lepore and others, with their stories posted online (Prices vary, Absolut.com)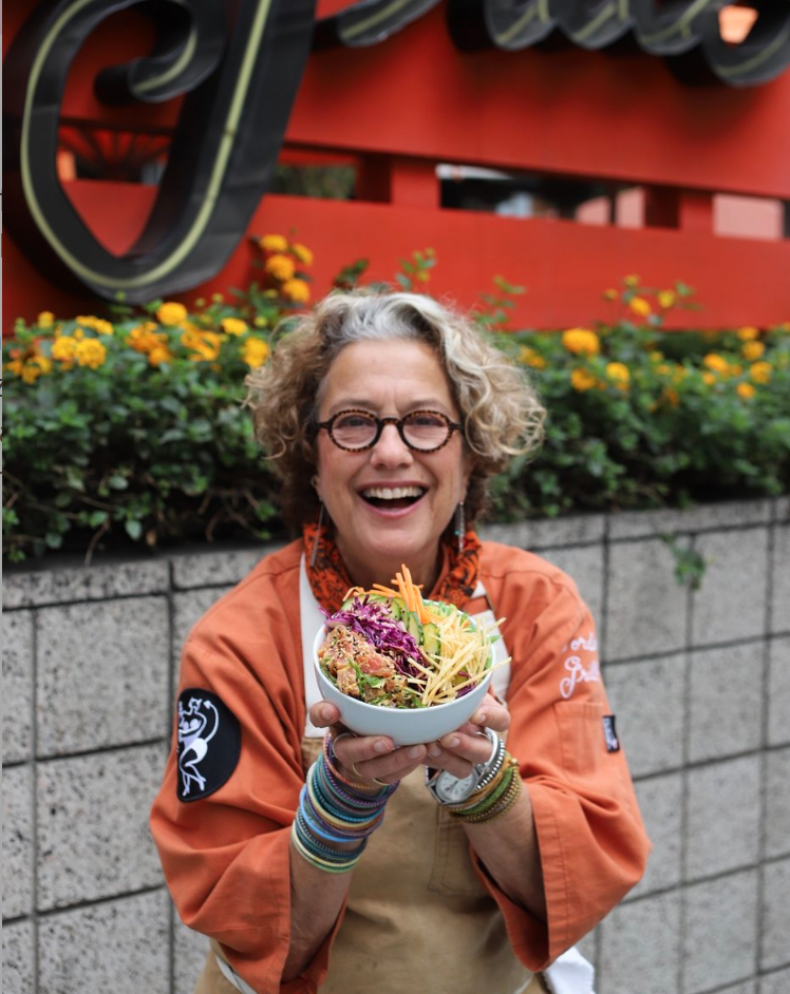 In addition to joining Pride parades in L.A., San Francisco and Nashville, Postmates is donating $10,000 to help the HRC continue its vital work in protecting LGBT Americans.
The delivery app has also partnered with out chef Susan Feniger and Sweetfin Poké on a limited-edition Rainbow Bowl ,  available exclusively on Postmates in L.A. through June 9. "I think [we should do] whatever we can do to raise awareness anywhere, even in Los Angeles," says Feniger. "Every little penny helps. Every little bit you can raise helps."
Twenty-five percent of proceeds from every order will be donated to the L.A. LGBT Center. (Prices vary, Postmates.com)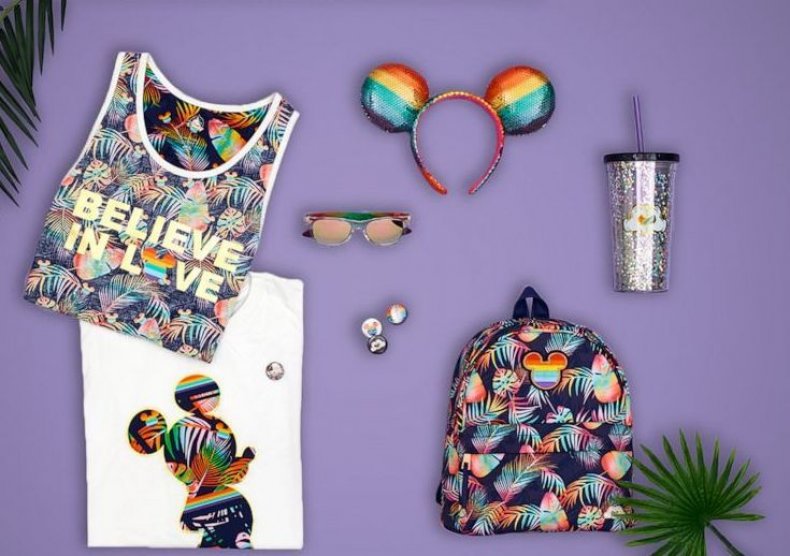 The Rainbow Disney collection offers more than 50 products, including ringer tees, jewelry, backpacks and, of course, rainbow Mickey Mouse ears. (The collection is available at shopDisney.com, with select products only available at select Disney Store locations and theme parks. )
Purchase any item from the Rainbow Disney Collection through June 30, 2019, and Disney will donate 10% of the proceeds to GLSEN, which works to establish a safe and inclusive environment for LGBTQ students across the country. ($16.95-$29.95, ShopDisney.com)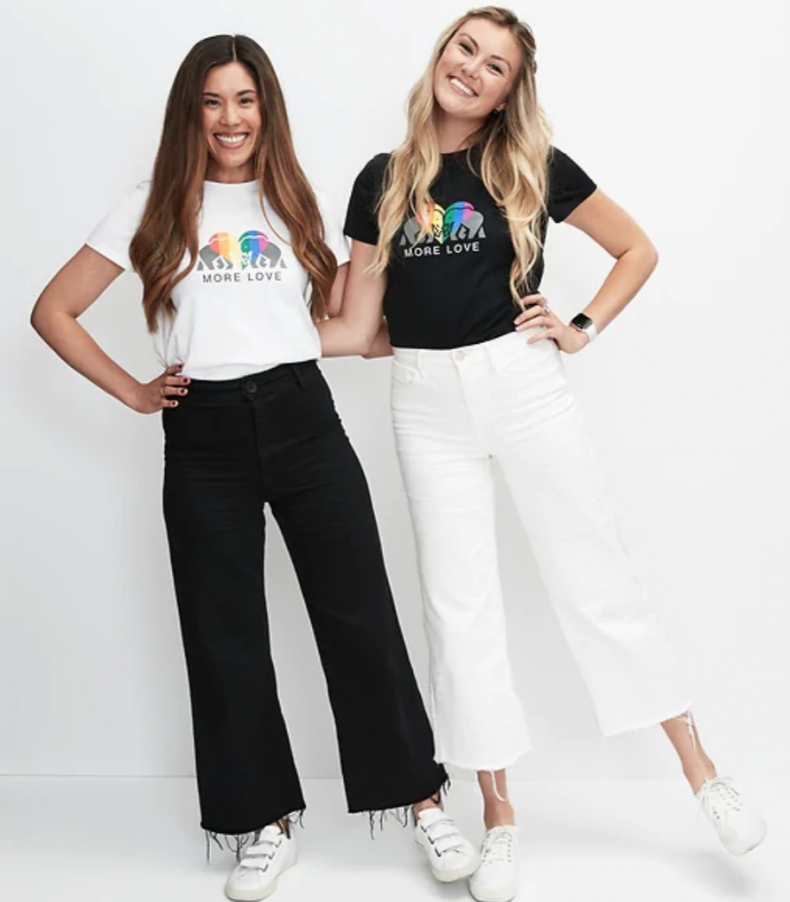 Fifty percent of the purchase price of items in Banana Republic's Equality Collection—including totes, socks, boxers, and these "More Love" graphic tees—benefits the United Nations Free & Equal Campaign for LGBT equality, up to $60,000.
"Its very important for me not to be a bystander, says Banana Republic CMO Mary Alderete. "I want to create awareness that we're more the same than different—and the differences bring additional perspectives." ($14.50-$69.50, BananaRepublic.com)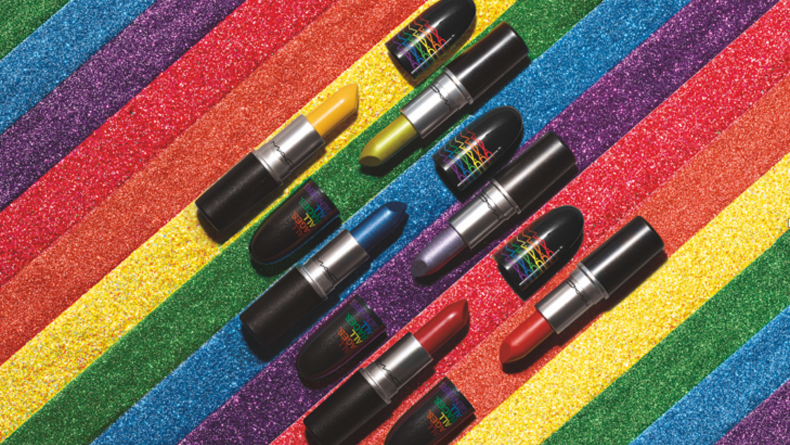 MAC Cosmetics has long supported the LGBT community with its Viva Glam lipstick. But the new #MACLOVESPRIDE collection serves up blush, glitter, lipstick, eyeshadow and more in kaleidoscopic colors perfect for the parade. Bonus: Buy any lipstick during the month of June and you'll get MAC's limited-edition Pride cap lipstick as a gift. (Spend $25 or more and get a free rainbow MAC Loves Pride makeup bag.)
This summer MAC is supporting more than 20 local Pride events, including L.A. Pride and WorldPride NYC, and is launching PSAs with LGBT celebs like singer Troye Sivan and Drag Race winner Aquaria.
In addition, the company is donating $500,000 to GLAAD over the next two years in honor of Viva Glam's 25th anniversary. ($7-$29, MACcosmetics.com)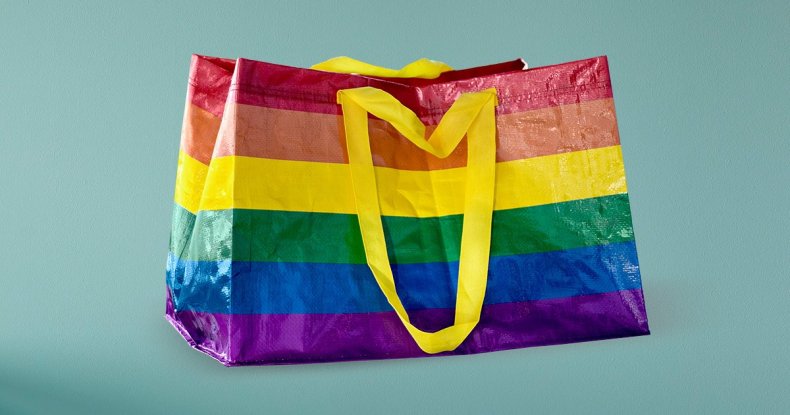 IKEA was one of the first retailers to include a gay couple in its ads, back in 1994. This Pride season, the company has launched a rainbow-striped edition of the Kvanting shopping bag, with 100 percent of the profits going to support the Human Rights Campaign Foundation and its programs for children, youth and families. In addition, the Pride flag is being flown at all IKEA locations.
"We are excited to partner with the Human Rights Campaign Foundation for Pride Month," says Rafael Fantauzzi, IKEA U.S. Diversity & Inclusion Manager. "At IKEA, our culture is centered on the value of togetherness. We believe equality is a fundamental human right and that all homes are created equal." ($3.99, IKEA.com)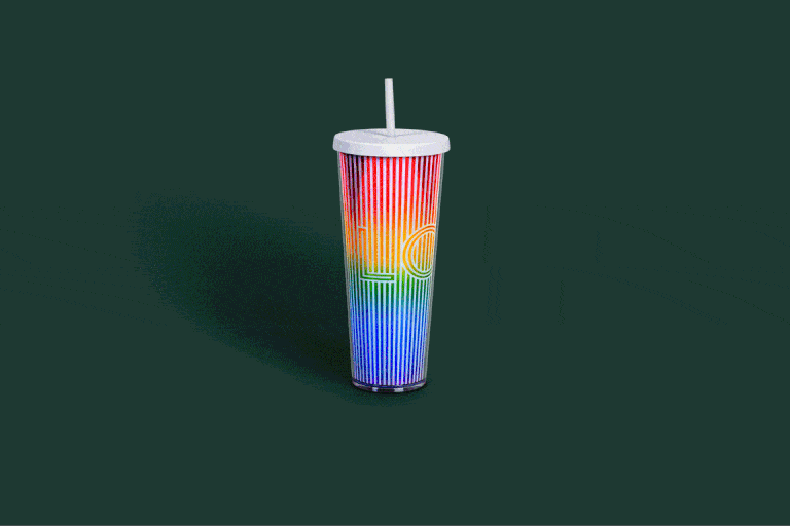 Rather than focus on merch, Starbucks is matching donations to Lady Gaga's Born This Way Foundation through June 30, up to $250,000. "Your donation will help us improve access to mental health resources and support organizations around the country who are making a difference for LGBTQ communities and society as a whole," reads a statement on the BTWF site.
The ubiquitous coffee company has also released limited-edition iridescent rainbow cups in celebration of Pride, but they're already flying off the shelves (BornThisWay.Foundation)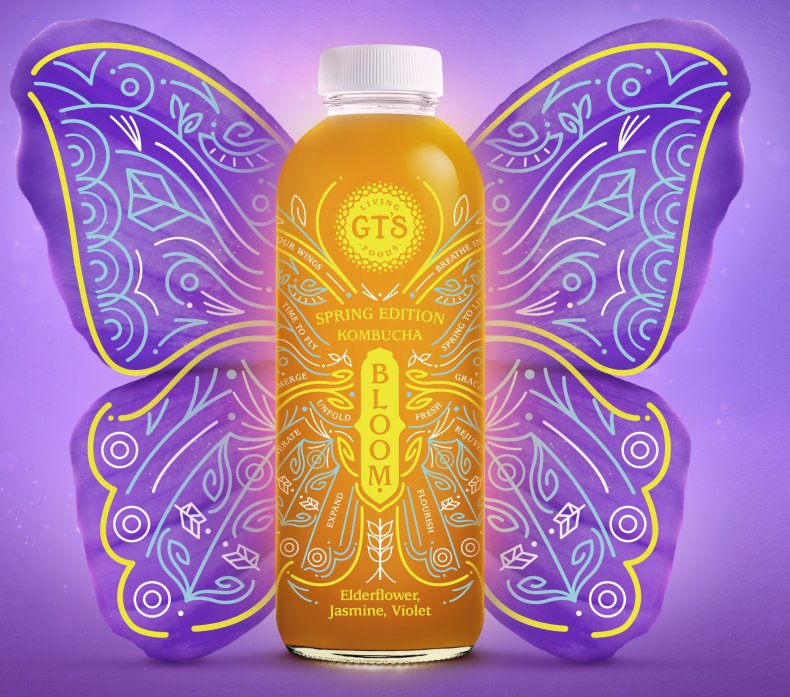 Just in time for Pride, GT's new Bloom flavor combines jasmine, elderberry and violet. For each photo posted using th #InFullBloom hashtag GT's will donate $5 to Lady's Gaga's Born This Way Foundation, up to $50,000. ($3.99, GTsLivingFoods.com)
Bouchon Bakery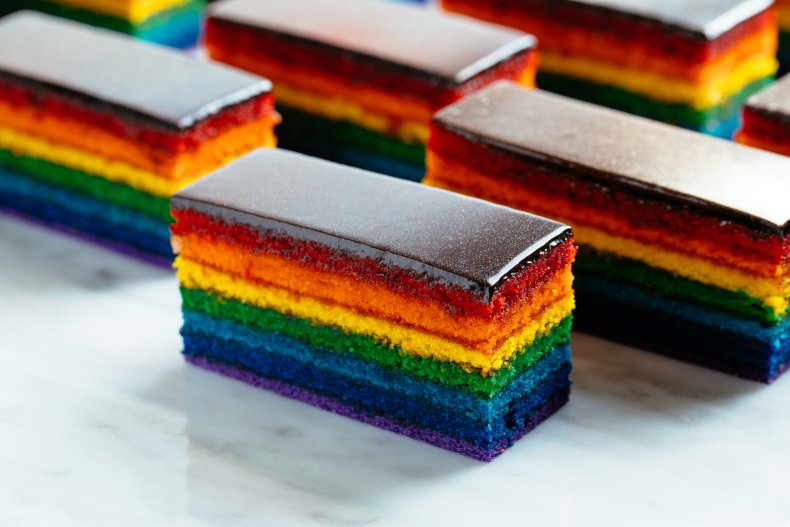 Thomas Keller's Bouchon Bakery is offering its signature rainbow cake throughout June, with a slice of proceeds going to the Hetrick-Martin Institute, the nation's largest organization dedicated to supporting LGBT youth.
Available by the piece or as a whole cake, the 7-layer almond cake features colorful layers of apricot and raspberry jam, coated with a rich dark chocolate glaze and sprinkled with glimmering luster dust. ($6.95, ThomasKeller.com)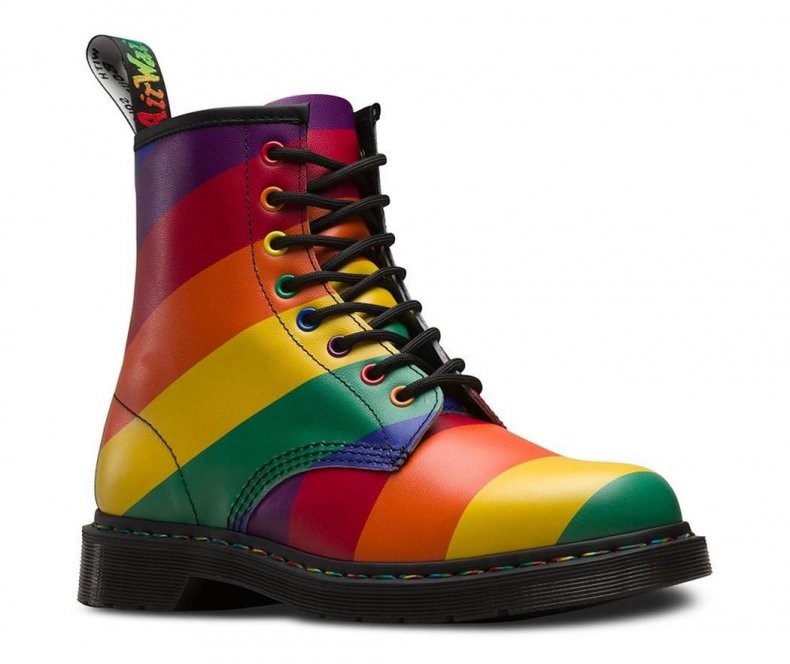 These boots were made for marching: Dr. Martens is offering a rainbow-painted version of its classic 1460 boot, as well as a rainbow-flecked version of its Jadon patent-leather platform boots and glittery ombre boots for kids, plus 55-inch rainbow shoelaces and even Pride tube socks.
A portion of proceeds benefit the Trevor Project, which provides crisis intervention and suicide prevention for LGBT youth. ($9-$180, DrMartens.com)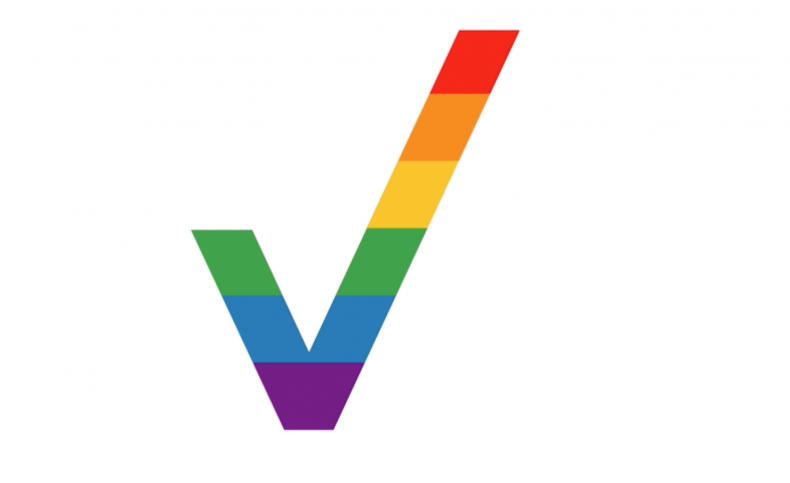 In honor of Pride Month, the telecom company is continuing its partnership with PFLAG, which brings together LGBT people with parents, family and allies. Verizon is donating $250,000 to PFLAG National and has released a video, "Love Calls Back," directed by Bully director Lee Hirsch.
It's also participating in Pride events nationwide, including L.A. Pride, D.C. Black Pride and the NYC Pride March. (Verizon.com)
Bubly

Pepsi' playful sparkling water brand has just launched a special-edition All for Love Pride Pack, featuring 18 cans in the colors of the rainbow—including cherrybubly, orangebubly, mangobubly, limebubly, blackberrybubly.
Bubly is also supporting the Stonewall Community Foundation, which supports the LGBT community with grantmaking, trainings and scholarship programs ($10.99, Walmart.com)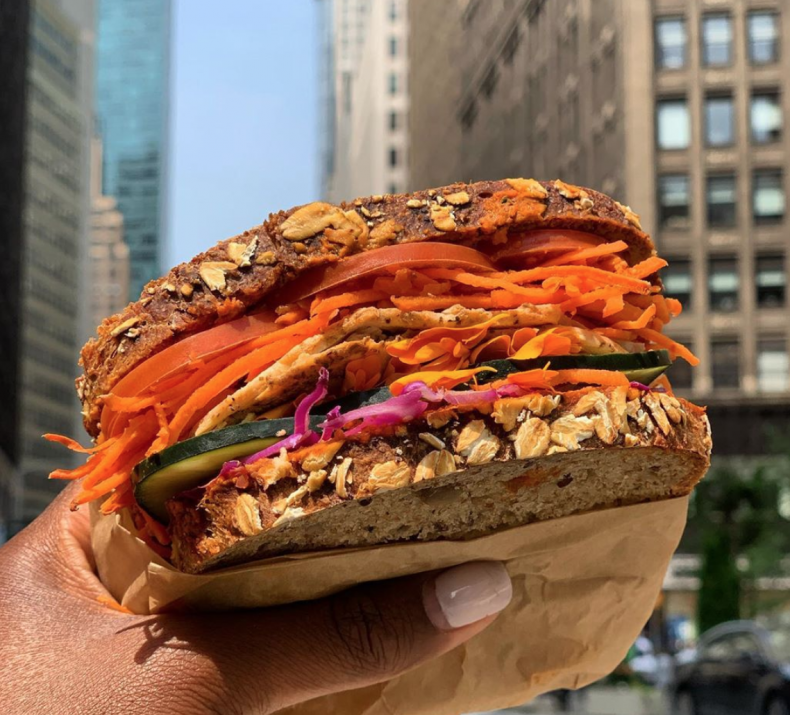 The fast-casual restaurant is celebrating Pride month with special menu items like the Love Salad (avocado, berries, watermelon radish, marigold petals, tomatoes and kale) and the Rainbow Sandwich (roasted chicken, carrots, tomatoes, cucumbers, red cabbage, marigold petals), with 20 percent of proceeds going to support NYC Pride.
Fresh&Co locations will also be adorned with stickers, bags, menu boards and window signs displaying the message "Spread Love." Over Pride weekend, the Fresh&Co Pride Truck will ride around Manhattan, sharing free treats and words of affirmation.
"This is more than just a campaign and a limited-time-offer menu to us," said Fresh&Co marketing director Sandra Pope. "It's a movement to spread love throughout New York and beyond." ($9.50-$11, FreshAndCo.com)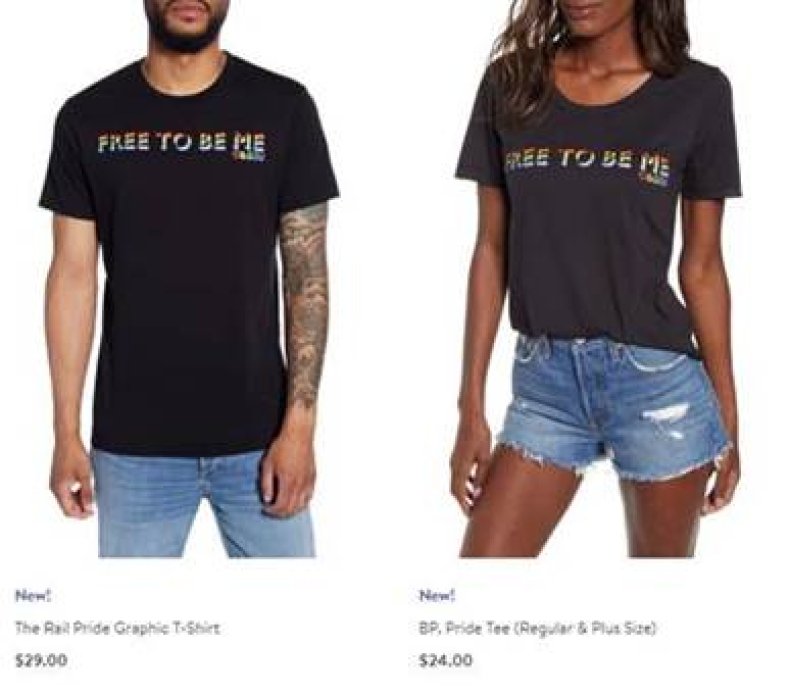 For Pride Month, Nordstrom has released a limited-edition "Free to Be Me" t-shirt, with 100 percent of proceeds benefiting HRC. You can also pick up Pride merch from other brands at Nordstrom.com, including items from Madewell, Levi's, Converse, Adidas, with a portions of proceeds from select items benefiting additional LGBT organizations.
In addition, Nordstrom has given grants to several LGBT nonprofits—including the Hetrick-Martin Institute, Seattle's Pride Foundation and the Los Angeles LGBT Center—and is sponsoring World Pride in New York and dozens of Pride parades across the U.S. and Canada. ($24-$29, Nordstrom.com)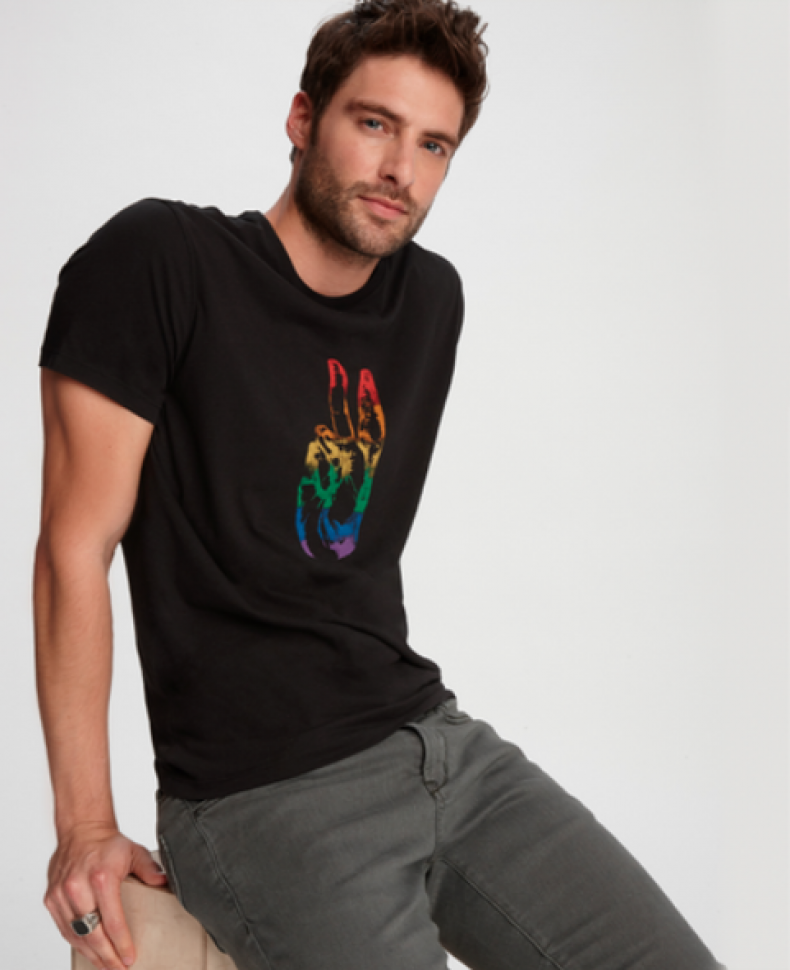 Launched in celebration of 2019 WorldPride and Stonewall 50, the John Varvatos Pride capsule collection includes a tank top with a rainbow-colored peace sign and two different t-shirts—one with a rainbow-striped hand making the peace symbol, another with 'Equality' emblazoned on the front.
Thirty percent of proceeds are being donated to amfAR, the American Foundation for AIDS Research. ($69-$78, JohnVarvatos.com)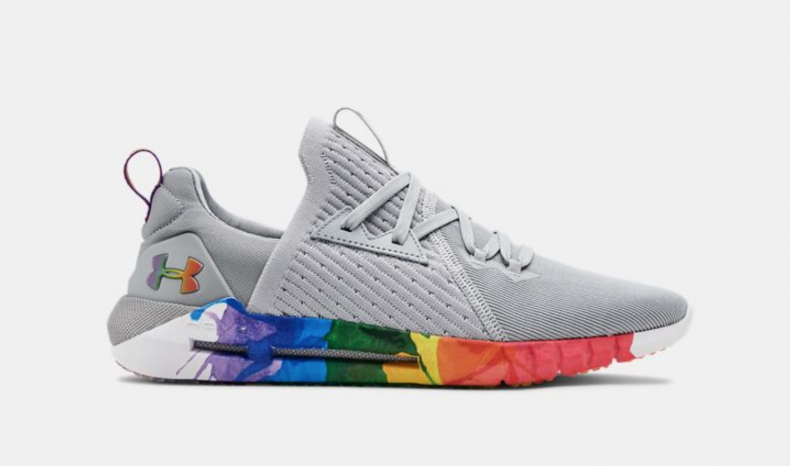 The popular workout-gear retailer has launched a Pride capsule collection, with a rainbow-striped version of its UA HOVR SLK EVO sneakers and socks, sacks, trucker caps, tanks and tees reading "United We Win."
Under Armor supports Athlete Ally, a nonprofit encouraging LGBTQ inclusion and acceptance in sports. ($20-$120, UnderArmour.com)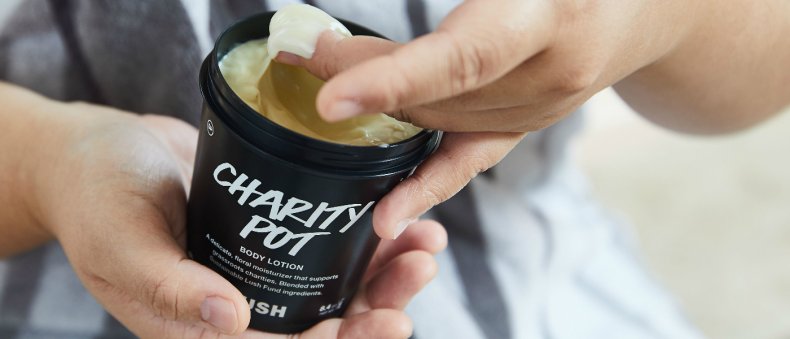 This Pride season, Lush is dedicating 100 percent of the purchase price of its Charity Pot body lotion to organizations advocating for LGBT rights, including the National Center for Transgender Equality, Equality New Mexico, Outfront Minnesota and Ark of Freedom Alliance. ($7.95, Lush.com)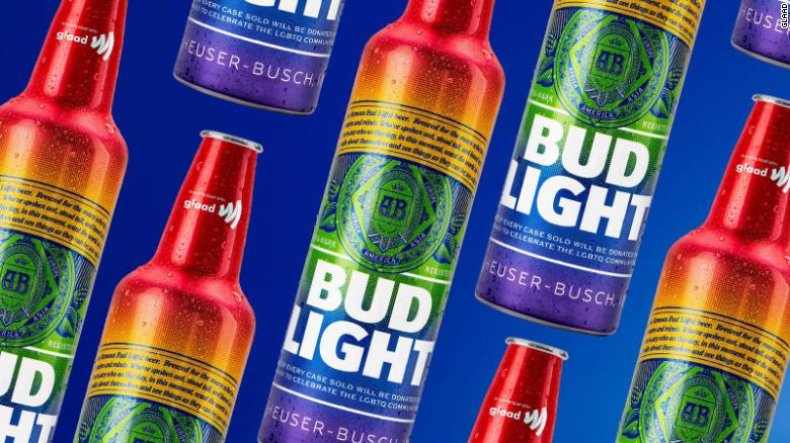 For every case of rainbow-colored aluminum Bud Light bottles sold through June 30, Anheuser-Busch will donate $1 to GLAAD, up to $150,000.
"The way we see it, our beer is for everyone to enjoy," said Andy Goeler, VP of marketing. "With the release of these new bottles, we hope to create something that everyone can feel proud to hold during Pride month." (Prices vary, Budlight.com)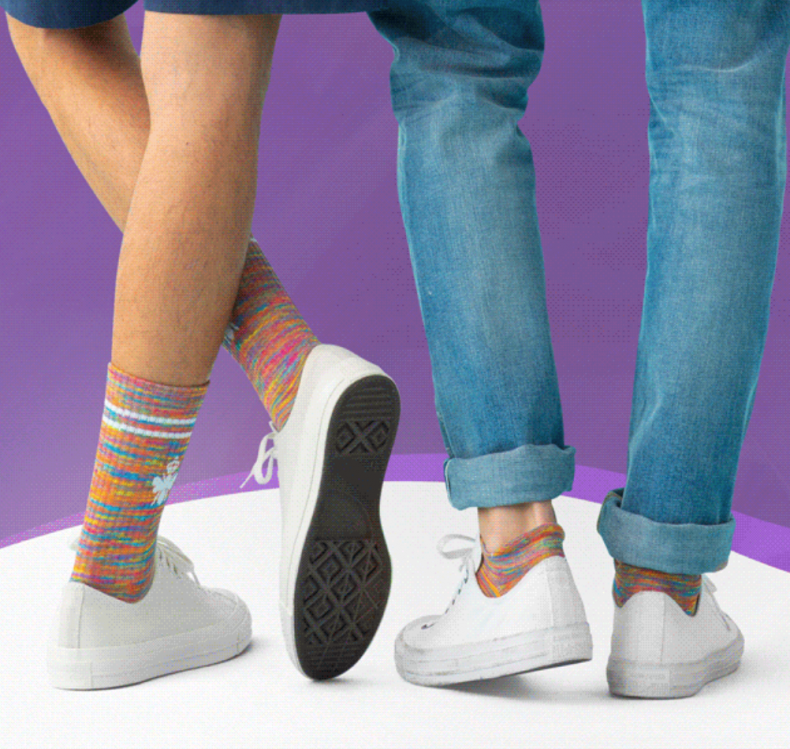 We already loved this online sock retailer, but now Bombas has launched a limited-edition collection of Pride calf and ankle socks, made with a special space dye technique that makes each pair unique.
Bombas has also partnered with the Ally Coalition, donating 40% of all donation socks through the end of June directly to homeless LGBT youth. ($12, Bombas.com)
DKNY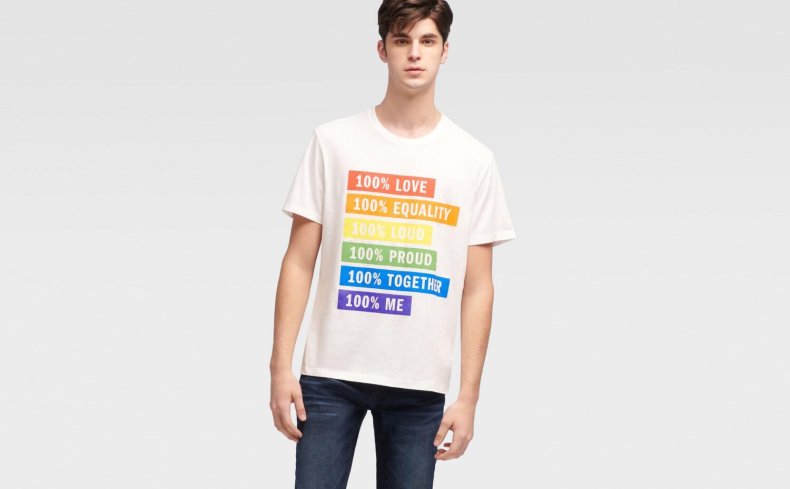 DKNY's Pride capsule collection includes an assortment of apparel—including t-shirts, sweatshirts, parkas, leggings, hoodies, caps, sneakers, eyewear, jewelry and more—each emblazoned with the Pride flag.
In conjunction with the collection, DKNY has made a donation to New York's Hetrick-Martin Institute ($39-$148, DKNY.com)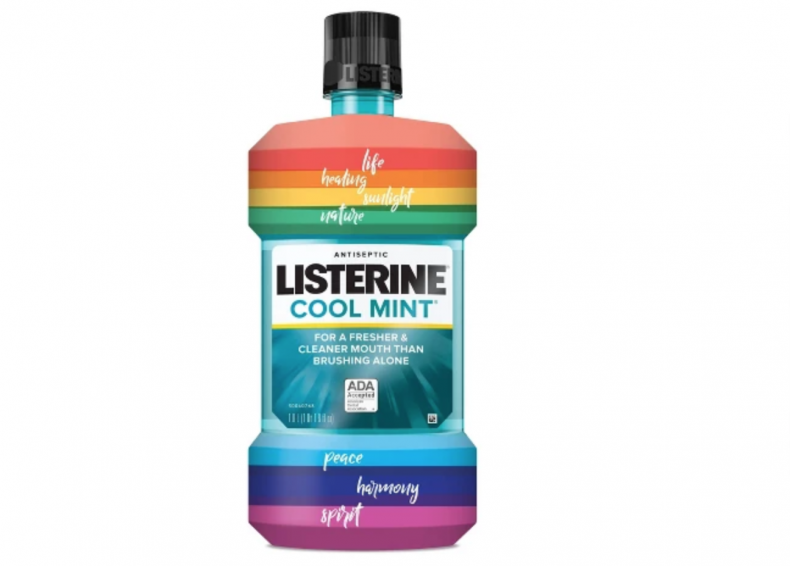 Mouthwash isn't something we'd immediately connect to equal rights, but Listerine's rainbow-striped cool-mint mouthwash supports Johnson & Johnson's Care with Pride program, which has raised more than $1 million for LGBT nonprofits since 2011. ($8, Target.com)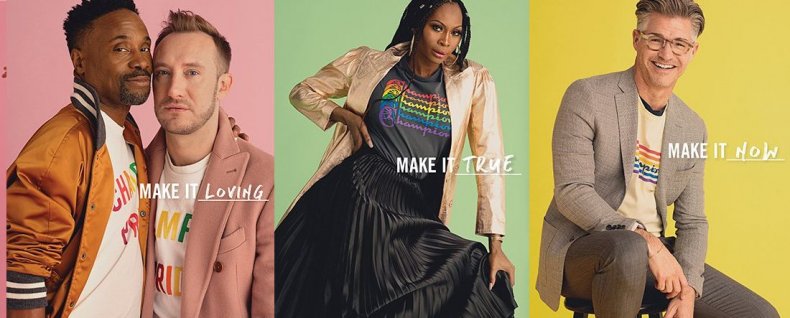 Champion has partnered with Todd Snyder New York for a #TSPride Campaign that honors the 50th anniversary of Stonewall with a range of t-shirts, hoodies, sweatpants and sweatshorts.
Photographer Ryan Pfluger shot the marketing campaign, which features Lea DeLaria, Scout Rose, Jenna Lyons, Milk and Pose's Billy Porter and Dominique Jackson, among others. Twenty percent of sales support the Stonewall National Monument through a donation to the National Parks Foundation. ($70-$168, ToddSnyder.com)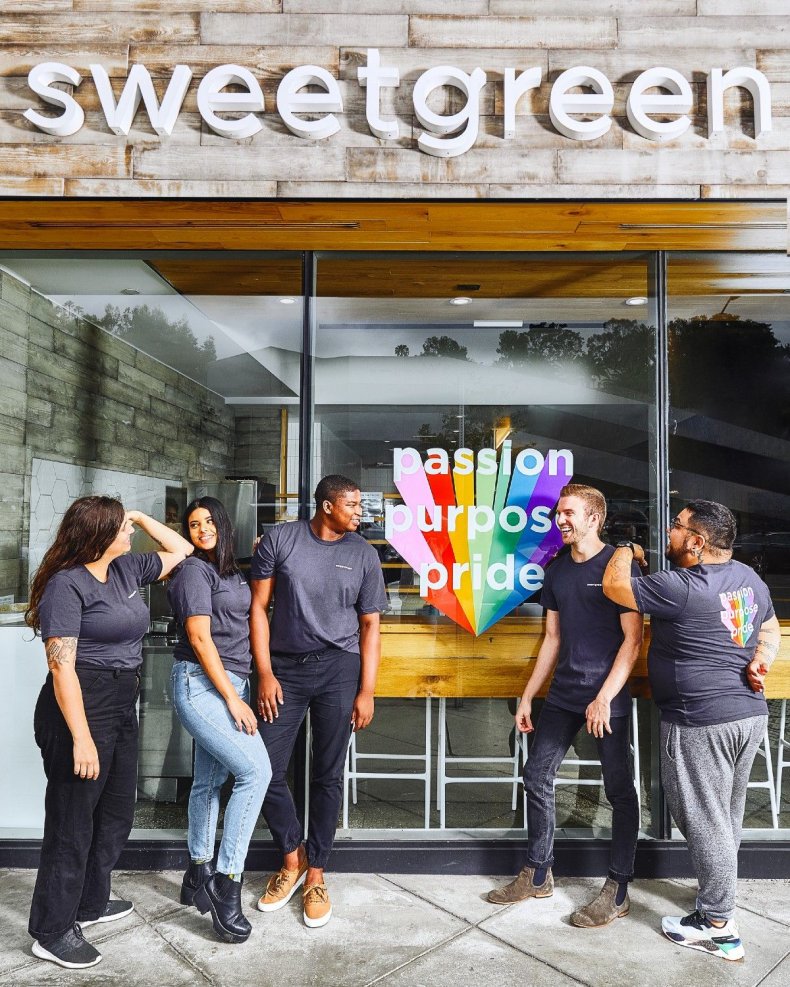 Celebrate Pride at lunch: The fast-casual chain is donating $1 from each bowl purchased on June 2 to support Covenant House, which provides shelter and resources for LGBT homeless youth. Sweetgreen has also printed a limited-edition series of Pride T-shirts for purchase, with all proceeds going toward Covenant House.
"Our mission is to inspire healthier communities, and communities are healthier and stronger when all individuals are accepted, welcomed and supported," the company said in an open letter. (Prices vary, Sweetgreen.com)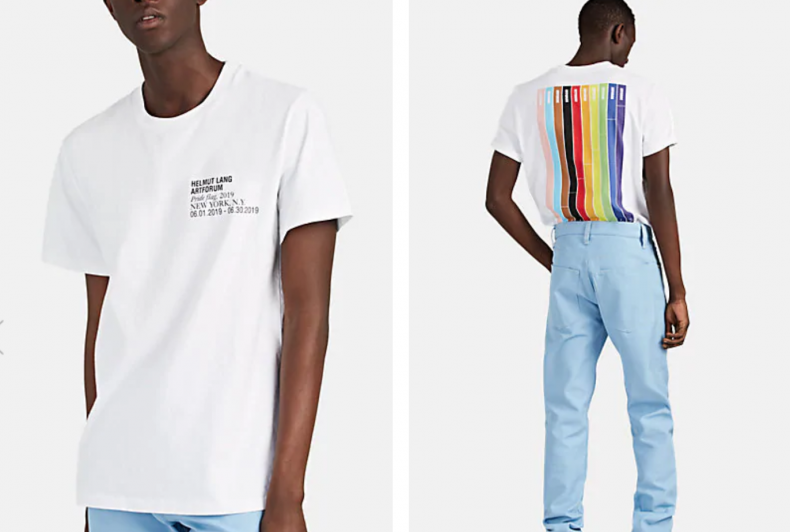 Helmut Lang and Artforum have partnered on a capsule collection benefitting NYC's LGBT Community Center: For the 2018-2019 cycle, culminating in Artforum's Summer 2019 issue, the magazine's spines form a version of graphic designer Daniel Quasar's updated Pride flag.
Helmut Lang has printed this special Artforum graphic on a limited-edition series of t-shirts and hoodies, with a percentage of proceeds benefitting The Center. ($175-$275, HelmutLang.com)
Equinox is paying tribute to the house ballroom community this Pride season: For every social media post including #PoweredByPride or a 'Life's a Ball' GIPHY sticker during the month of June, the company will donate $1 (up to $20,000) to House Lives Matter, which works to improve health and wellness, build alliances, and provide mentoring opportunities in the house ball community. (Equinox.com)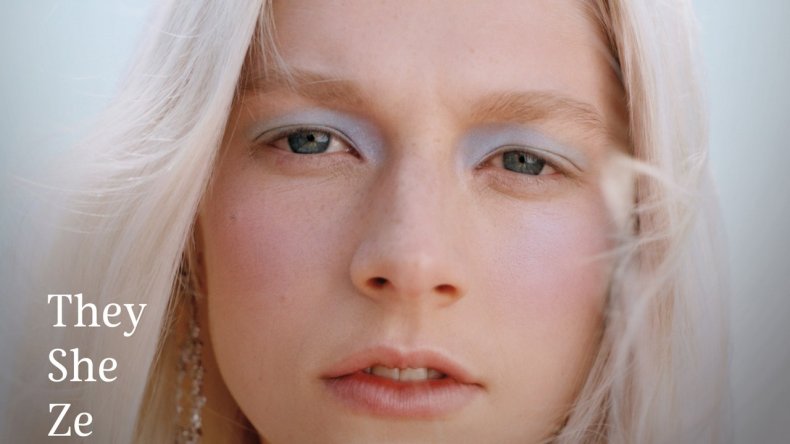 As part of its "Identify As We" campaign, the go-to beauty retailer is donating $1 of every item sold from the Sephora Heart Pride collection to LGBT-supporting organizations.
In addition, all Sephora stores and corporate offices were closed June 5 for inclusion workshops. The company is continuing to offer year-round Bold Beauty classes, free 90-minute makeup sessions tailored to transgender folks. (Prices vary, Sephora.com)

The healthy fast-casual chain has brought back its Just Proud Salad (formerly the "Big Gay Garden Salad"), available at all locations through June 30. The multicolored salad includes romaine, red cabbage, tomatoes, avocado, carrots, and banana peppers, topped with house-made balsamic vinaigrette dressing. A dollar from each salad being donated to local LGBT organization, like NYC Pride, Chicago's Center on Halsted and Pride Community Center of North Central Florida.
Just Salad is also providing free meals for hundreds of NYC Pride volunteers and offering #JustProud uniforms to team members nationwide. ($9.49, JustSalad.com)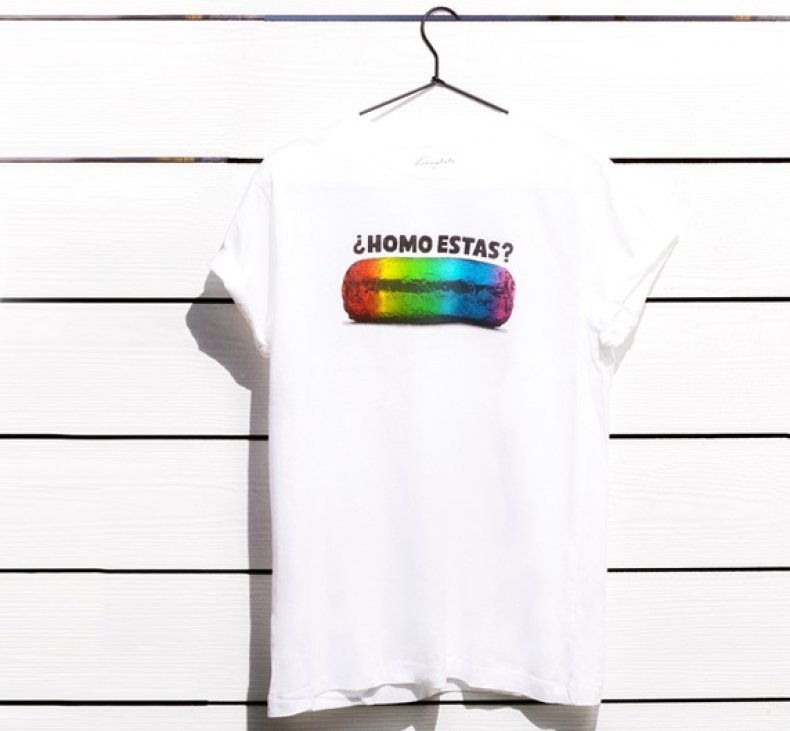 Chipotle is celebrating Pride with some limited edition gear, including its "¿Homo Estás?" tee, and donating a portion of proceeds to The Trevor Project. In addition, the restaurant chain is participating in parades across the country and hosting fundraisers supporting local LGBT nonprofits.
"Our food is real and so are we," said Marissa Andrada, Chipotle's Chief People Officer. "We are cultivating a better world by encouraging people to be their full selves and celebrating everyone–basic, extra and everything in between." ($10.50, Chipotle.com)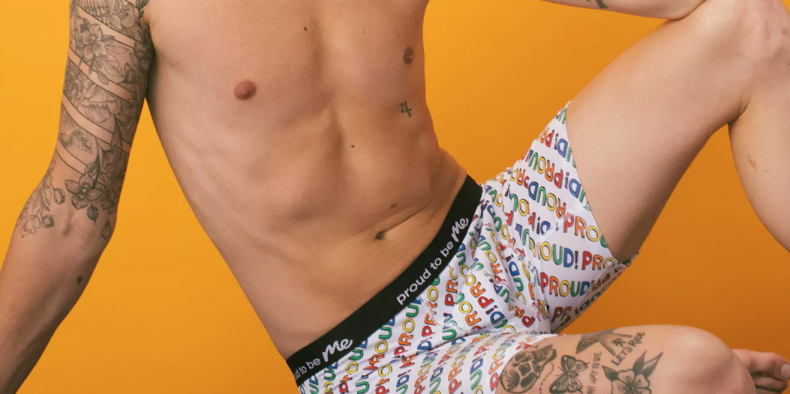 This Pride, MeUndies has partnered with GRiZ on a colorful collection of underwear, tees, onesies, socks and more. A dollar from every sale goes toward Miley Cyrus' Happy Hippie Foundation, which addresses LGBT and at-risk youth homelessness. ($12-$78, MeUndies.com)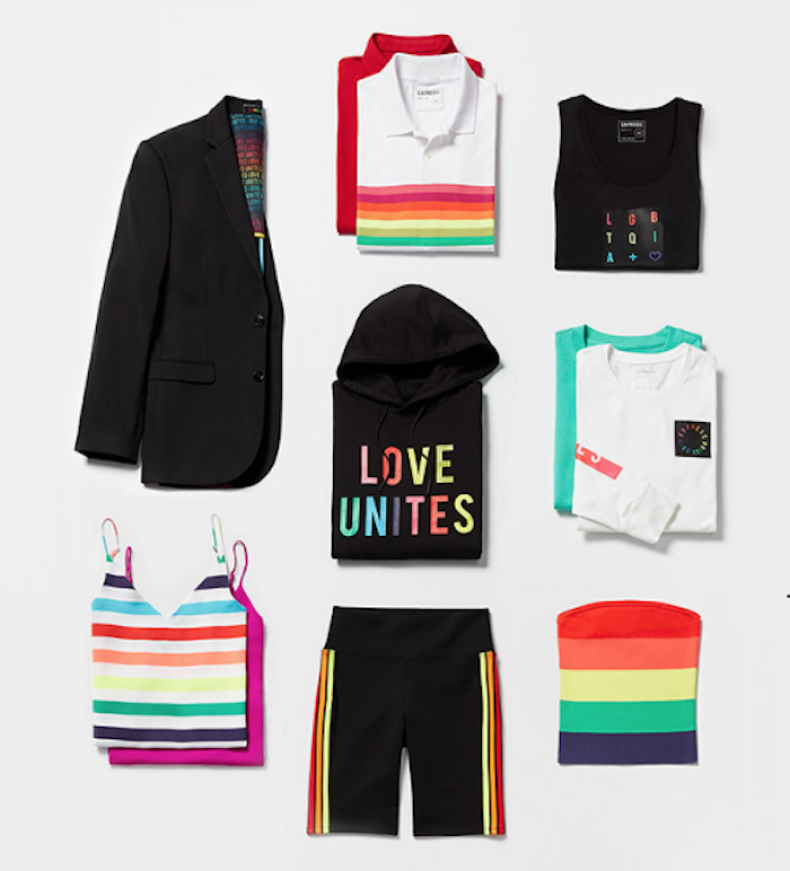 The Express "Love Unites" collection includes 35 pieces celebrating 50 years of Pride, including a black romper with rainbow trim, rainbow-striped tube tops, and tees, tanks and even a fetching blazer with the "Love Unites" logo.
For every Love Unites item purchased by July 15, Express is giving 25 percent of the net proceeds to GLAAD, with a minimum donation of $100,000. ($19-$228, Express.com)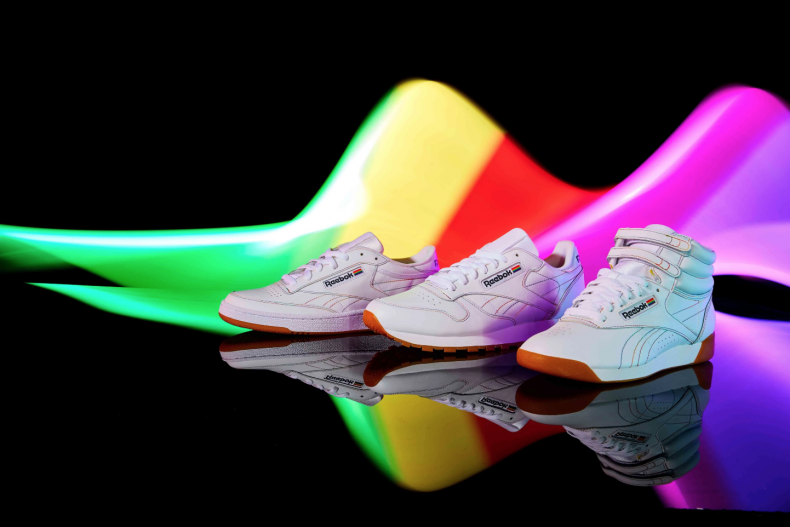 The shoe company honors the 50th anniversary of the Stonewall riots by replacing the Reebok flag with the Pride flag in updates to its Club C, Classic Leather and Freestyle Hi shoes. It's also offering a selection of "Strong and Proud" tanks and tees.
Through June 30, a portion of proceeds from the Pride Pack collection benefit Fenway Health, dedicated to health care, education and support services in Boston's LGBT community. ($25-$75, Reebok.com).

The first-ever KIND Pride bar is made of delicious dark chocolate, nuts and sea salt, covered in a rainbow-colored wrapper inspired by the Pride flag. Buy it online through July 31, and snag free samples at this year's World Pride March in New York City and at Pride parades nationwide.
One hundred percent of proceeds benefit New York's Ali Forney Center (AFC), which provides essential services and shelter for LGBT homeless youth. "KIND has been an incredible supporter of The Ali Forney Center and LGBTQIA+ community for years – not only financially, but through the support of their team members' desire to volunteer with us," said Alexander Roque, AFC's director of development. ($17.88 for 12 bars, KindSnacks.com)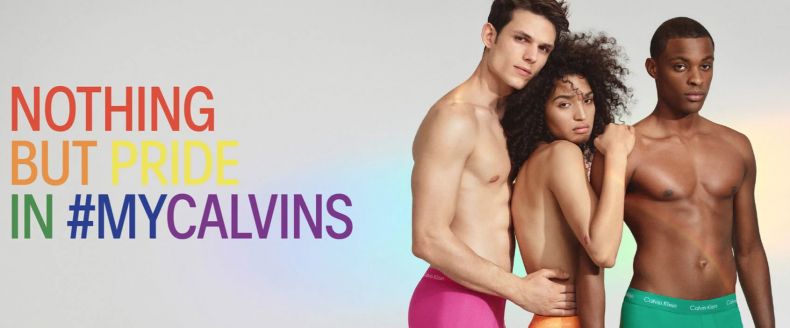 Trans actress Indya Moore (Pose) is the face of Calvin Klein's Pride capsule collection, which includes jeans, swimsuits, underwear and accessories in the "ultra-vivid colors of Pride."
As part of the campaign, Calvin Klein will donate an undisclosed amount to HRC, the country's leading LGBT rights advocacy group. ($12-$118, CalvinKlein.com)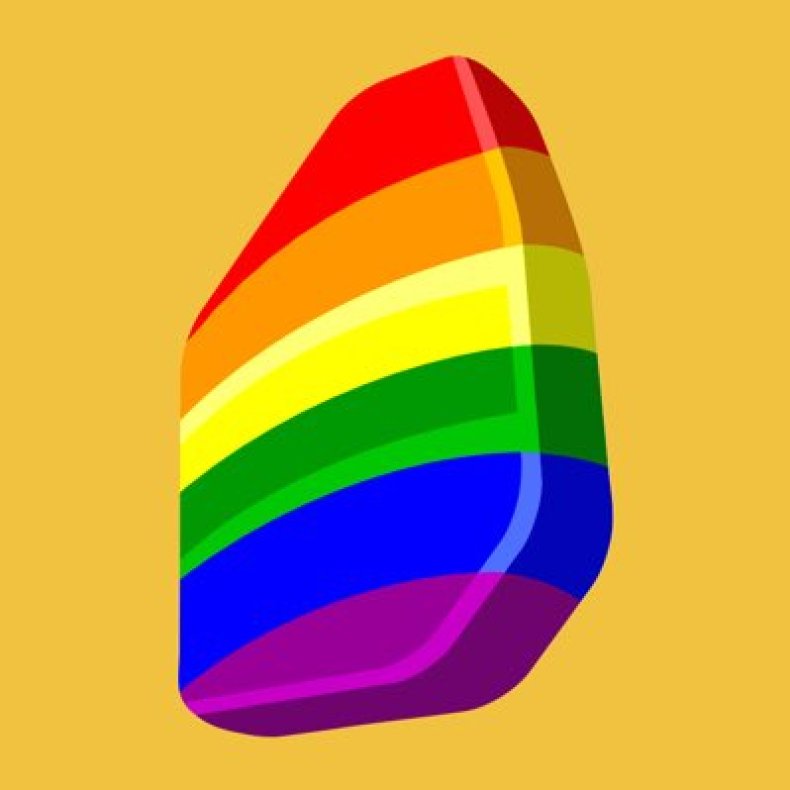 To celebrate the LGBT community, the award-winning language-learning software company is offering 25 percent off a subscription, using the promo code "LOVEISLOVE" through June 31.
The company has also changed the iconic blue-and-yellow logo on its social media platforms to a rainbow version for the month of June. (Prices vary, RosettaStone.com)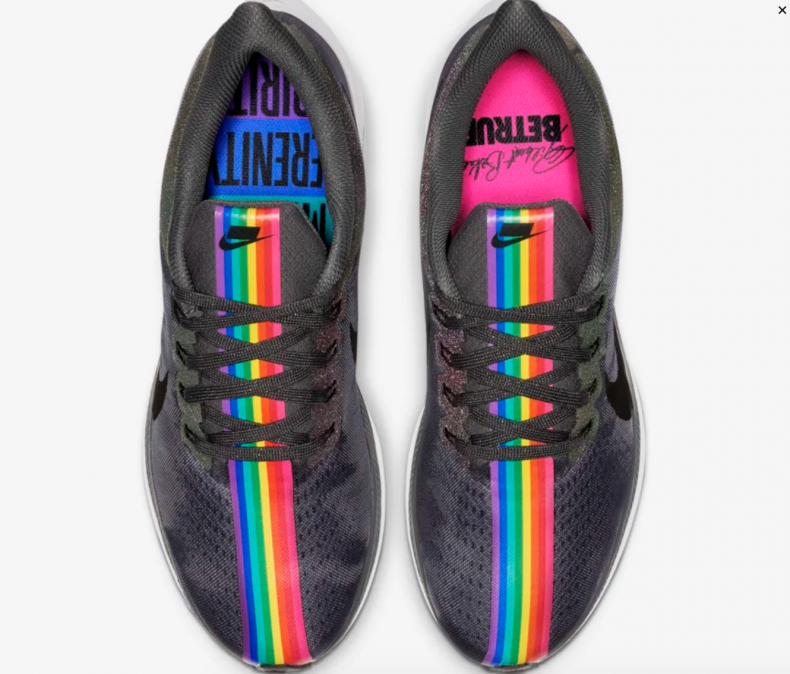 In addition to tees, flip-flops and baseball caps, the 2019 edition of Nike's #BETRUE collection includes four classic sneake silhouettes— the Air Max 720, Air Tailwind 79, Benassi JDI slide and Zoom Pegasus Turbo — reworked to feature Gilbert Baker's iconic rainbow flag. ($18-$180, Nike.com)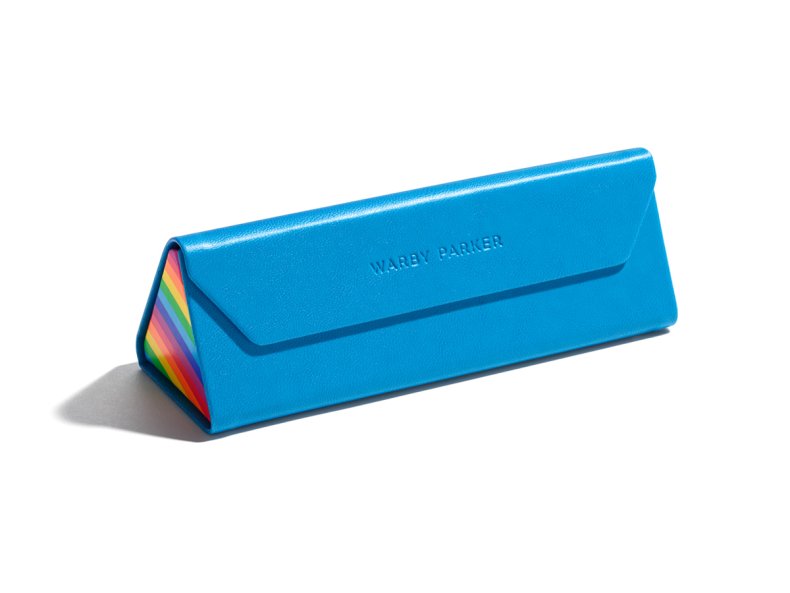 This Pride season, Warby Parker is offering a limited-edition Parker Case in Blue Prism and, throughout June, all in-store purchases will come with a rainbow Warby Parker tote.
In addition, the eyewear company is making special donations to The Trevor Project and Lambda Legal. ($15, WarbyParker.com)
Adidas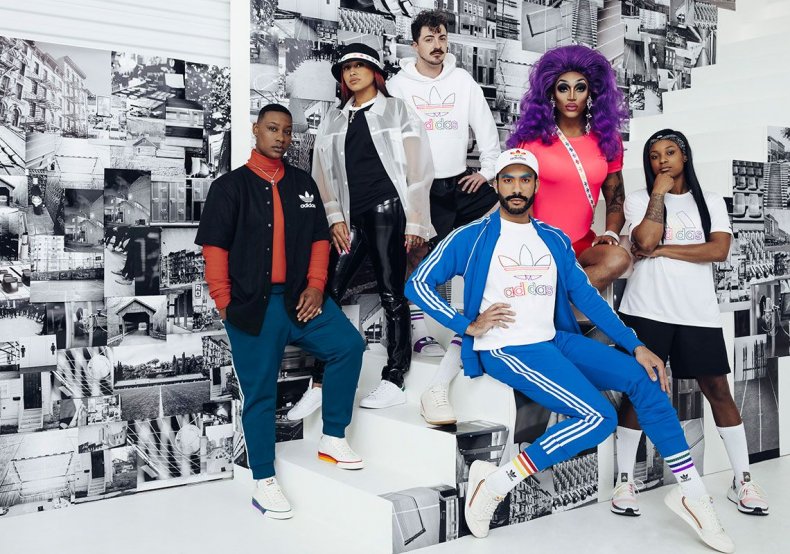 Adidas has glammed up several of its offerings with prismatic highlights—including the Ultra Boost 19, Nizza, Ozweego, Continental 80, Temper Run and the Adilette slide. The shoe giant is also paying homage to a legendary gay artist: Keith Haring x adidas Collection, which puts Haring's iconic artworks on the uppers of the Rivalry Hi, Stan Smith, and Nizza Hi, launching June 29. (Prices vary, Adidas.com)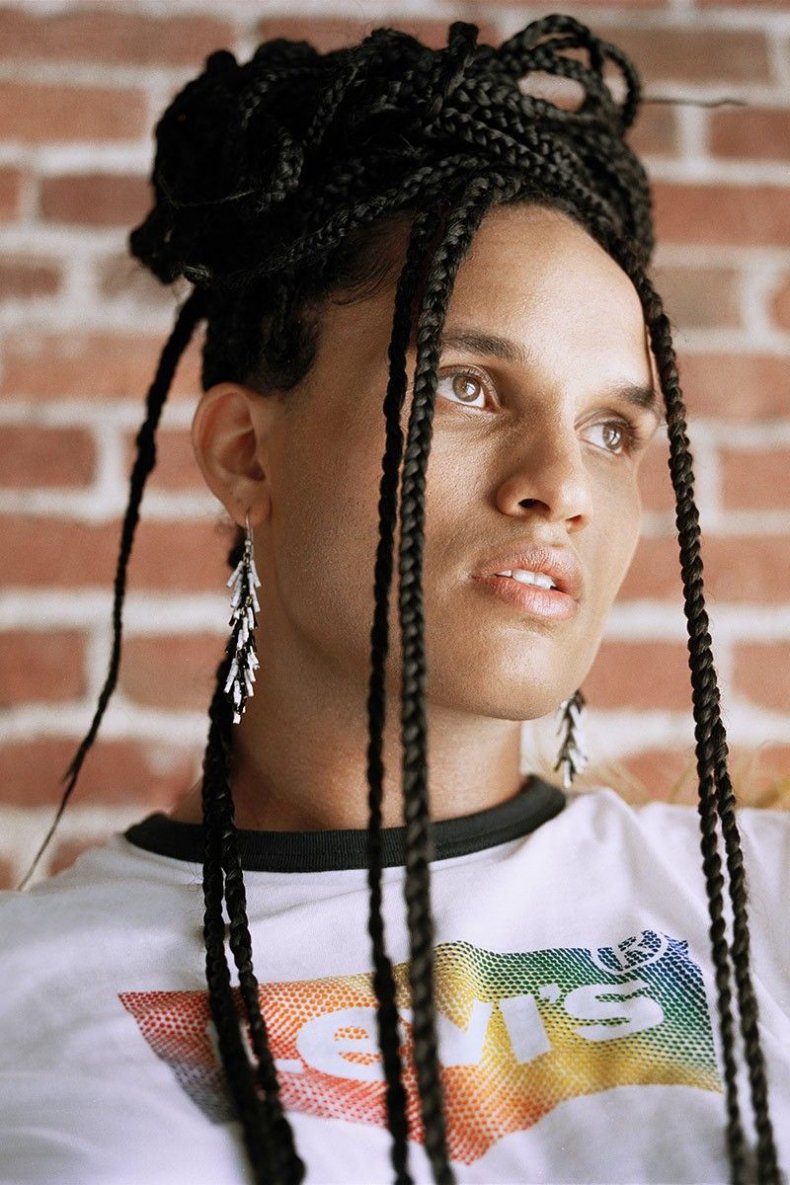 This year, Levi's Pride capsule collection includes cutoff shorts, a trucker jacket with rainbow stitching and a ringer tee with the iconic "Levi's" logo in rainbow.
The denim icon is donating 100% of the net profits from the collection to OutRight Action International, which campaigns for LGBT rights internationally. ($34-$150, Levis.com)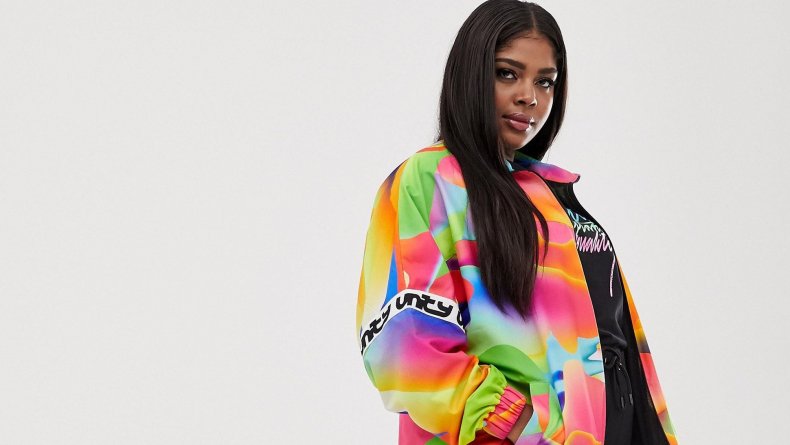 ASOS reunites with GLAAD for a 50-piece collection featuring a Day-Glo bomber jacket, faux snakeskin travel bag, a translucent tote, unisex cropped sweatshirts and more.
One hundred percent of all net profits go to GLAAD, which promotes accurate and diverse LGBT representation in the media. ($10-75, ASOS.com)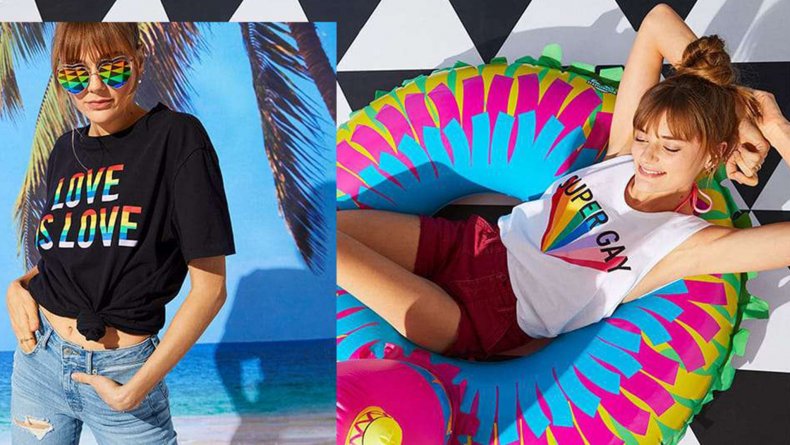 The American Eagle x It Gets Better Pride Collection includes rainbow-stripe tube socks and tanks, hoodies and tees emblazoned with saying like "Empowered by Love," "Super Gay" and "Gayer than Gay! "
One hundred percent of sales from the collection benefit the It Gets Better Project, which works to uplift, empower, and connect LGBT youth around the globe. ($16-$50, AE.com)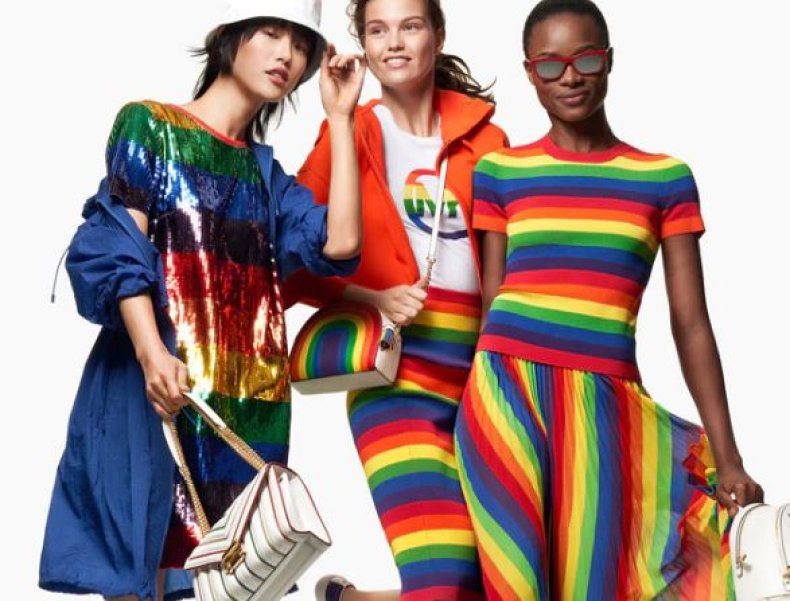 The #MKGO Rainbow capsule collection includes t-shirts, sequined dresses, pencil skirts, bracelets, terrycloth hoodies, strappy platform sandals and more. One hundred percent of proceeds from the rainbow logo t-shirt benefit God's Love We Deliver, which provides healthy meals to those living with HIV/AIDS and other illnesses in New York City. (prices vary, MichaelKors.com)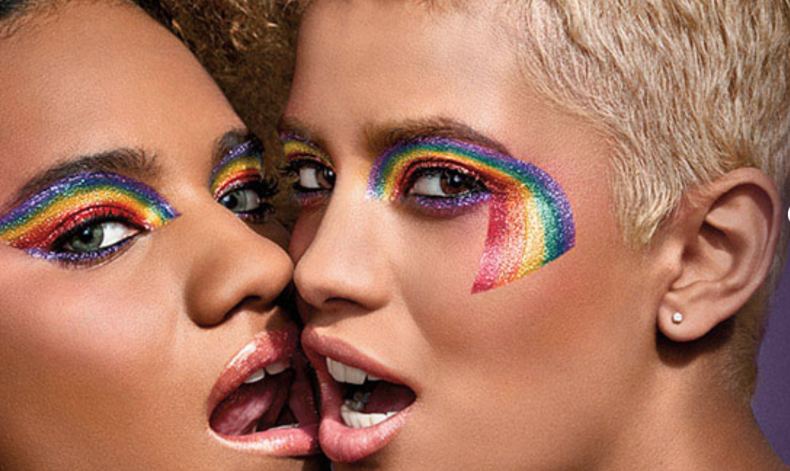 Makeup lovers can #SparkleOutLoud with the new Heavy Metal Glitter Collection—glittery eyeliner in eight new shades, including the limited-edition Stonewall.
Urban Decay is donating 25 percent of the purchase price from our Stonewall Heavy Metal Glitter Eyeliner to benefit the Stonewall Foundation, which strengthen the LGBT rights movement and support organizations, projects and scholarship programs. ($20-$22, UrbanDecay.com)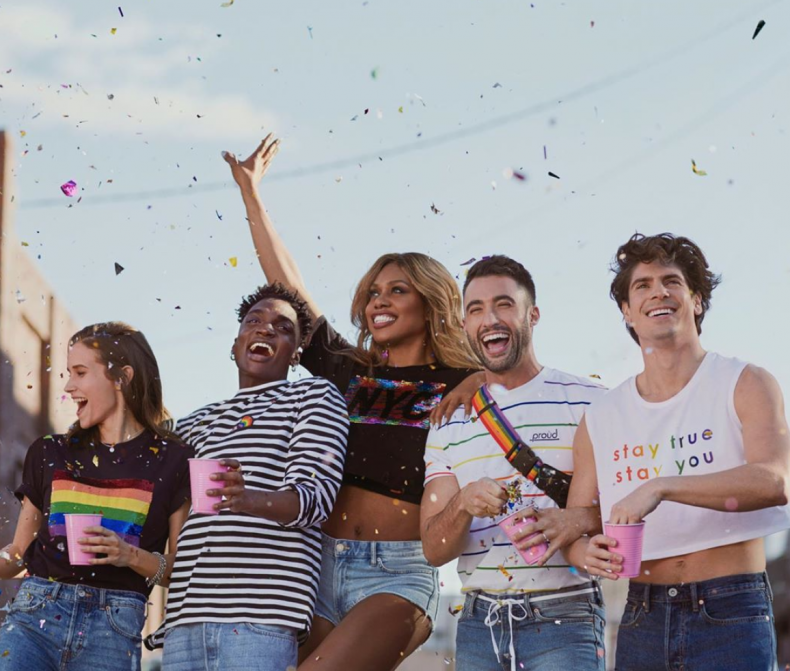 Tanks, tees, crop tops, bodysuits, pool shoes and windbreakers are among the items in the Love For All collection from H&M, which is donating 10% of global sales from the line to the United Nations' Free & Equal campaign.
"H&M strives to be a mirror of global society, one that fully embraces a central message of 'Love for All', standing up for people's right to love whoever they want, wherever they are," said Sara Spännar, Global Marketing and Communications Director at H&M. "We are proud to continue our support for LGBTQI equality by celebrating love and raising awareness about the fight for equal rights, diversity and inclusivity." ($9.99-$69.99, HM.com)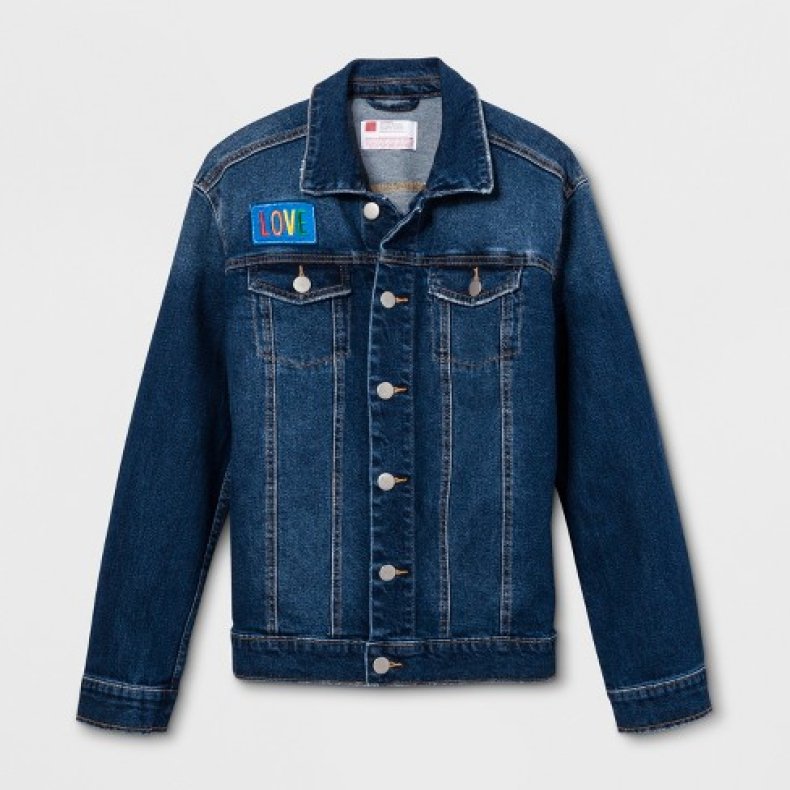 Target's #TakePride collection for 2019 includes rainbow ruanas, tankinis, denim jackets, bisexual-flag bandanas, and gender-inclusive tees with slogans like "love changes the world" and "love makes a family."
In addition to having a presence at Pride events nationwide Target is supporting GLSEN with a $100,000 donation to help their mission of creating safe and inclusive schools for all. (Prices vary, Target.com)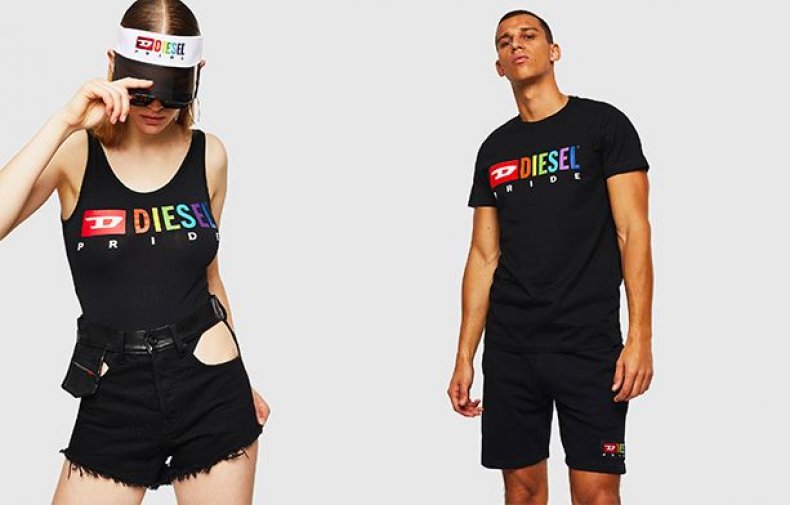 Diesel's Pride capsule collection includes 20 pieces—tees, hoodies, body suits, sweats, sports bras, beach towels, and more with a rainbow-colored version of the Diesel logo with the word "Pride" below it. A portion of proceeds will be donated to The Stonewall Inn Gives Back Initiative. (Prices vary, Diesel.com)
To celebrate Pride 2019, Ralph Lauren has created a five-piece gender neutral collection, promoting it with a campaign featuring LGBT entertainers like Josie Totah, Gus Kenworthy, Patti Harrison and Jacob Bix.
One hundred percent of the purchase price of each graphic tee and 50 percent of proceeds from each polo shirt, hoodie, hat and tote is being donated to the Stonewall Community Foundation, an international network of LGBT organizations. ($59.50-$150, RalphLauren.com)

This year marks the 50th anniversary of Stonewall, as well as the 50th anniversary of the first Gap store opening, and the retailer has launched a Pride collection featuring socks, shorts, tees, sweatshirts, totes and even onesies for babies. Through July 6, Gap is donating 15 percent of sales to the United Nations' Free & Equal, which supports LGBT rights internationally. ($9.95-$59.95, Gap.com)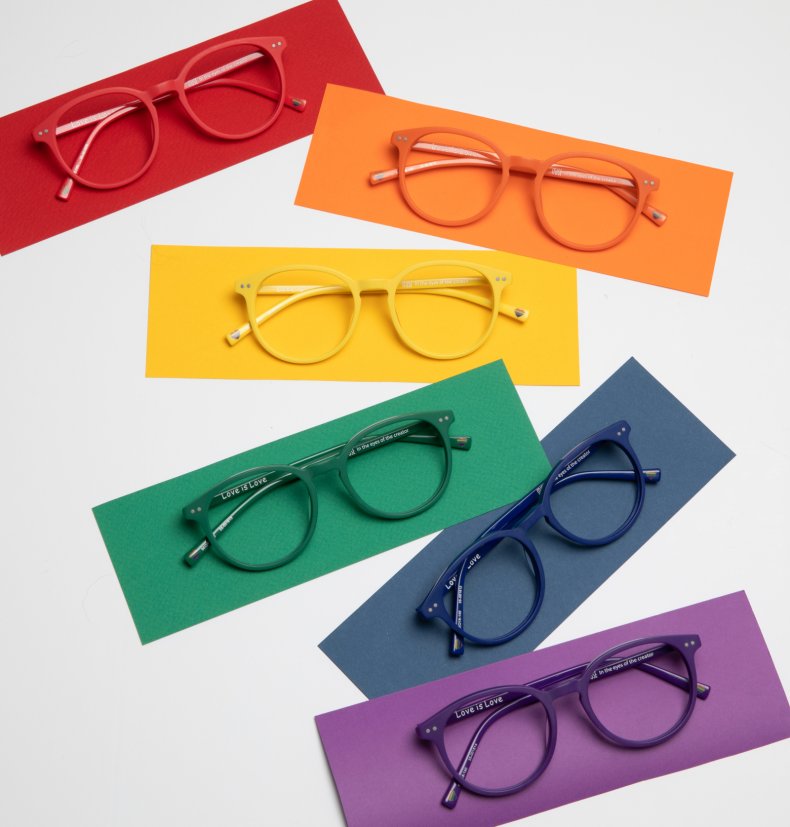 The eyewear company's Love is Love collection features frames in five different hues inspired by the colors of the Pride flag.
"[Each] color represents the diversity of the LGBTQ+ community," said Hadar Nussbaum, designer and buyer for Glasses USA. "It's a way to truly celebrate the uniqueness of each individual. The happy, vibrant color-trend this summer is an added bonus."
For each sale from the Love is Love collection, Glasses USA will donate $5 to The Trevor Project, which provides crisis intervention and suicide prevention for LGBT youth. (GlassesUSA.com)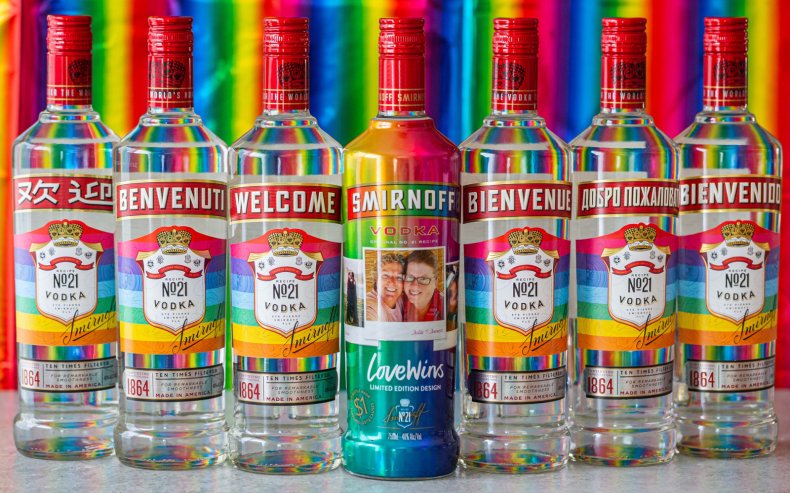 As part of its "Welcome Home" campaign, Smirnoff is bringing back its "Love Wins" bottles, featuring photos of LGBT couples. It's also released six versions of a limited-edition Smirnoff No. 21 vodka Pride bottles, each with the word "Welcome" spelled out in a different language. For every bottle made, Smirnoff has pledged to donate $1 to HRC.
Smirnoff is also joining the NYC Pride March on June 30, with a New York City-themed float led by Drag Race star Alyssa Edwards dressed as Lady Liberty.
Speaking of New York, If you're in the Big Apple June 26 to June 28, stop by the "House of Pride," an immersive pop-up experience celebrating the history and future of the LGBT community. Bonus: Queer Eye's Jonathan Van Ness is expected to play host for one night (Prices vary, Smirnoff.com)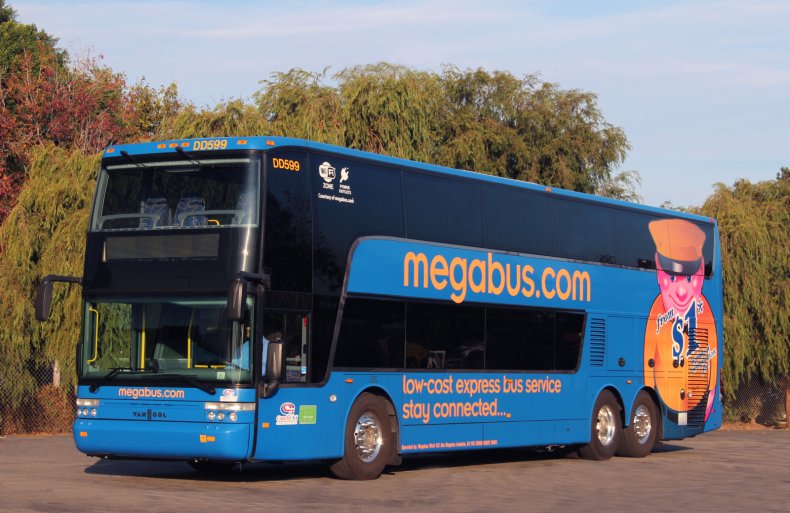 Special $5 bus service is being provided from Baltimore to D.C. for Capital Pride on June 8 and from Philadelphia to New York for the NYC Pride March on June 30. Megabus has also launched a "Show Your Sign contest, where Pride attendees can share their parade signs for a chance to win up to $250 and a pair of trip vouchers.
And as part of its goal to provide a safe and inclusive travel experience for all riders, the company is making a $10,000 donation to SAGE, which provides advocacy and services for LGBT elders. ($5, Megabus.com)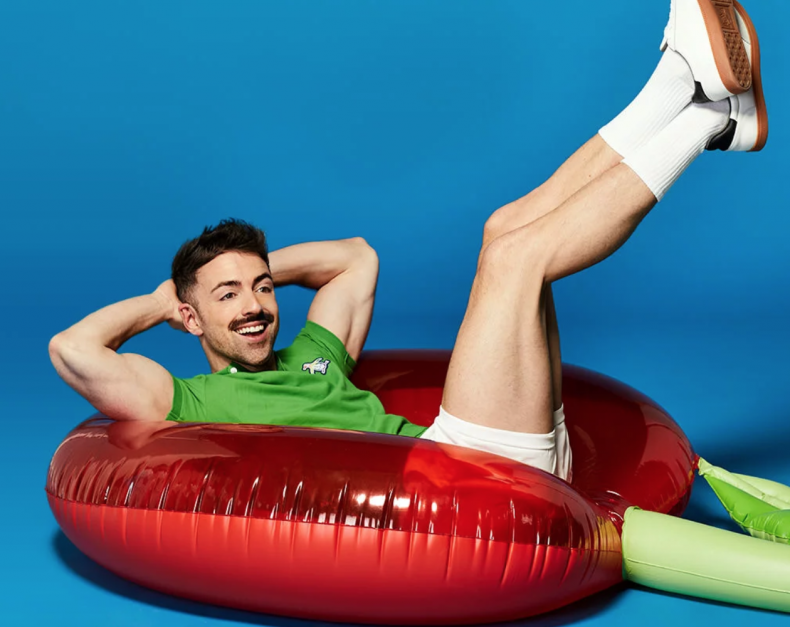 Comedian Mateo Lane is the spokesmodel for Penguin's new Pride collection, featuring an array of tasteful Pride-themed polos, tank tops, button-down shirts, ringers and swimsuits. A portion of proceeds benefit All Out, a nonprofit advocating for LGBT equality around the globe. (Prices vary, Penguin.com)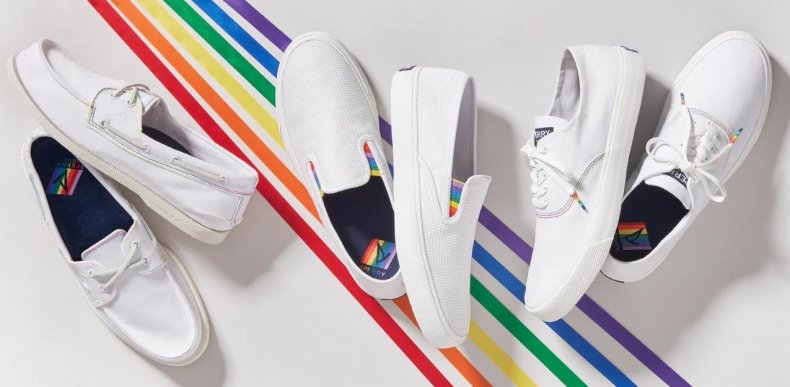 Sperry's "Made with Pride, for Pride" collection includes slip on, sneakers and boat shoes with minimalist rainbow flair. To show its support for the LGBT community, the Massachusetts-based shoemaker is a sponsor of the 2019 Boston Pride parade. ($85, Sperry.com)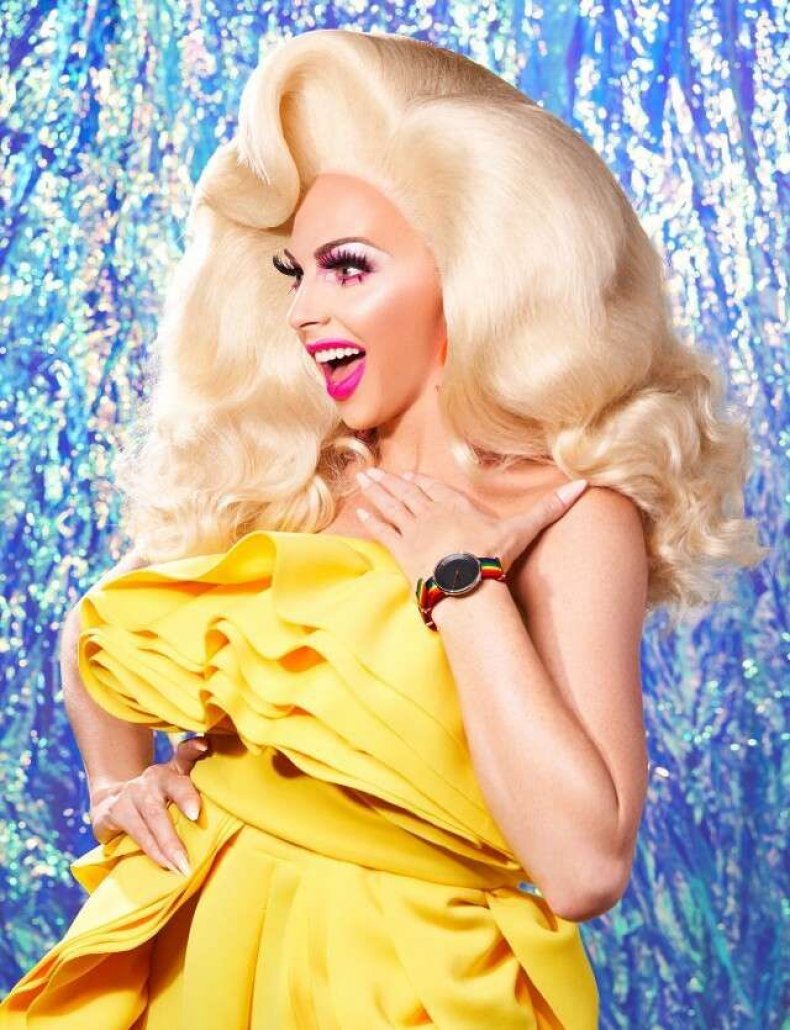 This Pride season, Fossil partnered with the Hetrick-Martin Institute on a watch case featuring a subtle, rainbow-themed dial with the words "Pride 2019" and the HMI logo specially etched on its caseback.
One hundred percent of the proceeds go to HMI, which provides LGBT youth with a safe and supportive environment. ($75, Fossil.com)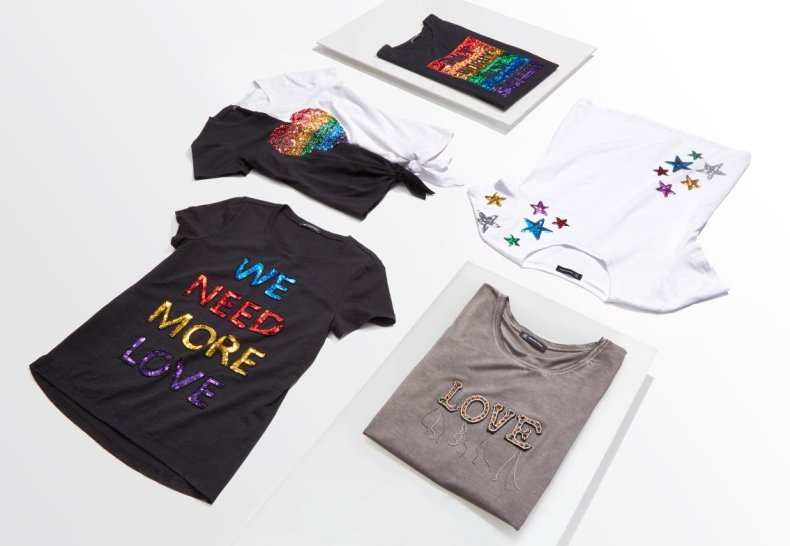 Macy's is giving back to the LGBT community with a capsule Pride + Joy collection of INC International Concepts tees, tanks and socks. Twenty percent (or more) of the sale price from every Pride + Joy item will be donated to the Trevor Project.
Macy's is also participating in 24 Pride parades nationwide—including L.A., New York, Atlanta, Orlando and Houston—and hosting special Pride events at select stores. From June 1-17 at all Macy's stores nationwide, shoppers can round up their purchase to the nearest dollar (up to $.99) and donate the change to The Trevor Project. ($10-$20, Macys.com)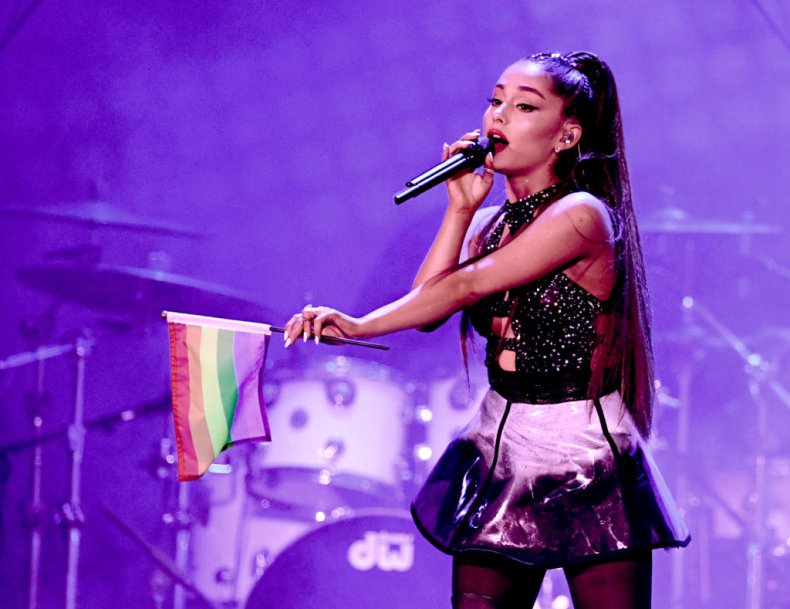 T-Mobile is teaming up with pop diva Ariana Grande to celebrate Pride and given back to the LGBT community: On June 14 and 15, Grande's "7 Rings" art installation will be transformed into an immersive "Pride Walk" outside her shows at Brooklyn Barclays Center. Participants can record their own messages of love and inclusion and post them social media. For every photo of the rings posted with #ArianaWithUs, T-Mobile will donate $1 to HRC, with a goal of up to $200,000 total.
T-Mobile is also encouraging users to post moments that changed their lives as a member of or ally to the LGBT community on the storytelling platform Wattpad. For each entry tagged #UnlimitedPride, $1 will be donated to GLSEN, up to $10,000. Throughout June, the company is also partnering with PopSockets on a special Pride Poptivism PopGrip, with $2.50 from each sale being donated to GLSEN. (T-Mobile customers can also text "GLSEN" to 20222 to donate $5 directly.)
The "Un-carrier" is also sponsoring more than 60 Prides nationwide, including WorldPride in New York.
"T-Mobile wouldn't be the company we are without the diversity of our amazing team and that's why we're going BIG with our commitment to Pride–and everything it stands for–again this year!" said T-Mobile CEO John Legere. "We love getting to join our communities across the country to celebrate all the things we believe in and stand for - diversity, equality and individuality." (Prices vary, T-Mobile.com)