These 5 Gift Unwrapping Videos Will Melt Your Heart
For those who celebrate, this past weekend might have been filled with hours of family time, good food and maybe even some nice gifts. In the days that followed Christmas celebrations around the world, videos began popping up of some of the sweetest and most wholesome gift unwrapping videos. From big ticket items like cars or a ring to priceless keepsakes, these are five of the most heartwarming gift unwrapping videos on the internet today.
Wedding Ring
In this video, viewed 9.5 million times, @alexcohen34 posted a clip of her mother receiving a replacement ring for one she sold years ago. "[Ten] years ago my mom was forced to sell her wedding ring to pay the mortgage," said the text overlaid on the video. The woman opens the small red ring box and her face immediately turns to a smile. "No f**king way," she is seen mouthing to her family. "She's been wearing an old cheap ring that she had from high school," said more text over the video. "My dad has been saving to give her the ring that she finally deserved," the text continued. She then takes the ring out and slides it onto her finger as she begins to tear up. "The most selfless woman we have ever known," the text read as the video ends.
Uncle's Polos Blanket
This holiday season, one family chose to create something priceless for a family member who lost her husband. Toni Marie Wofford, whose username is @tonimariewofford, posted a video of her aunt opening up the special gift with the words "Last Christmas we unexpectedly and tragically lost my uncle," written over the footage. The woman's jaw drops when she opens the box to unveil a blanket that another person assists in helping her unfold. "We took his favorite polos and made them into a blanket for her to snuggle," said words that appear over the video as they show the blanket in its entirety. Wofford's aunt puts her hand to her mouth as she starts to cry and the blanket is laid on her lap.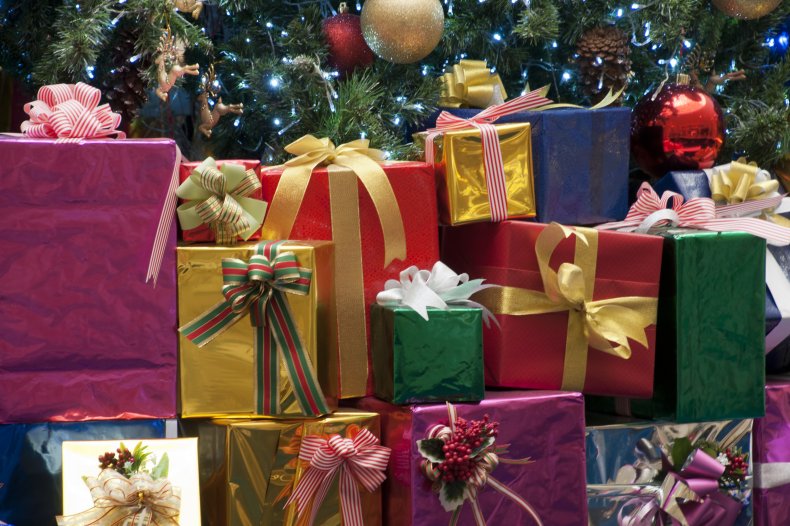 Mustang
In this video, now viewed 5.7 million times on TikTok, @amyg410 posted a clip of her husband opening a very exciting gift. In the video, he is seen reaching inside of a stocking and discovering a key inside. He looks as though he can't believe what he has found. "No way, is it out there? Is it the black one?" he says, getting more excited with every word. He starts to cry and runs outside to find a black Mustang with a red bow on top. He begins to jump up and down with his hands above his head screaming "Oh, Yeah!"
Mountain Dew
While this gift might have cost just a bit less than a Mustang the joy that its unwrapping provided is just as sweet. In this video, viewed over 8 million times, @mhughes79 posted a clip of her son giving his father a special gift. "Here's my son's reaction to Dad opening his gift from the Dollarstore," said the text overlaid on the video. The dad is seen unwrapping a bottle of Mountain Dew as his young son jumps up and down and says "I bought you that!" and runs over to his dad. "Oh my gosh, thank you so much," the dad said. "I love it!" The video ends with a giggle as the dad discovers that his son also included the receipt for the soda wrapped up with the gift.
Puppy
Getting a surprise puppy for Christmas and a sure-fire way to produce a cute video for years to come. This video, posted by @audreydeneffe, has been viewed 3.4 million times and shows the moment she surprised her boyfriend with a new puppy. As part of the plan, @audreydeneffe gives her boyfriend a box with a Christmas sweater inside. She wrote in text overlaid on the video that she gave him this gift three days before Christmas, which he was initially confused about. After putting the sweater on she tells him there is "another small thing" in the box. He sifts through the tissue paper but does not find anything. "Oh shoot, I think I forgot to put it in there," she is heard saying off camera. She then goes into the other room to scoop up the couple's new puppy who is wearing a matching sweater to the one she gifted her boyfriend. "Is this our dog?" he asked as she walks out with the small puppy. "We have a dog?" he continued. He then hugs the dog whose tail is wagging "a mile a minute" as one commenter put it.