These 5 Republicans Voted No on House Resolution for Peaceful Transition if Trump Loses Election
The House of Representatives voted Tuesday to adopt a resolution supporting a peaceful transition of power if President Donald Trump loses the upcoming election to Democratic rival Joe Biden, with only five Republican representatives opposing.
The measure was adopted in a 397-5 bipartisan vote—with Florida Rep. Matt Gaetz, Texas Rep. Louie Gohmert, Louisiana Rep. Clay Higgins, Iowa Rep. Steve King and Kentucky Rep. Thomas Massie voting against the resolution.
The resolution, which was authored by Democratic California Rep. Eric Swalwell, stated that the House "reaffirms its commitment to the orderly and peaceful transfer of power called for in the Constitution of the United States," and "intends that there should be no disruptions by the President or any person in power to overturn the will of the people of the United States."
While speaking on the House floor on Tuesday, Gaetz explained why he voted in opposition of the peaceful transfer of power.
"I rise in opposition of this resolution even though I completely support the peaceful transfer of power," Gaetz said. "This resolution is a way for Democrats to attack the president and disguise the fact that they will refuse to accept the election results unless they win."
Newsweek was directed to Gaetz's remarks made on Tuesday after a request was sent to the congressman for comment.
In a statement issued on Wednesday, Gohmert explained that he agrees with the Democrats and Trump "that a peaceful transfer of power is imperative when a sitting President loses reelection in a fair race."
"However, I voted "no" on the House Democrats' resolution because it singles out President Donald Trump demanding "no disruptions" and irresponsibly fails to mention the need for the Democrat candidate to also accept the results of a fair election as well," he said in his statement. "Democrats prevented this bill from being amended at both the committee level and on the floor before the vote. I was imploring for the opportunity to add a handful of words to make it fairly apply to both parties, and not simply a slap at President Trump. However, Democrats wanted to leave it only applying to President Trump and his administration."
In an email sent to Newsweek, Massie explained his reason for voting in opposition of the resolution, writing: "This resolution was a disingenuous political statement meant to poke the President in the eye."
"Isn't it interesting that Speaker [Nancy] Pelosi and Leader [Kevin] McCarthy didn't have the time or political willpower to take a recorded vote on the $2 trillion bailout package that passed in March, but they're now happy to vote on this tripe?" Massie's statement added.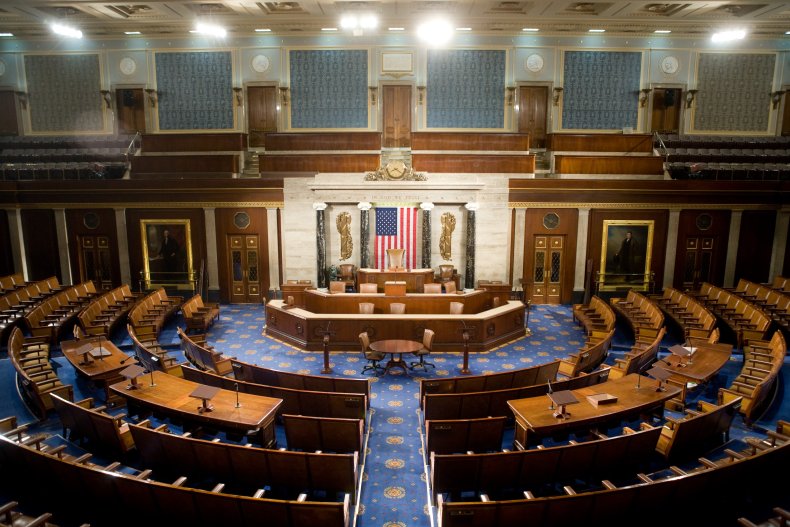 Higgins made comments similar to Gaetz, and told KATC News in Louisiana, that he supports a peaceful transition of power. However, Higgins called the bill "a Democrat stunt, intended as an attack against President Trump."
"This is a distraction from the very real concern regarding large-scale election fraud. Democrats still refuse to accept the results of the 2016 election, and Hillary Clinton has already advised Joe Biden not to concede the election under any circumstances," Higgins told KATC News. "I will continue to vote no on gimmicks and politically-driven Congressional actions that seek to further divide our nation."
In a tweet published on Wednesday, King stated that the resolution "exclusively targets" Trump.
"Only 5 of us stood by his side. It states "there should be no disruptions by the President or any person in power". 1155 excludes Biden, Antifa, & BLM, all threats to our republic," King wrote.
The vote in the House came after Trump did not indicate on whether he would commit to a peaceful transfer of power if defeated by Biden.
"Well, we're going to have to see what happens, you know that," Trump said last week when asked if he would peacefully leave office. "but I've been complaining very strongly about the ballots. The ballots are a disaster."
Newsweek reached out to Gohmert, Higgins and King for comment, but did not receive a response in time for publication.