These 9 States Have Reached All-Time High Numbers of Coronavirus Cases During Reopening
As many U.S. states continue to slowly reopen their economies in the midst of the COVID-19 pandemic, at least nine states have recorded all-time high numbers of the new coronavirus.
In the past six weeks, as states allowed business and other establishments like beaches and lakes to reopen, many have seen the number of new coronavirus cases spike to all-time high numbers.
Within that span, California, Texas, North Carolina, South Carolina, Florida, Alabama, Arizona, Arkansas, and Oklahoma have reported record numbers of COVID-19 cases, leading to fears that the U.S. had entered a second wave of the virus.
According to the Johns Hopkins University tracker, this weekend Oklahoma and Arkansas recorded their highest number of COVID-19 cases since the start of the pandemic.
California recorded an all-time high for new cases on May 30 with 3,705 cases, but on Sunday the state saw 3,660 cases, which ranks second for the state since the pandemic started.
Texas, recorded it's all-time case high of 2,504 on June 10, according to the Texas Department of State Health Services.
Last week, health care officials in Texas reported a second wave of the new coronavirus may be underway as the number of cases began to spike. Officials attributed the increase to the thousands who gathered on beaches and lakes during Memorial Day weekend.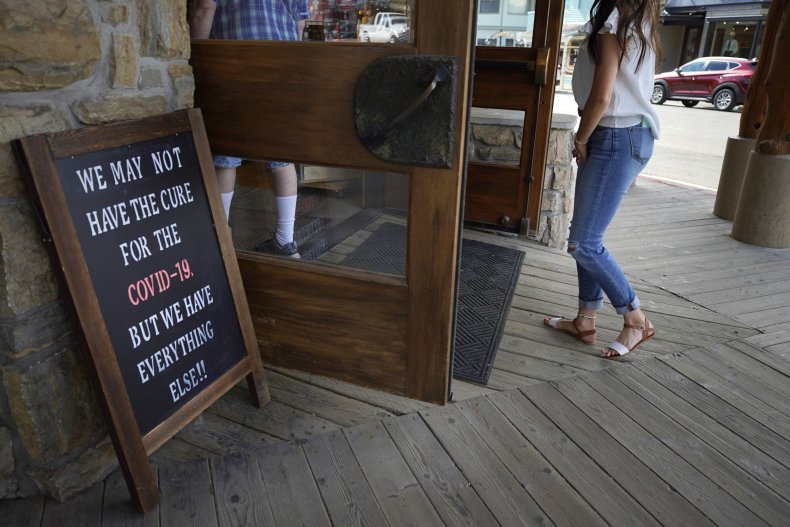 Florida, which has seen over 1,000 cases reported in the past 11 of 12 days, was among the first states to begin its reopening process, including opening beaches in early May.
Health care officials in Florida announced the state recorded the highest number of COVID-19 cases with 2,581 new cases on Saturday, following a previous record of 1,902 on Friday. On Sunday, the state saw 2,016 new cases and Monday saw the announcement that some bars around the state are choosing to close their doors yet again.
In Arizona, the state is seeing an infection rate three times that of New York, which became the epicenter of COVID-19 in the U.S. According to Johns Hopkins University, the infection rate in Arizona is at 60.5 for the past 72 hours, while New York's rate sits at 16.5 percent.
However, Arizona's all-time high for daily cases was on June 8 when 1,456 were reported by the state's department of health.
"It didn't have to be this way," Arizona congressman Greg Stanton tweeted on Sunday about the increase of cases. "This escalating crisis is the direct result of poor decision making and failed leadership. Now, more Arizonans are in harm's way and local economies are at greater long-term risk. We can turn the ship, but we need to act now."
Other states also recorded spikes last week. South Carolina recorded a high of 785 new cases of COVID-19 on Saturday and Alabama recorded record highs with 1,075 new cases reported on June 12.
North Carolina's Department of Health and Human Services reported a spike of 1,768 new cases on Friday, bringing the state's total to 45,102.
Overall, the U.S. reported an increase of 25,468 cases on Saturday, according to the CDC.
Since the start of the outbreak in March, the U.S. has recorded 2.1 million cases, the most in the world. So far, 561,816 Americans have recovered from the new coronavirus, while 115,827 people have died.