These Are the 15 Best (And Cutest) Gifts for 1-Year-Olds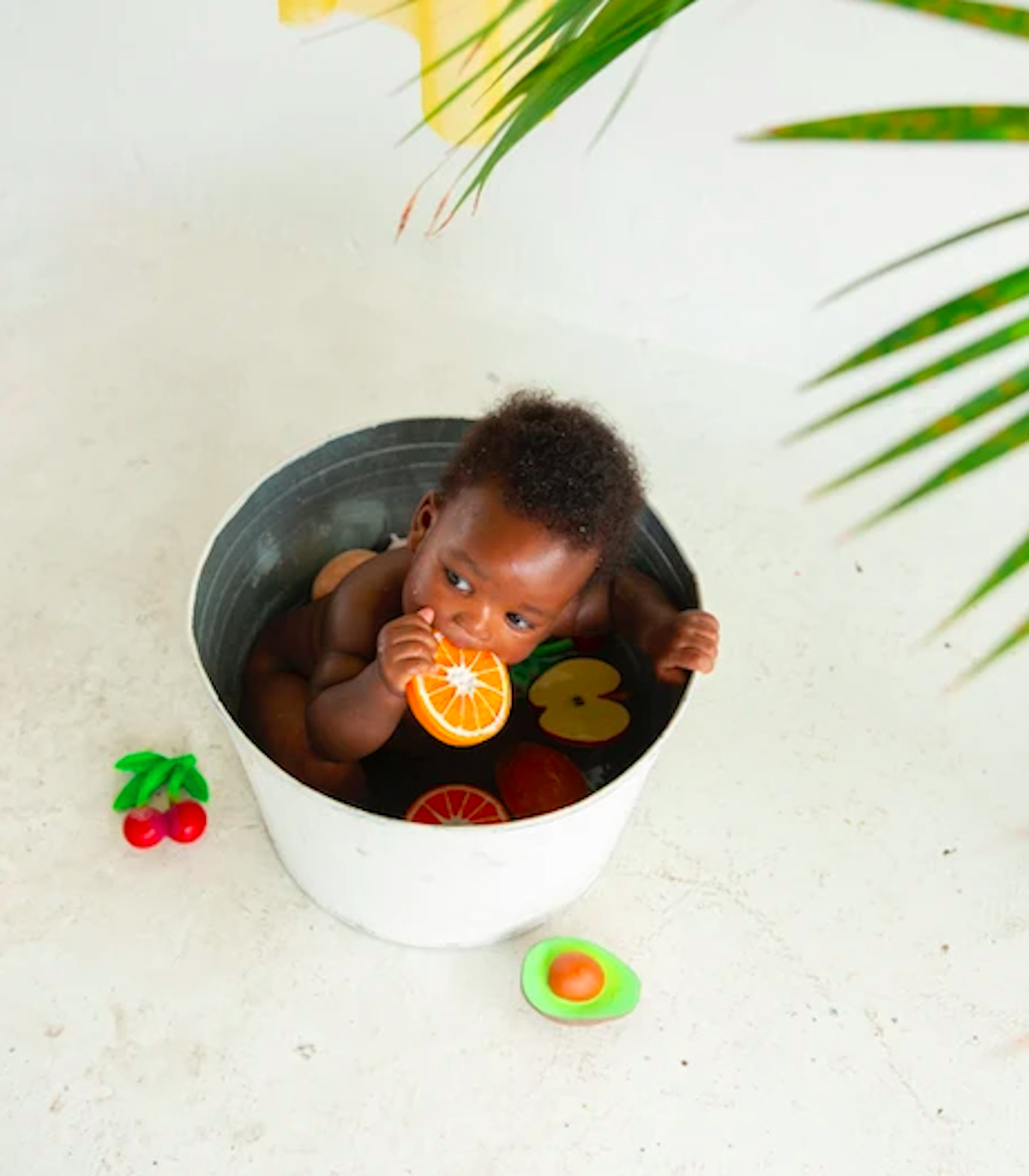 Babies—am I right?! They're surprisingly tricky to shop for despite being new to the world. You'd think they wouldn't have that much stuff yet, right? Wrong! And they need so much, too.
Plus, it's not like an infant can vocalize what they want for their birthday or the holidays. And of course, you're also buying the gift for their parents. So, what do 1-year-old babies (and their parents) really want?
Best Gifts for 1-Year-Olds
Keep reading for the best gifts designed explicitly for 1-year-old babies! As always, the prices listed may fluctuate over time.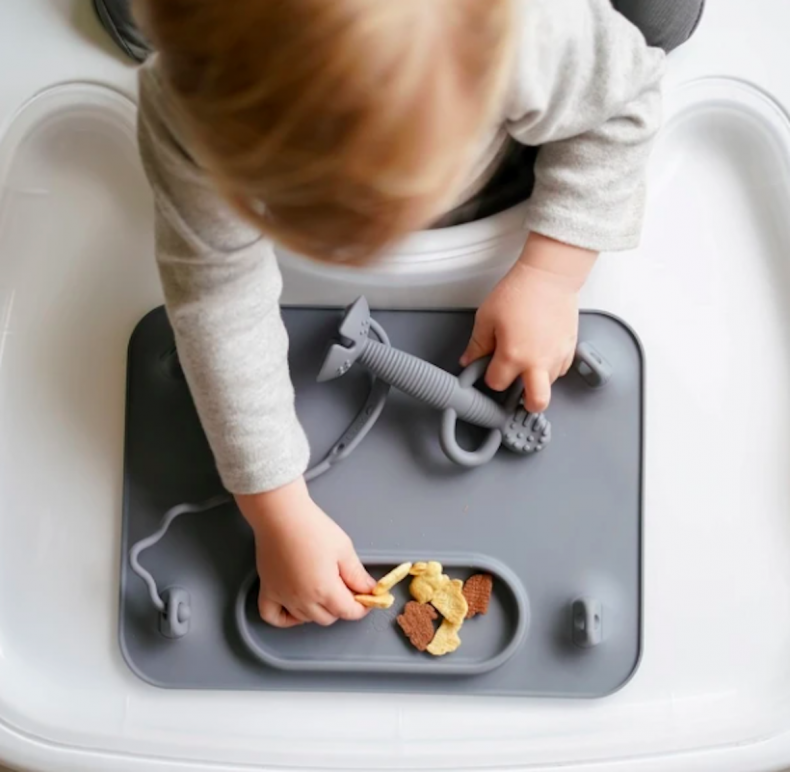 Babies are busy beings! That's why they need A Busy Baby Silicone Placemat—you know, for all the things they have to accomplish. Made of safe silicone and designed to withstand all the natural movements that come with a young toddler eating and playing (because you can't have one without the other), such as tugging, throwing and smashing. The phthalate- and BPA-free mat comes with two toy straps to safely secure your mealtime toys or binkies. No more constantly bending down for mom and dad, picking up toy cars as dinner progresses! Trust—this tyke's parents will thank you for this ingenious gift.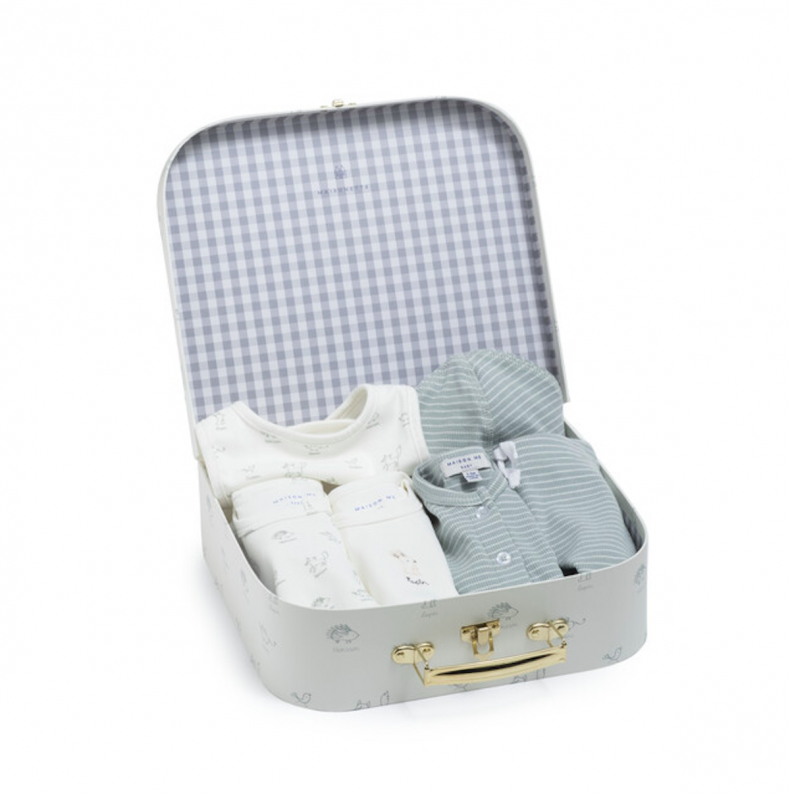 Have you ever noticed that babies are some of the chicest dressers ever? Seriously, we dress tots better than we dress ourselves! Keep that energy going with the ultimate parent-approved present—the Maison Me Baby Luxe Gift Set from Maisonette. Featuring the kid company's bestselling essentials—two onesies, a matching animal print bib, a beanie, leggings and a cardigan—the set's packaging is just as cute in an adorable animal print box. Of course, each item in the gift set can be mix-and-matched with the rest of Maisonette's adorable clothing for 1-year-olds, too!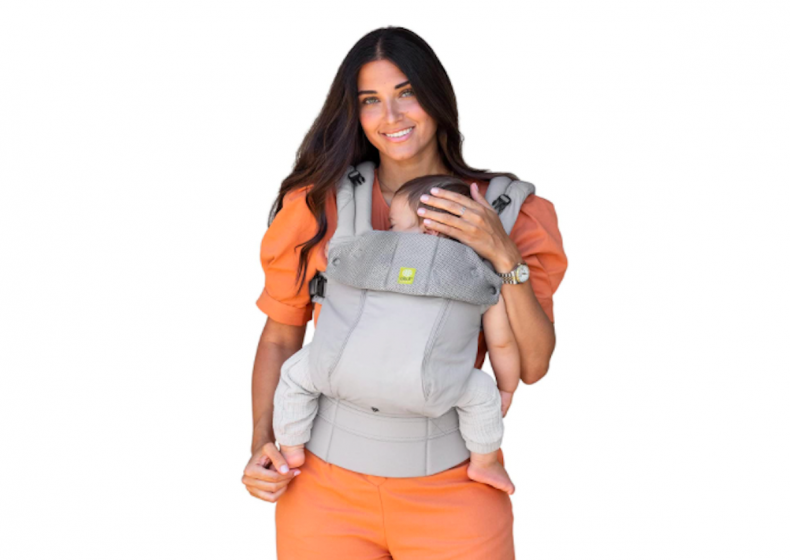 One of the most beloved brands amongst parents who wear their babes, LÍLLÉbaby Complete All Seasons Ergonomic All-Positions Baby Carrier, has amassed more than 5,000 reviews on Amazon.com! Pair that with a 4.5-star rating on Amazon, and you know this is the it-girl of baby carriers. Little ones who weigh anywhere from 7 to 45 pounds can fit comfortably in this ergonomic carrier that features 360-degree baby-wearing and six different styles of wear. It also features a zip-down front meant to control the baby's temperature. It also comes with a removable sleeping hood, large storage pocket and extendable torso. Plus, mom or dad can wear hands-free—without worry!
One Amazon.com reviewer wrote, "This is the best carrier ever!! This was the 4th carrier I have tried ( Bjorn, Infantino, Ergo) and finally- one that is perfect!! Someone posted this in a Facebook group I am in and I bought one the next day. It is seriously the best designed, most functional carrier I have seen."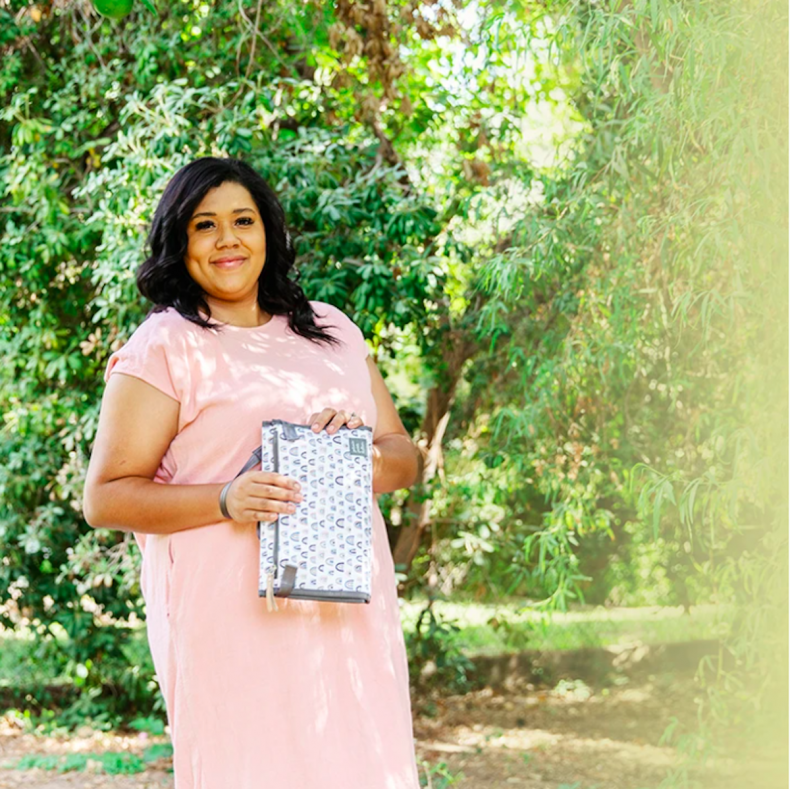 OK, so this one's for the bambino but, you know, indirectly. That's because it's a baby-related accessory for the parents, but 1-year-olds definitely need and benefit from the Nimble Clutch and Changer. A versatile and efficient micro-bag of sorts, it's everything you need in a diaper bag but condensed. You've got your compact, fold-out clutch, a padded changing pad, pockets for diapers (which also moonlight as pillows for Baby's head during diaper changes), a pocket for wipes and an exterior pocket for other baby-related essentials. Also, it's not so hard on the eyes, either. Who doesn't love a modern, rainbow-inspired print?!
Buy at Petunia Pickle Bottom for $29.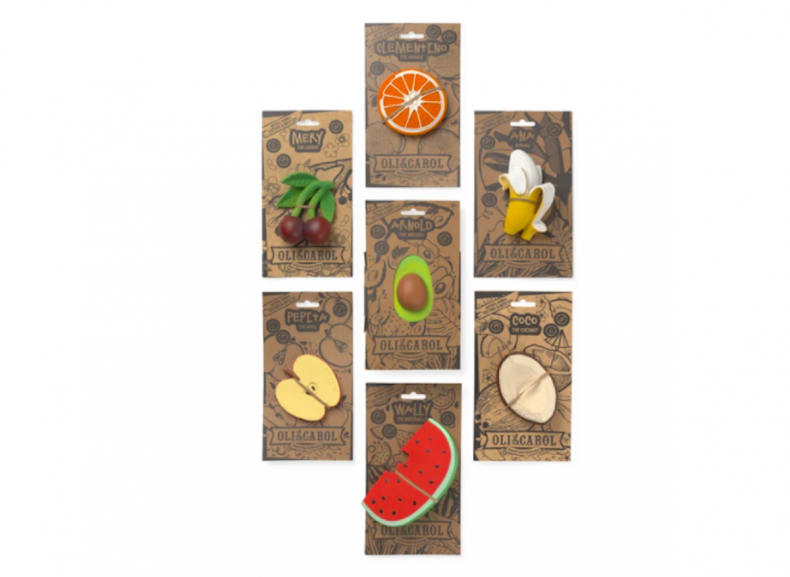 Teething can start around the four-month mark but continue well past a baby's first year. That's why every 1-year-old should have the Fruit Teethers Gift Set from Oli & Carol (in our very humble opinion). Featuring sweet designs inspired by nature, the set features apple, watermelon, coconut, banana, orange and avocado (yes, it's a fruit!) teethers. It's like a baby-friendly farmer's market right in their crib! Every teether from Oli & Carol is made of safe, natural rubber that's eco-friendly, non-toxic and made by hand into a healthy toy that will soothe achy gums. Baby can even use them in the bath!
Buy at Oli & Carol for $124.99.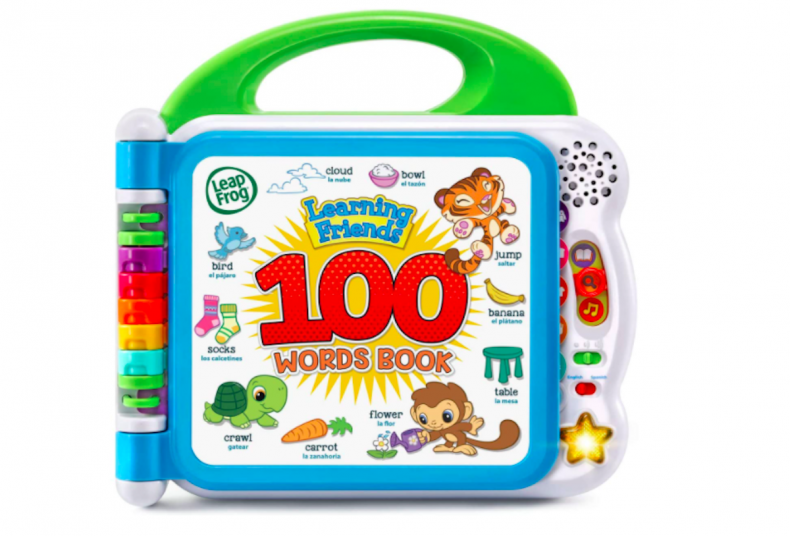 One of Amazon's bestsellers, the LeapFrog Learning Friends 100 Words Book is beloved by parents and kids everywhere. Those 81,364 reviews prove it—not to mention its stellar 4.8-star rating on Amazon.com! Designed for kids 18 to 24 months, each page features learning friends Turtle, Tiger and Monkey, who introduce more than 100 age-appropriate words (chosen by experts) to little ones ready to learn. Word categories include pets, animals, food, mealtime, colors, opposites and more. Oh, and did we mention this toy-slash-book is also bilingual? Yep—words, songs and instructions are available in English and Spanish for a truly language-immersing experience. One Amazon.com reviewer wrote, "This is one of the best toy that I ever purchased for my son, it does attract kids a lot, especially if they are in the stage that they want to start talking. My son is not really playing with his toys alot [sic], but he loves this one, and he grabs it everywhere with him. It does have a lots of words and things to teach kids, all the colors and sounds of the toy attracts [him]."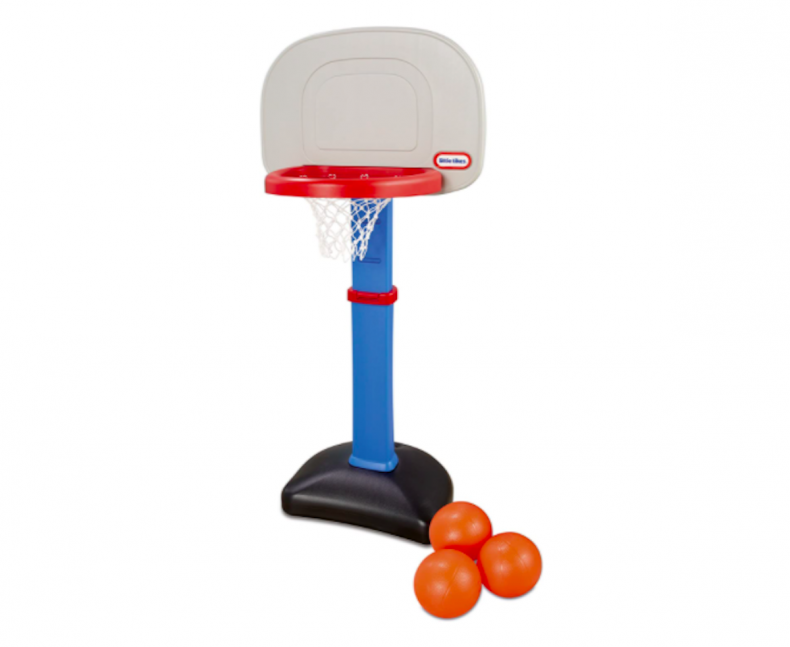 Baby baller? If you know an NBA point guard in the making, Little Tykes Easy Score Basketball Set is the perfect gift for a budding b-baller. With a near-perfect 4.8-star rating and more than 32,000—!!!—reviews on Amazon.com, it's not hard to see why it's such a popular gift. The mini hoop comes with a set of three orange balls for dunking, free-throwing and whatever else it is that one-year-olds decide to do with them. Suitable for both indoor and outdoor play, the hoop adjusts to six different heights ranging from 2.5 to four feet tall. One Amazon.com reviewer wrote, "It is very easy to assemble... The height adjustment feature is awesome, I can leave it low when my son wants to dunk on it like his dad or place it higher when he wants to shoot the ball and practice his skills!"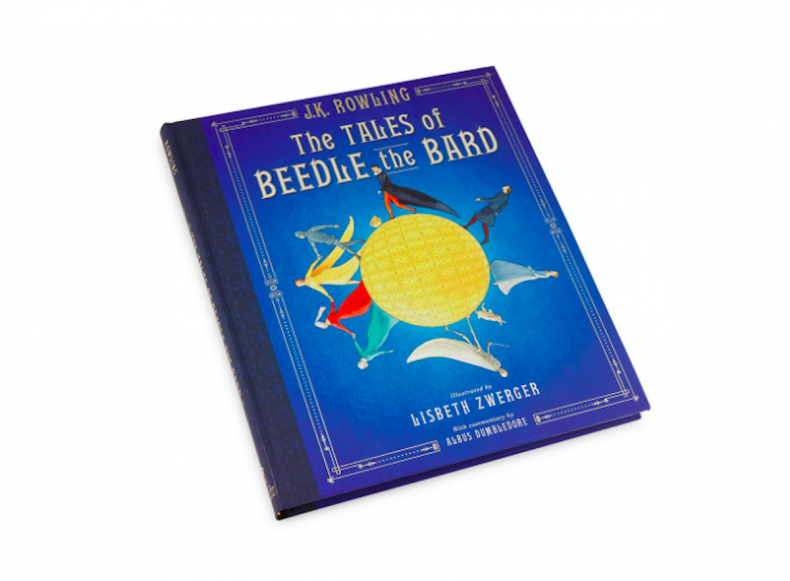 Calling all millennials who are just now becoming parents! Your sweet babe needs Scholastic's The Tales of Beedle the Bard: The Illustrated Edition, a nod to your favorite childhood classic, the Harry Potter series. A brand new illustrated version of the original book from the canon of J.K. Rowling's design, each page is full of classic tales from the Wizarding World—all of which are illustrated in full-color by award-winning artist Lisbeth Zweger. You'll even find some of the stories translated from ancient runes by Hermione Granger herself with a touch of commentary from Albus Percival Wulfric Brian Dumbledore.
Buy at Saks Fifth Avenue for $35.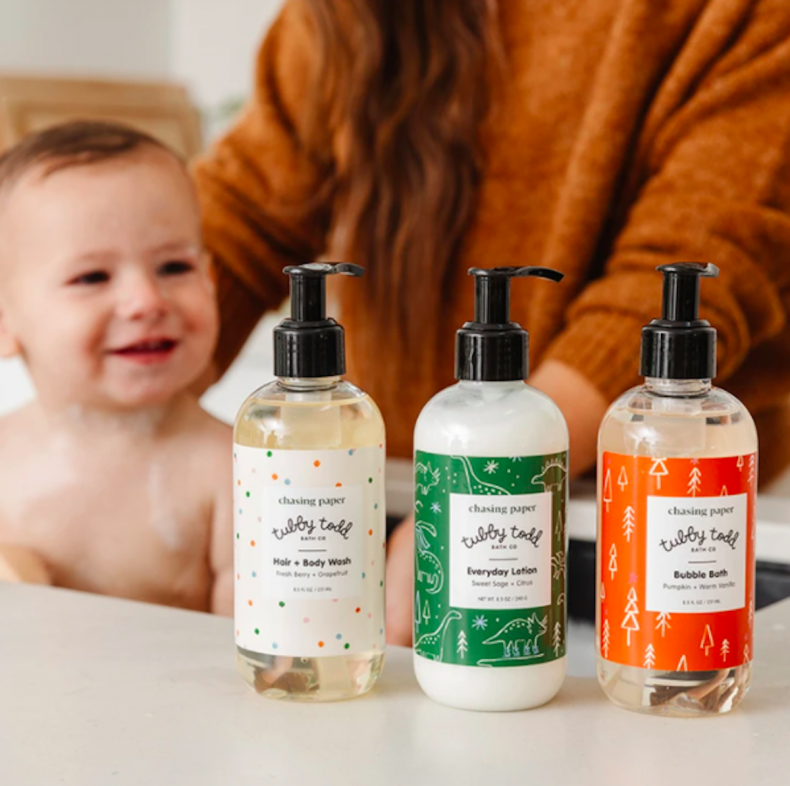 Do you know what good clean fun is for babies? Bathtime! The TT x Chasing Paper Gift Set—a collaboration between Chasing Paper and Tubby Todd Bath Co.—ensures that little tykes enjoy all the clean and comfort a bath should provide. The trio, outfitted with festively designed packaging, includes Fresh Berry Grapefruit Hair and Body Wash, Pumpkin Warm Vanilla Bubble Bath, Sweet Sage Citrus Everyday Lotion and the option to add a Winter Bath Bomb Bundle to your purchase. Baby bathtime has never smelled so good!
Buy at Tubby Todd Bath Co. for $45.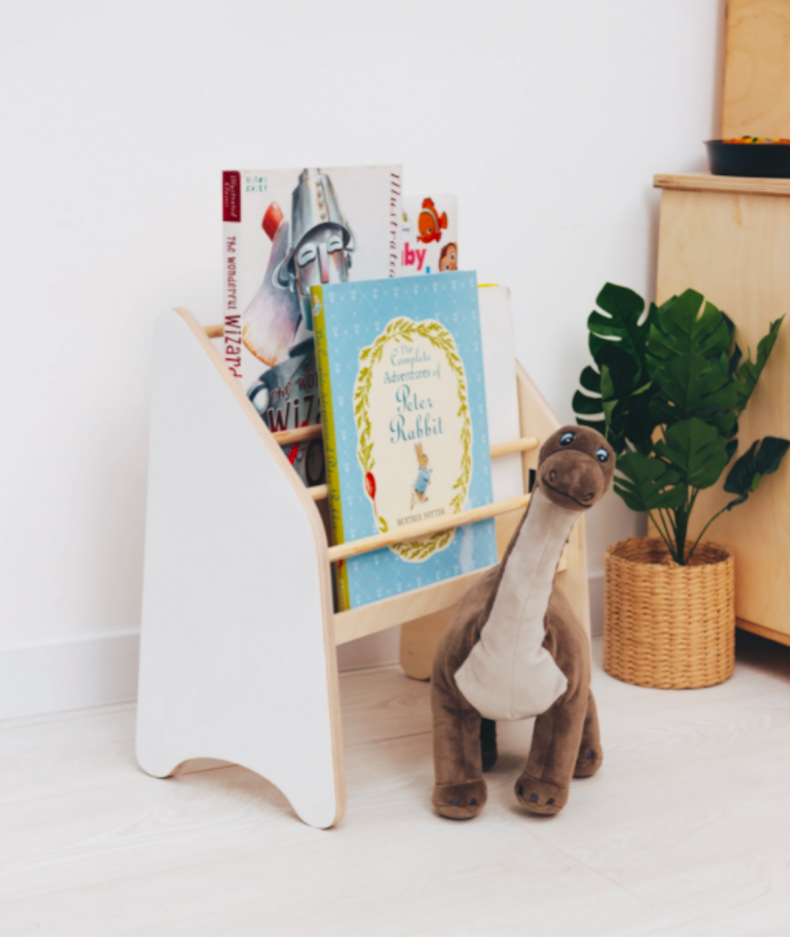 Designed after the wooden Montessori bookshelves we see in nursery schools and kindergarten classrooms everywhere, this one from Child Universe helps tots feel more comfortable transitioning to daycare or school. After all, they have the same one in their bedroom! Made of natural wood and designed to provide essential book storage, all while fostering children's freedom of choice and independence, the Wooden Montessori Bookshelf gives kids easy access to their favorite stories. It's a must-have in every childhood bedroom!
Buy at Child Universe for $149.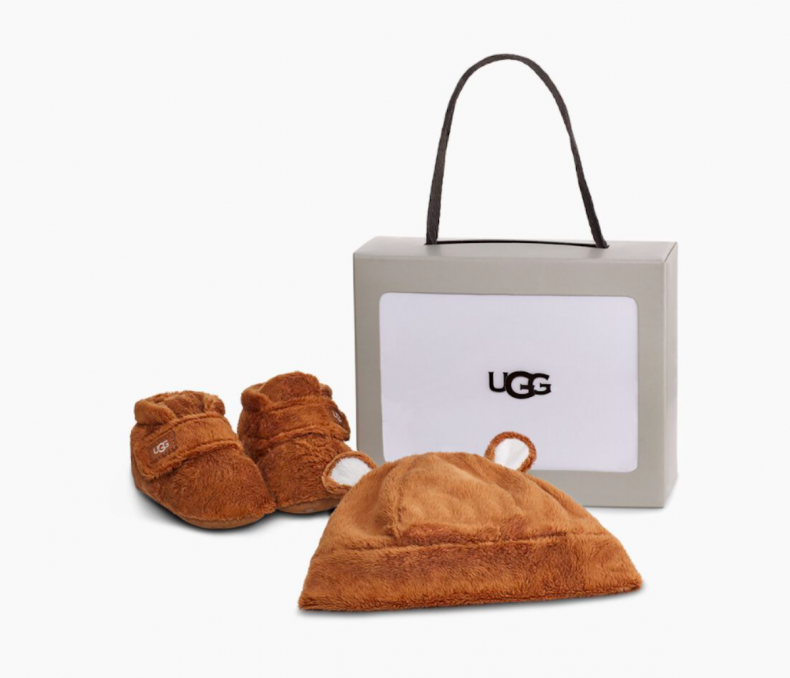 Who says UGG is just for the comfort of adults' feet? Not anymore! UGG makes prime baby accessories to keep tiny toes and little heads snuggly and warm (even when it's snowing outside). Made with fleece lining and featuring Teddy Bear ears on the beanie and a slip-resistant print and hook-and-loop closure on the booties, parents will adore that each piece is machine washable, too. Plus, those slip-resistant booties help 1-year-olds gain traction as they bumble on, taking their first steps.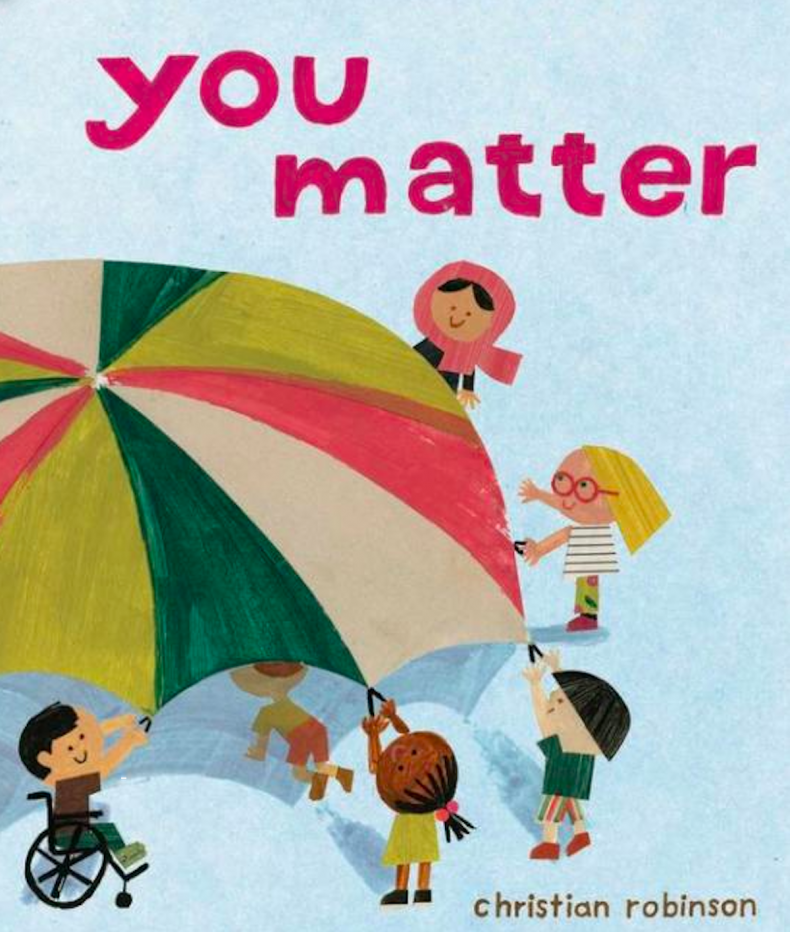 A New York Times bestseller, You Matter by Christian Robinson, is making waves with little kids and families everywhere. That's because the message is so universal and so, so needed! Also named Best Book of the Year by Barnes and Noble, You Matter is a big, bright picture that shows kids, at an early age, that there are so many different perspectives around the world. There are so many, and that's a good thing because we're all connected, and we all matter.
Buy at Barnes and Noble for $17.99.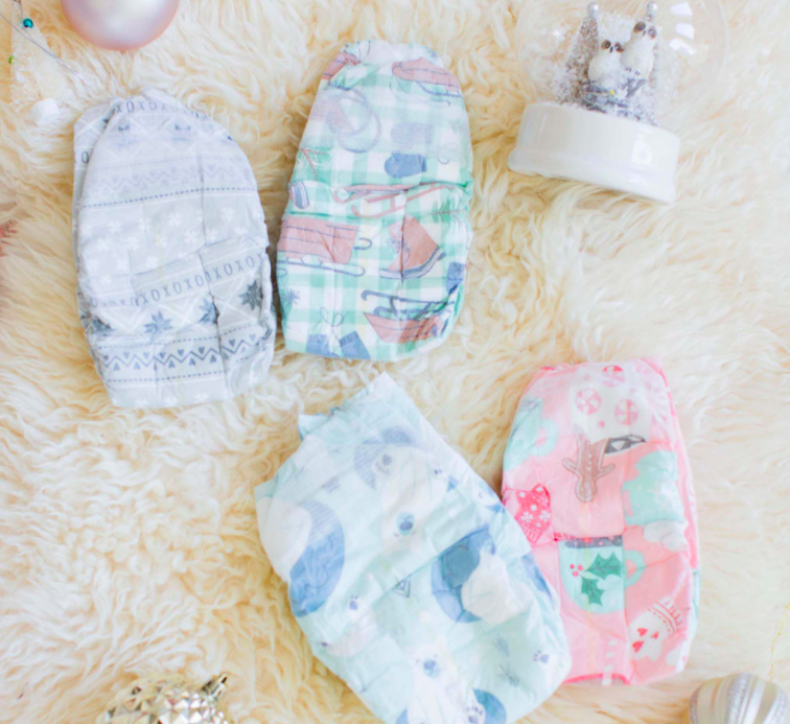 Though you may think of diapers and wipes as more of a baby shower gift, 1-year-olds still need these things—unless they're like, the most evolved baby ever! The Diaper and Wipes Subscription from Honest Company is always a good idea, and though the 1-year-old in your life may not be too impressed, each nappy and each wipe will undoubtedly go to good use. This is another practical gift that parents will certainly be thankful for!
Buy at Honest Company for $55.96.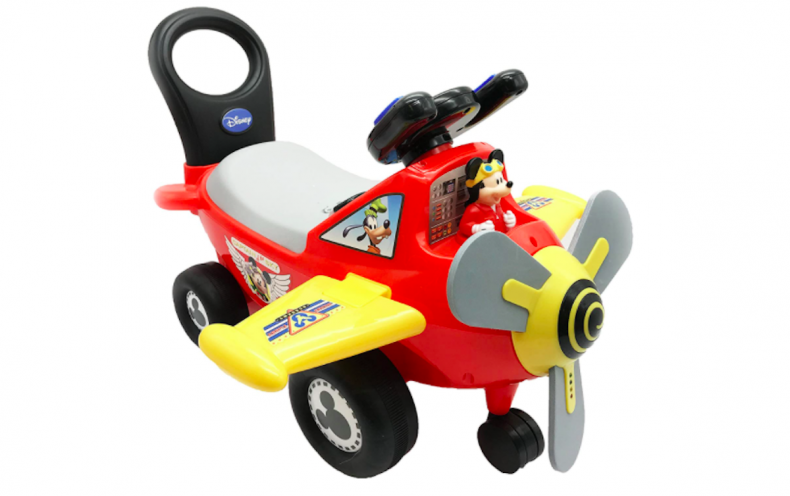 Ride-on toys are practically designed for little ones this age! They're just learning how to walk and get around, so the Kiddieland Disney Mickey Mouse Plane Light and Sound Activity Ride-On is the perfect interactive toy for 1-year-olds on the move. As they ride, Mickey moves side by side to the Mickey Mouse March Song, and the ride-on makes radio frequency, shifting and revving sounds. It also features realistic landing and lift-off sounds and propellers that rotate in time to light patterns.
A fan-favorite amongst kiddos, it's got more than 2,500 reviews and an impressive 4.8-star rating on Amazon.com. One Amazon reviewer wrote, "I have one- and two-year-old sons and wanted to get them ride on toys for their birthdays. Both my boys love Mickey Mouse so I thought this would be perfect to get with all of its features (especially the front wheel that turns and how the propeller actually spins and lights up!) This would be better for a one year old so I ordered this one for my one year old and [another] ride-on for my two year old."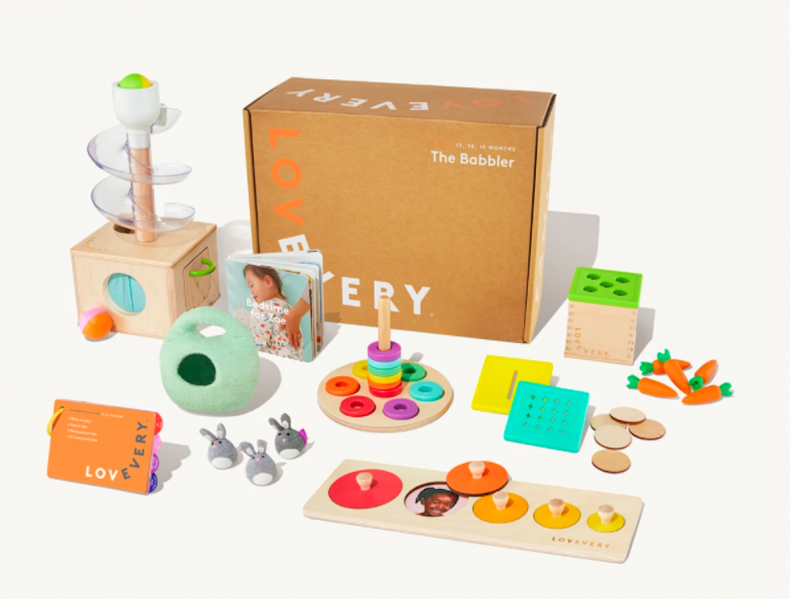 A subscription to or gift from Lovevery is perhaps the best gift you can give a baby (or parent) of any age! The baby- and toddler-friendly subscription service curates play kits and other playthings based on your little one's age demographic. The Babbler is ideal for tots during months 12, 13, 14 and 15. After all, they're learning to talk and finding their place in this big, crazy world, so they need all the right stuff to get them ready. As toddlers learn the ins and outs of balance, object permanence and spatial awareness, the toys in The Babbler help them adjust to cause-and-effect, build fine motor skills, become more comfortable with routines and time and explore exciting things like rotation, spatial awareness and more. So, what does that mean in terms of toys? Let's get down to the nitty-gritty: This kit includes eight different toys—plus a play guide to support parents during playtime and a bedtime board book. Toys include (but aren't limited to) a coin bank, wooden coins, Circle of Friends Puzzle, wooden stacker and Bunnies in a Felt Burrow, a hide-and-seek game.
Newsweek may earn a commission from links on this page, but we only recommend products we back. We participate in various affiliate marketing programs, which means we may get paid commissions on editorially chosen products purchased through our links to retailer sites.