These Are the 5 Things You Must Stream on Hulu in April
Like a regularly scheduled delivery, there's a bundle of movies and TV shows surfacing on Hulu every month—among them stone-cold classics, cult favorites and new originals. To help suss out some of the most worthwhile titles coming to the streaming service, Newsweek has assembled this list of recommendations, highlighting a mix of proven winners and promising prospects. And expect a fresh set of suggestions next month, just before the next batch of content arrives.
Kill Bill Vol. 1 & 2
We swear we're not concern-trolling right now, but does anyone else feel like Kill Bill sort of gets lost in discussions about Quentin Tarantino's filmography? Lately, it seems like the two-part martial-arts epic is a little bit of an afterthought, caught between the two major phases of the fast-talking auteur's career: the one consisting of L.A. crime stories and the one consumed with righting historical wrongs. But before he started time traveling with every project, QT treated us to an ambitious, double-sized feast filled with brutal and stylized violence (were you expecting anything else?), Bruce Lee allusions and its very own mythology. Even with all the timeline jumping and digressions into characters' backstories, Kill Bill is about as focused on The Bride's revenge quest as she is herself. Make the time for a four-hour viewing session and you'll find yourself similarly dedicated.
Kill Bill Vol. 1 and 2 begin streaming on Hulu on April 1.
Risky Business
Best known as the movie in which a young Tom Cruise slid into stardom, wearing tighty-whities and lip-syncing to Bob Seger. Risky Business is also the movie in which a young Tom Cruise plays an under-pressure and out-of-his-depth high-school senior who gets swindled into turning his home into a bordello while his parents are out of town. Rebecca De Mornay plays Lana, the prostitute who's got Cruise's Joel wrapped around her finger, and Joe Pantoliano plays Guido the pimp, which we assure you is not a typo. If all this sounds suspect, fair—this is, after all, a Reagan-era sex-comedy. (And all we'll say about the scenes with the character of Jackie is... not great.) Because of when it was made, though, Risky Business is also a critique of upward mobility and bottom-line thinking. It's not exactly subtle about its themes, but it's got more ideas and bite than you'd think.
Risky Business begins streaming on Hulu on April 1.
Zombieland
Can't imagine why you'd be drawn to such an apocalyptic story right now. But, hey, if staring down the End Times makes you feel better, might as well reach for a movie that's lighthearted about humanity's last days. Jesse Eisenberg plays his usual skittish type (except this time around, he's wielding a shotgun), Emma Stone proves that her charisma doesn't dim even when she's surrounded by corpses (walking or not) and Woody Harrelson's character is really craving some Twinkies. If you've still got an appetite for self-aware zombie-survival humor when you're done with director Ruben Fleischer's action-comedy, maybe don't bother with last year's belated sequel; from everything we've heard, might be best to just hit "Play From Beginning" on this one.
Zombieland begins streaming on Hulu on April 1.
Parasite
Maybe you've heard of it? Our reigning Best Picture made history when it nabbed the top prize at the Academy Awards in February—the first foreign-language film to ever do so. If you still haven't caught director Bong Joon-ho's noose-tight masterpiece, do yourself a favor and see what all the fuss is about. If you have already been introduced to the Kims and the Parks, then drop back in on them: Parasite rewards close viewing, and we're willing to bet that the claustrophobic vibe takes on new resonance when you're hunkered down at home, cut off from the outside world.
Parasite begins streaming on Hulu on April 8.
Mrs. America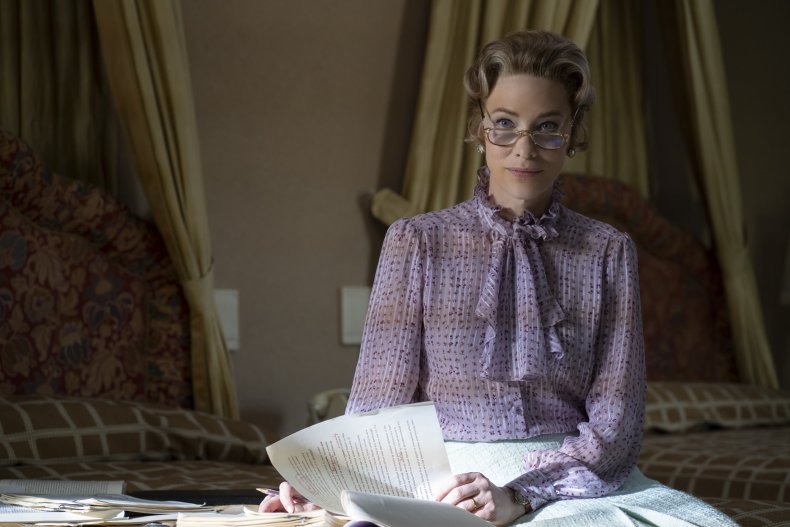 All right, we'll cop to it: We're making this recommendation sight unseen. But Mrs. America's based-on-a-true-story premise and Emmy-worthy pedigree have us intrigued. Set in the 1970s, the miniseries stars Cate Blanchett as real-life conservative Phyllis Schlafly, opponent to the women's liberation movement and the proposed Equal Rights Amendment. Rose Byrne dons a pair of aviators to play Gloria Steinem and square off with Blanchett's Schlafly over second-wave feminism. Sarah Paulson, Uzo Aduba, Elizabeth Banks, John Slattery and character actress Margo Martindale round out the cast, and Anna Boden and Ryan Fleck (coming off of last year's Captain Marvel) handled some of the directing duties. If all those names aren't enough, consider one more: FX on Hulu. Mrs. America arrives via that new imprint, which is already starting to connote a certain level of quality.
Mrs. America begins streaming on Hulu on April 15.