As of Thursday, March 12, a number of U.S. states have continued to take precaution amid the outbreak of the novel coronavirus, with many banning large gatherings of people, in an effort to slow the spread.
The novel coronavirus, which causes the respiratory disease COVID-19, has touched over 100 different countries, infecting over 120,000 people, according to data provided by the World Health Organization (WHO). In the U.S. there are at least 980 confirmed cases of the virus, with hot spots located in a few different states, namely, New York, Washington and California.
Washington Governor Jay Inslee was one of the first to announce a ban on large gatherings of 250 people or more. The ban covers Seattle and surrounding counties, including King, Snohomish and Pierce and the type of gatherings include social, spiritual and recreational activities. According to a statement by Inslee, "these include but are not limited to: community, civic, public, leisure, faith-based, or sporting events; parades; concerts; festivals; conventions; fundraisers and similar activities." In addition to the ban on large gatherings, a number of Seattle public schools have closed down and many colleges and universities in the state of Washington suspending or canceling in-person class.
There are currently over 320 confirmed cases in Washington state as well as at least 29 deaths related to the coronavirus.
Like, Washington, California has seen an abundance of coronavirus cases, leading Governor Gavin Newsom to place a ban on gatherings of 250 people or more.
"The state's public health officials have determined that gatherings should be postponed or canceled across the state until at least the end of March," a statement from Newsom's office reads. "Non-essential gatherings must be limited to no more than 250 people, while smaller events can proceed only if the organizers can implement social distancing of 6 feet per person."
Prior to Newsom's ban, San Francisco Mayor London Breed placed a citywide ban on large gatherings of 1,000 people or more. The order forced the Golden State Warriors to announce they were holding their upcoming game against the Brooklyn Nets without fans in attendance, but just a few hours later, the NBA as a whole suspended its season following Utah Jazz center Rudy Gobert testing positive for COVID-`9.
As of Thursday, March 12, there are at least 200 confirmed cases of the virus as well as four deaths in California.
Oregon Governor Kate Brown followed suit and on Wednesday night, placed a ban on gatherings of over 250 people for four weeks. Brown also suggested that non-essential school-related gatherings should be canceled, such as field trips and parent meetings, as well as recommending increased physical space between employees in offices, limited in-person meetings, limited travel and working in staggered rotations when possible.
"Nobody is immune to this virus, it can touch everyone," Brown said on Wednesday night.
There are at least 20 total cases of the coronavirus in Oregon as of March 12.
While some other states have yet to officially ban large public gatherings, they have canceled specific events.
St. Patricks' Day parades have been canceled in New York city, Chicago, Boston and Philadelphia. There are over 200 cases in New York, at least 25 in Illinois, at least 95 in Massachusetts and at least 16 cases in Pennsylvania.
New York Governor Andrew Cuomo also announced that schools, temples, churches and other large gathering places should be shut down in the New York City suburb of New Rochelle, which has seen the majority of coronavirus cases in New York.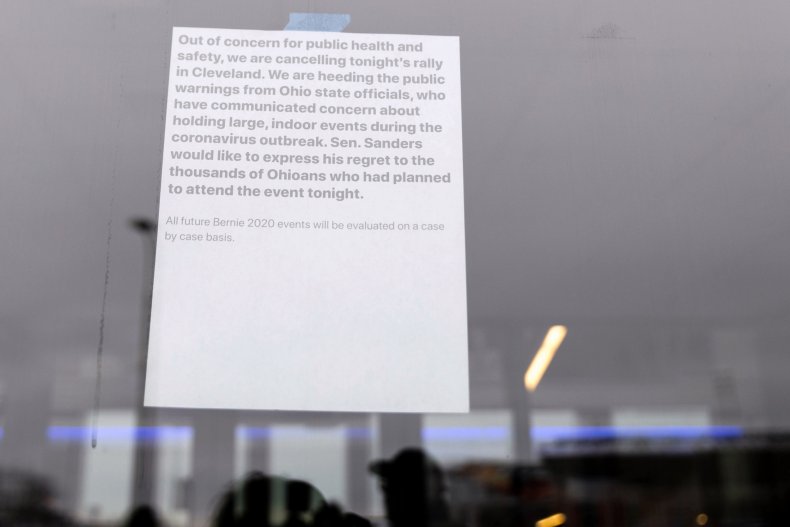 Ohio Governor Mike DeWine, on Tuesday, recommended that large indoor events should be canceled or postponed. In response to that, Democratic presidential candidates Bernie Sanders and Joe Biden canceled planned rallies and other campaign events in the state. DeWine said Wednesday that he plans to announce a ban on large gatherings in the state, including sporting events such as Cleveland Cavaliers games, Columbus Blue Jackets games and the upcoming NCAA March Madness tournament.
The First Four games are set to be played in Dayton, but the NCAA announced late Wednesday afternoon that it will be done with no fans in attendance. Both the men's and women's basketball tournaments will be held without fans present -- only credentialed members of the school institutions, coaches, student-athletes, credentialed media members and the immediate families of the coaches and athletes will be allowed to attend tournament games.