These are the Best Dog Collars for Puppies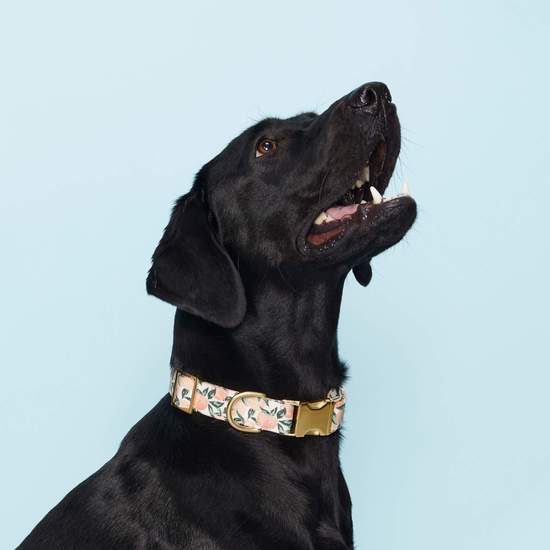 As paw-rents, we always want the best for our dogs—especially when they're puppies and we've just brought them into our lives as our fur-ever friends. Just as different dogs deserve different kinds of care, puppies can—at times—require special attention. As any new puppy parent knows, this can mean everything from feeding our pups special food to puppy-friendly dog collars.
If you're gearing up to buy your puppy their first collar, there's a lot to consider. Is it durable? Is it washable? Is it comfortable? Is it...chewable?
From GPS-enabled to wipeable ones, here are our top picks for dog collars for puppies.
Best Dog Collars for Puppies
Fi Series 2
It may appear a bit bulky for your tiny puppy at first glance, but just hear us out. The Fi Series 2 is a smart collar that's GPS-enabled, uses LTE service and connects to an app on your smartphone. Here's why this is such a standout choice for puppies: Puppies run away! Whether your pup is an escape artist by nature (it's all in the breed), is just curious or tends to go on a daily squirrel chase, the Fi Series 2 can provide a kind of peace of mind that no other puppy collar can, which definitely makes it worthy of the price. Should your pup get loose, you can use the app to put your pet's collar into Lost Mode to track them down as efficiently as possible. In addition to providing location, the Fi is also excellent for monitoring your dog's health and fitness. It tracks your four-legged friend's daily steps and gives you updates on their overall health. It's as adorable and funny as it is helpful. The Fi Series 2 is the only collar that does it all.
Buy at Fi.
Wild One Collar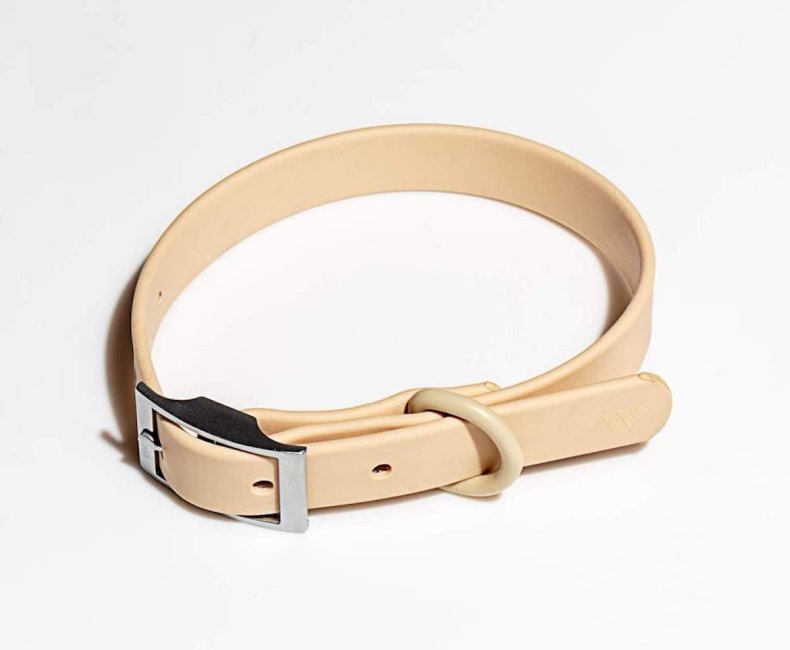 When it comes to aesthetics the Collar by Wild One wins every time. But it's chic, expensive look (even though it's just $38) isn't the only great thing about it. It's perfect for puppies because of its wipeable, flex-poly all-weather material. It's dirt-resistant, water-resistant and super easy to remove from your pup's neck and clean. The Collar is available in a variety of colors, too. You can also spring for the Walking Kit, which features the Collar, a matching Leash and a matching Poop Bag Carrier in a bundle for $88.
Buy at Wild One.
The Foggy Dog Peaches and Cream Dog Collar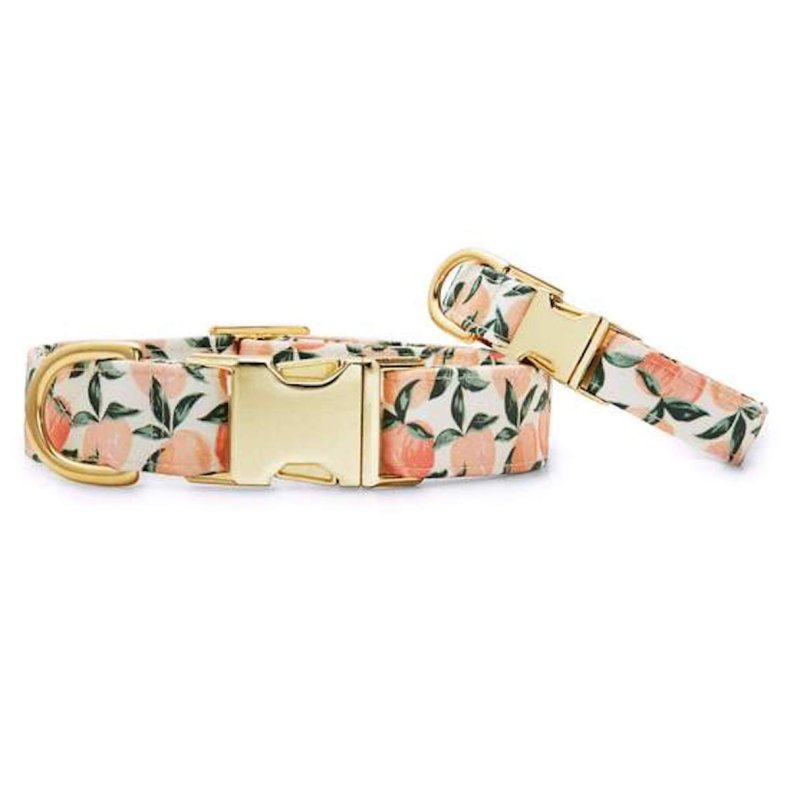 Designed by Cassidy Demkov exclusively for the Foggy Dog, the Peaches and Cream Dog Collar is one of this pup-friendly shop's best-sellers. Available in standard sizing—that's extra-small, small, medium and large—this perfect-for-puppies collar has a five-star review on the Foggy Dog's website. One reviewer wrote, "I'm so in love with the design of this collar! The pattern is precious on my puppy and the material is nice and soft. The clasp is good quality too. I do recommend actually measuring your dog's neck to make sure you get the right size. I went a size smaller than what was recommended for her breed because she is on the small side, and it fits perfect."
Buy at The Foggy Dog.
Fable Signature Collar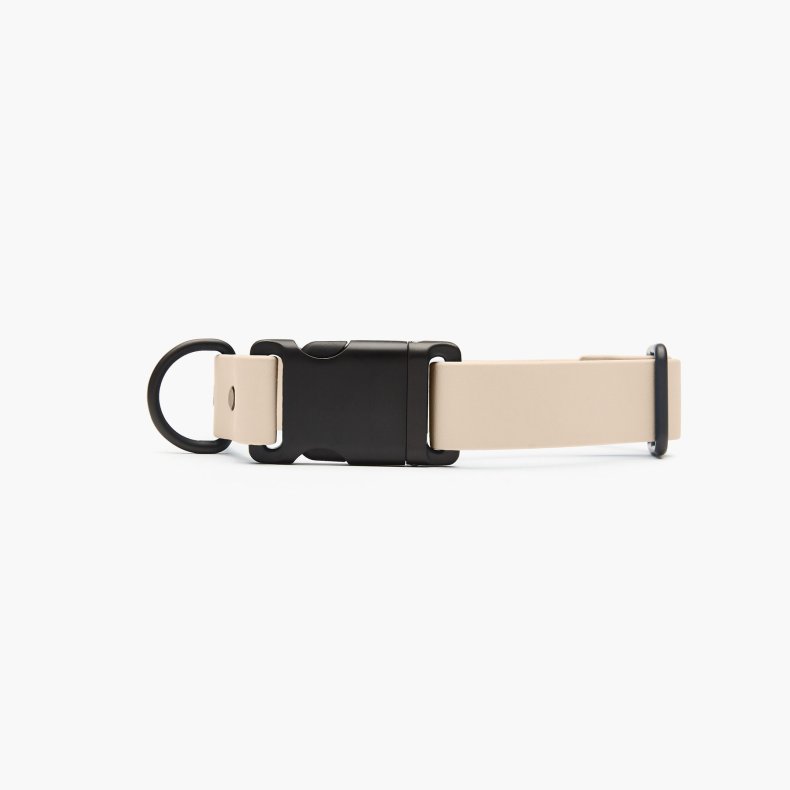 Handmade in the USA and available in blush, light gray, slate, black or tan, Fable's Signature Collar is perfect for puppies for one main reason: It's waterproof! Made with lightweight but durable high-quality materials, it can withstand up to 300 pounds of pull force and is super easy to wipe clean. (Just use a clean cloth to wipe off any dirt or liquid!)
Buy at Fable.
Wolfgang USA GreatEscape Martingale Dog Collar
Perfect for any adventurous dog owners who love traveling, hiking and climbing with their pups, the GreatEscape Martingale Dog Collar doesn't just have a beautiful landscape of a pattern. It also is a very specific kind of collar—a martingale collar. They have a unique cinching action that provides more control for the handler (making it perfect for puppies!). Martingales are recommended by many dog and puppy trainers because of they offer increased control, so they're the perfect collar to use during training sessions.
Buy at Wolfgang USA.
Southern Tide Nautical Rope Dog Collar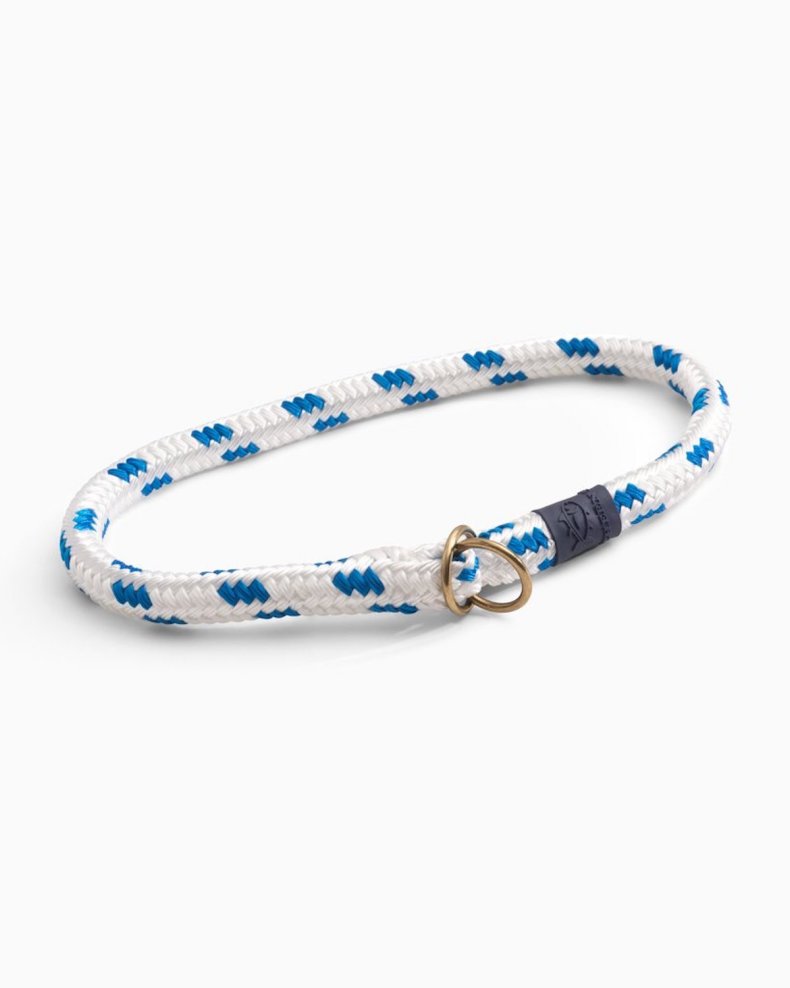 Braided-rope collars are some of the most long-lasting, durable collars there are, and when you're dealing with a puppy, that's important! The Nautical Rope Dog Collar from Southern Tide features a durable braided nylon rope with a wraparound silicone label and comes available in three head sizes—small (16-inch), medium (20-inch) and large (24-inch). It's perfect for puppies thanks to its flexible, stretchy nature, so you don't have to worry about a collar being too tight or choking your pup while training or walking.
Buy at Southern Tide.
Blueberry Pet Classic Solid Nylon Dog Collar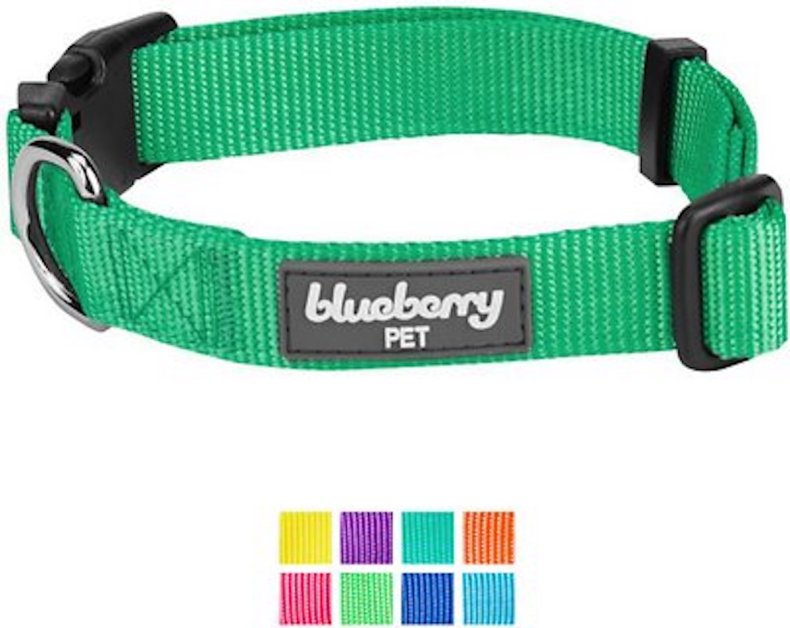 A classic choice for puppies is anything by Blueberry Pet, and their Classic Solid Dog Collar is a go-to. It's made of nylon fabric, perfect for everyday wear and isn't too thick for your still-growing doggo. It also has high-density webbing and a nickel-coated D ring for worry-free leash attachment (because every pup owner knows, you do not want a D ring to break!). The Classic Solid Dog Collar also comes in eight different colors, so there's a hue for every aesthetic, and it's super convenient to clean, too: Just throw it in the wash! As if you needed more reasons to love this staple collar, the buckles are eco-friendly to boot: They're made from recycled plastic bottles.
Buy at Chewy.
The Pawsitive Co. Navy Dot Dog Collar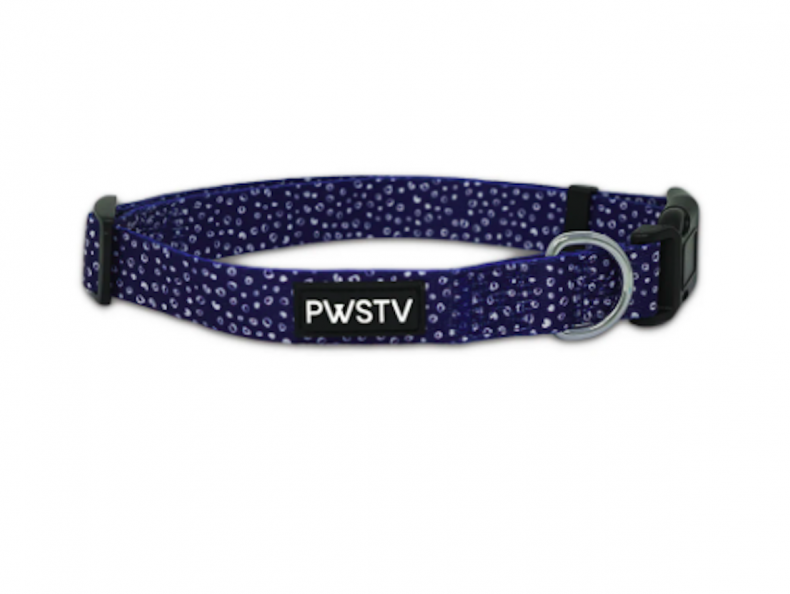 The Pawsitive Co. is a do-gooder business we can totally get behind. After all, it delivers a meal to a shelter dog in need for every collar purchased! But beyond its kind charity practices, it also just so happens to make a high-quality collar designed with adventurous, curious puppies in mind. With 4.6 stars out of a possible five and 1,015 ratings on Amazon, the Navy Dot Dog Collar is also easy to put on, easy to take off and made with eco-friendly, recycled buckles.
Buy at Amazon.
Newsweek may earn a commission from links on this page, but we only recommend products we back. We participate in various affiliate marketing programs, which means we may get paid commissions on editorially chosen products purchased through our links to retailer sites.