As the coronavirus pandemic continues to devastate the U.S. economy, many lawmakers are advocating for monthly $2,000 payments to help Americans stay on their feet.
Senator Bernie Sanders was one of the earliest people to push for the recurring checks. In mid-March, the former Democratic presidential candidate tweeted that a one-time $1,200 check—which was the only direct payment included in the historic $2 trillion CARES Act—wasn't enough.
"The Senate must provide a $2,000 per month emergency payment for every American until this crisis is over," he tweeted at the time.
Since then, Sanders teamed up with Senators Kamala Harris (D-Calif.) and Ed Markey (D-Mass.) to introduce legislation that would provide such monthly payments to every individual who earns less than $120,000 annually. The checks would arrive each month throughout the pandemic and in the three months after the crisis comes to an end.
"If we can bail out large corporations, we can make sure that everyone in this country has enough income to pay for the basic necessities of life," Sanders said in a statement after the bill was introduced.
Harris added that "bills will continue to come in every single month during the pandemic and so should help from our government."
In the House, Representatives Ro Khanna (D-Calif.) and Tim Ryan (D-Ohio) introduced legislation in April calling for $2,000 for every American over 16, for up to one year. The bill has 18 Democratic co-sponsors, 10 of whom signed on after it was introduced.
Khanna argued that a "one-time $1,200 check isn't going to cut it" and that "Americans need sustained cash infusions for the duration of this crisis in order to come out on the other side alive, healthy and ready to get back to work."
Representative Alexandria Ocasio-Cortez (D-N.Y.) has also backed the idea of $2,000 monthly checks. She said she was "very supportive" of such a measure back in March, when the coronavirus outbreak first started to become a crisis in the country. Other progressive members of the so-called Squad—Rashida Tlaib of Michigan and Pramila Jayapal of Washington—have also endorsed the monthly checks.
"A majority of Americans know what I've been saying from the start of this: One-time payments to a portion of the population simply aren't enough to get us through this crisis," Tlaib tweeted.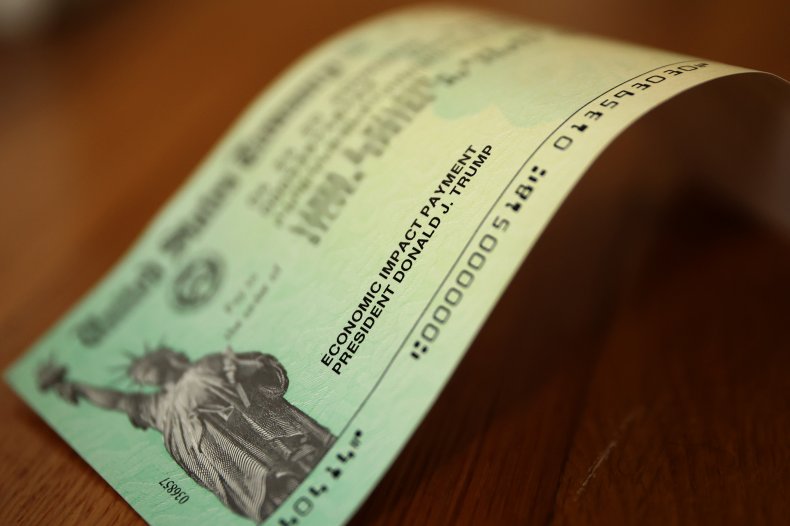 There's also support from the biggest champion of universal basic income: Andrew Yang. The former Democratic presidential candidate made UBI a centerpiece of his 2020 bid for the nomination. His proposal that every American receive $1,000 per month gained traction on the campaign trail, moving the idea from the fringe into the political mainstream.
Yang argued that the $2,000 check will help the economy recover from the pandemic-induced recession. The money, he said, "doesn't disappear, it goes right back into our local economies, into groceries, rent, fuel and things that help keep our communities, frankly, functioning."
Polls and petitions also show a lot of support from the public for the additional relief checks.
A Change.org petition created by a Denver restaurant owner calls for Congress to pass a bill that allocates $2,000 monthly payments for adults and $1,000 for children. The petition received more than 1 million signatures as of Friday morning.
A survey conducted by Data for Progress and the Justice Collaborative Institute, which was first reported by The Appeal, found that a majority of Americans support a monthly $2,000 UBI check to help weather the financial storm. Sixty-six percent of respondents said they preferred recurring payments of $2,000 until a year after Trump declares an end to the federal state of emergency.