These Are The Cities That a Coronavirus Recession Would Likely Hit the Hardest
As the coronavirus pandemic continues to grow, lawmakers and economists have begun to warn that an economic recession is all but certain as many industries have ground to a halt in the country and supply chains have been interrupted around the world.
A new analysis published by the Brookings Institution shows where those cities and industries are likely to be.
According to the Brookings' analysis, the hotspots most impacted by the expected economic recession won't be the nation's biggest and most populous hubs, such as New York, Los Angeles, Chicago or San Francisco. Instead, they are likely to be energy-producing towns and tourist areas.
"But as recession forecasts proliferate, it's not necessarily true that all areas will be hit equally hard. In a huge nation made up of diverse places and varied local economies, a look at the geography of highly exposed industries makes clear that the economic toll of any coming recession will hit different regions in disparate, uneven ways," the researchers said in the report.
Midland, Texas, ranked first, with 42.5 percent of its jobs in high-risk industries. Kahului-Wailuku-Lahaina, Hawaii ,came in second, with 40.4 percent of its jobs classified as within endangered industries. Atlantic City-Hammonton, New Jersey, ranked third, with 34.2 percent of jobs under threat.
The economic sectors Brookings estimates will be hardest hit include mining, transportation, employment services, travel arrangements and leisure and hospitality. Together, these industries account for more than 24 million jobs nationwide, or 16.5 percent of all jobs.
Employers in some of these sectors have already begun laying off workers, particularly in travel and hospitality. Around the country, many states and municipalities have shuttered all restaurants, bars, clubs, gyms, schools and museums, while also banning public gatherings, in a bid to curb the spread of the coronavirus. Airlines have canceled thousands of flights, while bookings for hotels and cruises have declined dramatically.
Here's a look at the 10 most at risk metropolitan areas and the percentage of jobs from high-risk sectors:
Midland, Texas (42.5 percent)
Kahului-Wailuku-Lahaina, Hawaii (40.4 percent)
Atlantic City-Hammonton, New Jersey (34.2 percent)
Las Vegas-Henderson-Paradise, Nevada (33.8 percent)
Odessa, Texas (33.3 percent)
Laredo, Texas (29.7 percent)
Ocean City, New Jersey (29.7 percent)
Houma-Thibodaux, Louisiana (29.3 percent)
Myrtle Beach-Conway-North Myrtle Beach, South Carolina and North Carolina (29.2 percent)
Flagstaff, Arizona (27.5 percent)
Unemployment claims have already surged across the country, with workers in many states reporting that they've struggled to file for benefits as websites and phone lines in state labor departments have been overwhelmed. Meanwhile, Treasury Secretary Steve Mnuchin reportedly warned Republican lawmakers last week that unemployment could rise as high as 20 percent if steps weren't taken to mitigate the economic fallout from coronavirus.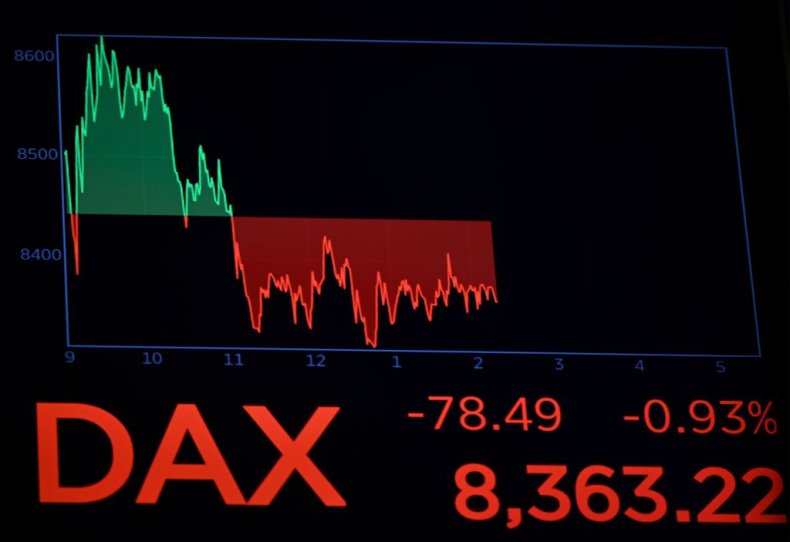 James Bullard, president of the Federal Reserve Bank of St. Louis, predicted even bleaker job loss numbers. Bullard told Bloomberg News on Sunday that the unemployment rate could jump to 30 percent, while also projecting that gross domestic product (GDP) growth would drop by 50 percent.
These Are The Cities That a Coronavirus Recession Would Likely Hit the Hardest | U.S.