Two weeks after the Valentine's Day shooting in Parkland, Florida, allegedly by an assault weapon–armed teenager, that left 17 people dead, the outcry from the general public has pushed companies to cut their ties with the National Rifle Association. Now, some companies are raising the age limit for gun purchases from 18 to 21 years old.
The moves are in line with public opinion in the United States, where the majority of Americans support stricter gun control. A CNN poll put such support at around 70 percent.
As the debate over gun control continues to rage on Capitol Hill, where President Donald Trump, Democrats and Republicans may soon vote on a bill that decides whether 18 is too young to buy a weapon, here are the companies that have announced they will refuse to sell rifles to anyone under the age of 21—despite the NRA's objections.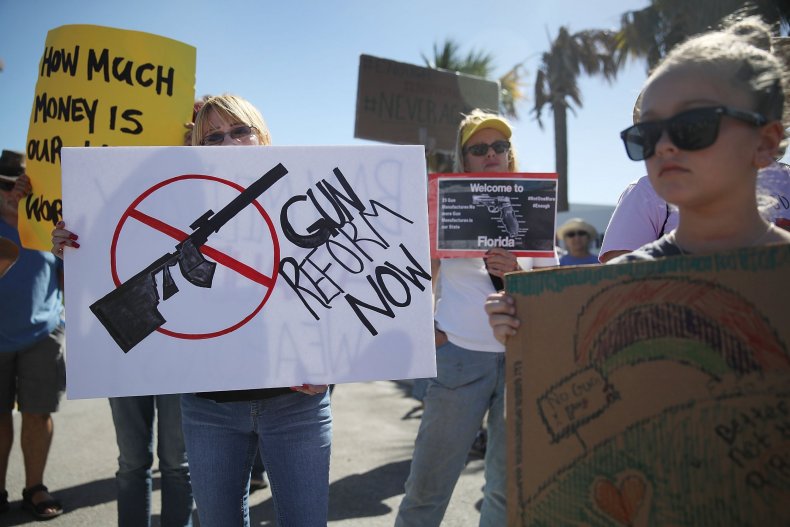 L.L. Bean
Outdoor retail company L.L. Bean is the latest to say it will no longer allow U.S. citizens under the age of 21 to purchase rifles or ammunition. It announced on Friday that it would no longer sell guns at its largest store.
The announcement came after continued social media pressure from activists and the general public against companies selling weapons to people as young as 18.
Carolyn Beem, L.L. Bean's spokesperson, said the company sells guns at only one store, its flagship in Maine, and sells only guns suitable for hunting, not assault rifles like the one used by Nikolas Cruz in the mass shooting.
Kroger
In spite of the NRA's opposition to it, Kroger, America's largest supermarket, will no longer sell firearms at its Fred Meyer stores, it announced on Thursday.
"Recent events demonstrate the need for additional action on the part of responsible gun retailers. We are raising the minimum age to 21 to purchase firearms and ammunition in all of our Fred Meyer locations that sell firearms," the company said in a statement.
Kroger said it had already stopped the sale of assault-style rifles at its stores in Oregon, Washington and Idaho several years ago. It is now no longer accepting orders at its store in Alaska.
Walmart
America's largest retailer and biggest seller of firearms announced Wednesday that it would limit the sale of guns to those over the age of 21.
"In light of recent events, we've taken an opportunity to review our policy on firearm sales," the company said in a statement.
Walmart had outlawed the sale of assault rifles at its stores in 2015, so the age restriction will apply to other weapons. It said its ban several years ago was due to lower customer demand, refusing to enter the gun control debate. This time, it tied its decision to the shooting in Florida.
While teenagers may not be able to purchase a handgun until they are 21, they are still able to buy semiautomatic rifles, like the ones used by Stephen Paddock in the Las Vegas massacre, at specialty gun stores. Paddock had modified several semiautomatics to fire like automatic weapons before shooting down onto civilians from his Mandalay Bay Hotel room.
Dick's Sporting Goods
The company's executives announced on Wednesday that it would be raising the minimum age for firearm purchases, regardless of local laws. They said its store also would stop stocking assault-style rifles.
Edward Stack, the company's chief executive, said that the Florida shooting and activist movement that followed were the motivating factors behind Dick's decision.
"When we saw what happened in Parkland, we were so disturbed and upset," Stack told The New York Times. "We love these kids and their rallying cry, 'Enough is enough.' It got to us."
Stack continued, "We're going to take a stand and step up and tell people our view and, hopefully, bring people along into the conversation."
Dick's is one of the biggest gun retailers in America, so its decision is significant.